Every year or two, you hear about a seamhead who sets out on a journey to visit every Major League Baseball stadium. You think, oh, wouldn't that be great? And then you realize that the logistics involved in traveling to 30 different ballparks during a single summer would probably kill you. Especially if you ate a hot dog each time.
For Mike Mountain, just going to every stadium wasn't enough. He wanted to do it in the minimum amount of time possible. So he built an app that helped him figure out the shortest route that would take him to all 30 ballparks and back to where he started. Utilizing Major League Baseball's master schedule, the Google Maps API, and a free online supercomputer, he came up with the answer: 35 days, 30 stadiums.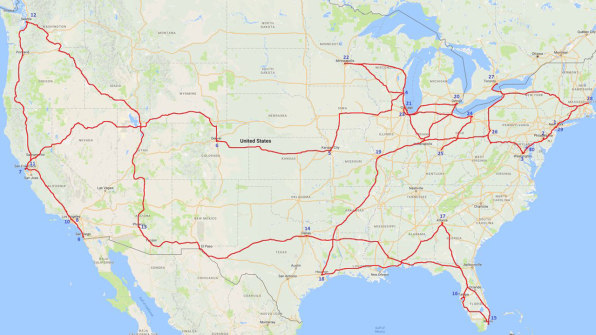 This Saturday, Mountain, a software engineering lead, will go see the Mets take on the Yankees in the Bronx. And over the next 34 days, he'll drive 16,000 miles before arriving at Baltimore's Camden Yards for another Yankees game. During the trip he's scheduled to see the Milwaukee Brewers the most times–five. He'll see the Seattle Mariners, San Francisco Giants, and Baltimore Orioles four times. And he'll see 13 teams just the one time at their own ballparks.
As the map of his route shows, this is an ambitious venture. And that's even without the almost certain prospect of car problems, traffic delays, rained-out games, and, you know, locusts.
I'm not sure I'd want to come along with Mountain, but I certainly tip my Giants cap to him–or my A's cap or Mets cap.
You can follow Mountain's progress here, and his full schedule is here. Be careful @-ing him, though. It might slow him down.