Five years ago, Amazon patented what it called "anticipatory shipping." Rather than wait for customers to purchase goods, the company would pre-emptively launch packages into the mail, waiting until the last possible moment to provide a final address for delivery. Although details were scant, it's not hard to imagine how the e-commerce colossus might someday combine its trove of personal data with predictive analytics to guess what consumers want before they know they want it. The trick is knowing where customers will be when they do.
"We deliver to physical addresses today because we know where the buildings are, but as you send more packages, you should be able to make better predictions about where people should be," says Avi Goldfarb, chair in artificial intelligence and healthcare at Toronto's Rotman School of Management, and coauthor of Prediction Machines: The Simple Economics of Artificial Intelligence.
In other words, combining enhanced prediction with customers' intentions and their locations yields what Goldfarb calls "trajectory," or understanding how people move in their worlds. Goldfarb argues that knowing this attribute is key to lowering logistics costs and increasing satisfaction in retail, and Amazon appears to agree, having begun installing lockers at Whole Foods locations for customers to retrieve goods they've ordered, delivering to customers' cars, and developing its own last-mile delivery fleet.
The next frontier
Of the three pieces—intention, prediction, and location—the strategic value of the first two is well understood. But the value of location intelligence (LI) to place these insights in context spatially remains under appreciated.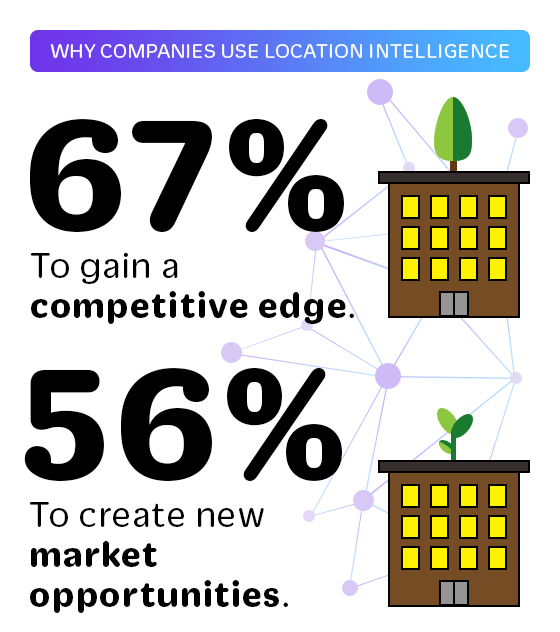 In a recent Fast Company poll of business executives commissioned by Esri—which owns the industry-standard location intelligence platform—barely half of respondents (55%) were familiar with LI, and less than one-third (31%) reported their company using LI technologies. Their reasons for this apparent lack of interest ranged from low awareness to identifying a clear return on investment (49%) to finding the budget with which to implement it.
That's beginning to change. Those using location intelligence report it is already important to their business (89%) and that the ROI has been worth it (63%). The most common uses revolve around market-customer analytics and segmentation (47%); logistics, delivery, and route management (26%); and real-time asset tracking and alerting (23%)—all reflective of efforts to understand the trajectories of customers, much like Amazon does. The race by retailers to replicate its analytic capabilities is only one reason why the LI market is estimated to be worth $16.3 billion by 2021.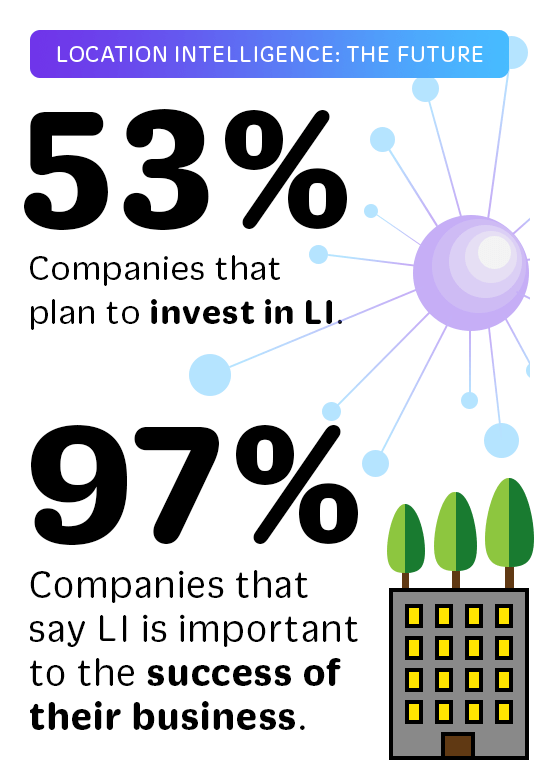 Tracking berries, predicting floods
The current uses of location intelligence go far beyond retailing. The rise of precision agriculture analyzing soil, sunlight, rainfall, and produce down to the square millimeter was only made possible by LI, as was tracking the harvest's voyage from farm to table. For example, this capability enables one large agricultural producer to do real-time supply chain tracking the location of each truck, its temperature, and trajectory, reducing costs due to spoilage.
"They know where every blackberry and strawberry was picked, which is tagged to each clamshell," says Brian Cross, director of professional services at Esri, referring to the plastic containers in which berries are packaged. "If they receive any complaints, or learn that a crop aged particularly well, they can identify the exact spot." These insights are shared with the company's vast network of farms, pinpointing opportunities for repeated applications.
Insurance is another area where location intelligence is being utilized. For example, with Hurricane Harvey bearing down on Houston last fall, Esri worked with the National Weather Service to calculate when, how, and where the storm's accumulated rainfall would surge across the city's flood plain, allowing them to predict flood heights days in advance. These forecasts proved essential in steering storm victims toward shelters, and to move or prepare vulnerable assets that would soon be underwater. With natural disasters costing the U.S. a record $306 billion last year, using location intelligence to mitigate property damage and insurance losses has an obvious and immediate ROI.
Location, location, location
Ask executives using LI what they hope to gain from location analytics, and their answers will range from gaining a competitive edge (67%) and creating new market opportunities (56%) to optimizing operations (50%). Next, ask them how they intend to apply LI in the future, and their responses change from logistics and tracking to more speculative ideas such as operational awareness and efficiency (18%) and mobile workforce management (16%). In other words, knowing everyone's and everything's location can be immensely profitable, but knowing where things are headed—their trajectories—poses opportunities to reinvent entire industries.
In Prediction Machines, Goldfarb and his coauthors propose a thought experiment: What if Amazon started shipping everything before customers clicked purchase? Returns would be high at first, and so the company would need to invest in infrastructure capable of collecting and restocking unwanted goods. But as it fine-tuned its predictions, Amazon's business model would start to turn itself inside-out, "from shopping-then-shipping to shipping-then-shopping," they write. Knowing its customers' trajectories would bestow Amazon with an unbeatable competitive advantage.
Retailers have always been on the cutting edge of location analytics, ranging from the use of aerial photography for site selection to tracking footfalls inside of malls. But as both the cost and complexity of software and sensors diminishes, these abilities will find new uses, predicts Sarah Williams, a mapping expert and director of MIT's Civic Data Design Lab. "AI allows us to understand movement and flows in cities in a way that was never possible before," she says. "There are all sorts of things that can be built on top of that, whether it's a more efficient transport system, or better public spaces."
To that end, Williams and her team created Benchmark, a deceptively simple wooden bench packed with sensors for measuring how people use parks and other places. "We can estimate and provide evidence for why a particular urban design is good or bad," she says, and use it to propose changes. One can imagine other possibilities. In a world where self-driving convenience stores prowl the streets of Shanghai and autonomous farm stands will soon wander the Bay Area, perhaps the ironclad laws of real estate—location, location, location—will be supplanted by trajectory as autonomous retailers follow the people rather than steering them to stores.
---
This story was created for and commissioned by Esri.
---
Related Content: