The Detox Market, a retailer dedicated to non-toxic and natural beauty, unveiled a micro-store concept on Sunday. Essentially the size of a celebrity walk-in closet, the new hubs feature a host of both well-known names and emerging brands in the skincare and cosmetics categories. The company's sixth retail location is located within the Westfield Century City mall in California.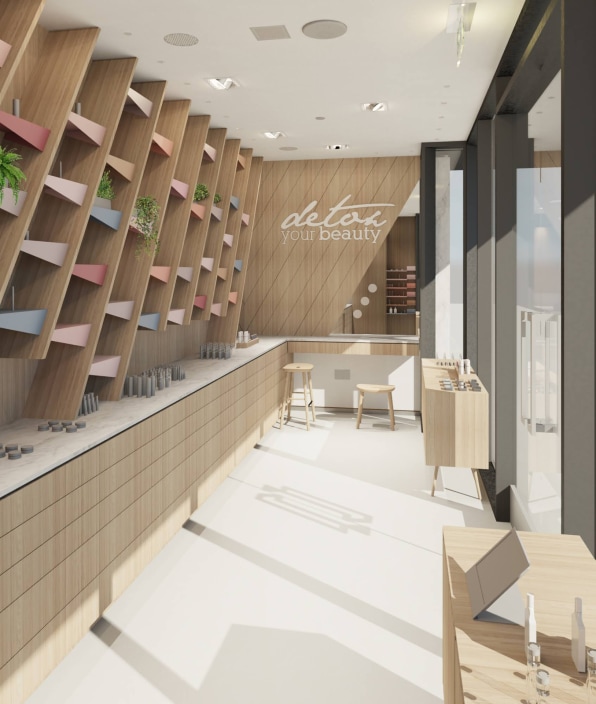 The space looks the part of an upscale, healthy living retailer. It sports a minimal yet colorful SoCal design: White ash wood gives way to pastel-hued geometric shelves, punctuated by succulents and potted plants. It's where you'd imagine beauty-obsessed millennials would shop–like Glossier mixed with Whole Foods.
The Detox Market already tested the micro-store in Toronto, which reportedly received a good response. The plan is to expand in the coming year, though no word yet on the next locale. There's certainly consumer demand: 6 out of 10 women now read cosmetic product labels prior to purchase, according to a recent Kari Gran x Harris Group 2017 poll. Clean beauty is the fastest-growing segment within the $999 billion wellness beauty industry, reports the Global Wellness Institute, with boutique shops as well as big-box retailers attempting to keep up with demand.
Just last month, Brandless announced it, too, was releasing a line of wellness-inspired personal care products.
The Detox Market, for its part, doubled its size every year for the last five years. A rep confirms that it receives an average of 780 new brand submissions per year. The e-commerce site and stores launch approximately four new brands a month–or 48 a calendar year.
Not bad for a retailer that bans 638 ingredients from being carried in its stores.