Roku is expanding beyond televisions and into home audio with a pair of wireless speakers.
The speakers, officially called Roku TV Wireless Speakers, will only work with Roku-powered smart TVs, such as those made by TCL, Sharp, and RCA. They'll ship in late October for $200, the company says, but it's taking pre-orders this week for $150, and will raise the pre-order price to $180 starting on July 24.
So why is Roku, whose business so far involves selling streaming TV players and licensing its operating system to TV vendors, getting into speakers? The company wants to solve a common living room headache, says Chas Smith, the general manager of Roku TV and Players: Most TVs have subpar speakers built in, but setting up an external stereo system and getting it to work properly can be a hassle.
"We've done surveys with customers, and we find that they're frustrated," Smith says.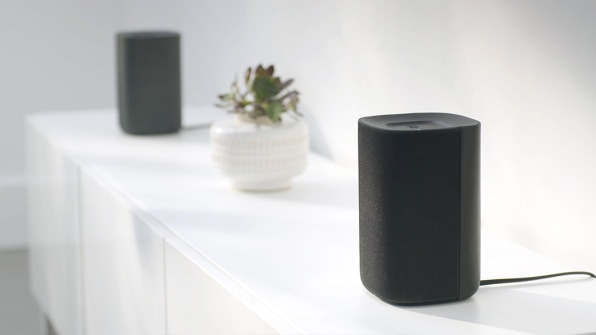 Smith argues that Roku can remove the pain points by controlling the software at both ends. Roku's TV operating system will guide users through the setup, and will then communicate with the speaker software to synchronize the audio and video. The speakers will also include some useful features such as volume boosting for dialog and volume leveling to combat loud commercial breaks. As of press time, I wasn't able to hear the speakers in person, but Roku claims they can hold their own against systems that are twice the price.
Roku is also throwing in a couple of remote controls. One will be similar to what's included with Roku's streaming players, offering "point-anywhere" controls and voice commands in case the user's TV remote doesn't have them. The other is a puck-shaped device called the Roku Touch. It's meant to sit on a coffee table or end table, and it has playback control buttons, programmable action buttons, and a big voice command button in the middle.
The Touch, to be clear, is not a hands-free speaker solution like Google Home, Amazon Echo, or Apple HomePod, even though Roku's speakers can play music from the TV or from phones over Bluetooth. Smith says Roku wanted to accommodate users who aren't comfortable with always-listening speakers in their living rooms, and also wanted the Roku Touch controller to run on battery power. (It should last for about six months on a pair of AAA batteries.)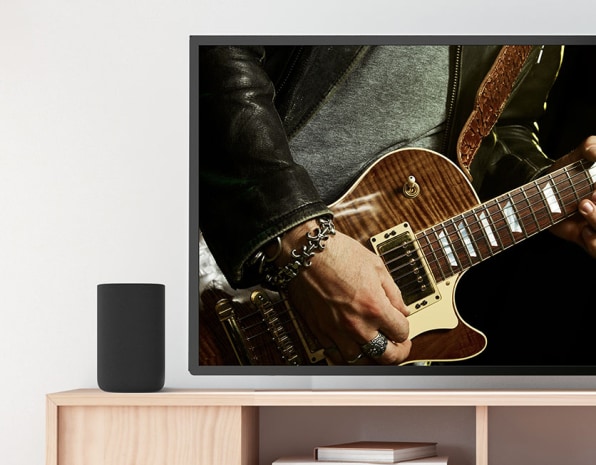 Beyond the TV
Roku has more than just consumer headaches in mind as it moves into audio products. Over the past few years, the company has been shifting away from selling its own hardware and focusing more on software licensing and advertising revenue. Roku's operating system now ships in 25% of smart TVs in the U.S., and last quarter, the company made more money from services than hardware for the first time.
Smith says Roku's wireless speakers are an extension of those efforts, because they'll make the company's smart TVs more compelling. (They'll also make leaving the Roku ecosystem harder, because they won't work with any television that doesn't run Roku's software.)
"The reason for doing this is not for Roku to sell a piece of hardware," Smith says. "We're actually looking to increase the engagement on the platform. We believe that by making the television speakers more immersive for TV shows and movies, by making the audio better, we're making TV itself more immersive, and it will drive higher use and more stickiness to the platform."
The speakers are also just the beginning of Roku's audio efforts. In January, the company teased plans for smart speakers and an entertainment-focused voice assistant. The plan is not just to create its own hardware, but to license the software to other companies such as TCL, which plans to make a Roku-powered soundbar. While Roku isn't ready to talk more about those initiatives yet, the new speakers are a piece of the puzzle. It's not hard to imagine them tying into a broader whole-home audio and entertainment system that supports hands-free voice commands, because Apple, Google, Amazon, and Sonos are all starting to do similar things.
"These speakers are not dumb speakers," Smith says. "These are intelligent speakers that have an operating system built into them, so they will be able to add functionality over time."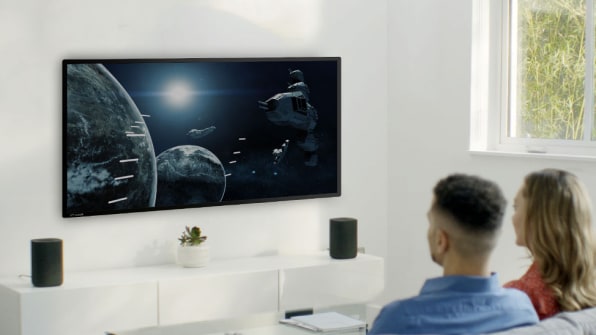 "We still want to play nicely with others"
Until now, Roku has presented itself as a neutral party in the living room, one that's happy to offer services from Google and Amazon, even as they sell their own streaming TV products. But with those companies using smart speakers and voice assistants to establish broader smart home platforms, Roku's own voice control plans could become a bigger nuisance.
Roku insists that there's no direct conflict because it's not building an all-purpose voice assistant.
"We're not planning to compete with Alexa or OK Google," Smith says. "We want to focus on building the best entertainment system we can, focused on the TV and extending out from there."
The "extending" part is where things could get messy. If you have a Roku assistant controlling your living room, you might also want it to control your nearby light bulbs, or check in on the camera in the baby room through the television.
Roku won't comment on what the future might bring in that regard, but says it still wants to work with companies like Amazon and Google, even in the realm of voice assistants. Neither Smith nor Roku spokesman Eric Savitz would rule out the possibility of allowing users to control their Roku players and TVs with Google Assistant or Amazon Alexa. (Amazon already offers developer tools to allow for this, but Roku has yet to implement them.)
"We still want to be Switzerland," Savitz says. "We still want to play nicely with others, and that includes our friends at Google and Amazon and elsewhere, so I think you'll see interesting partnerships in various ways with a lot of people."
For now, though, Roku would just like to sell you some speakers.