A jury ordered Johnson & Johnson to pay $550 million in compensatory damages along with $4.14 billion in punitive damages to 22 women who claimed the company's baby powder had asbestos in it. Because of this, the women say, they developed ovarian cancer. This ruling was delivered by the Circuit Court of the City of St. Louis. Already, Johnson & Johnson is reeling from the decision; its stock is down nearly 3% in premarket trading.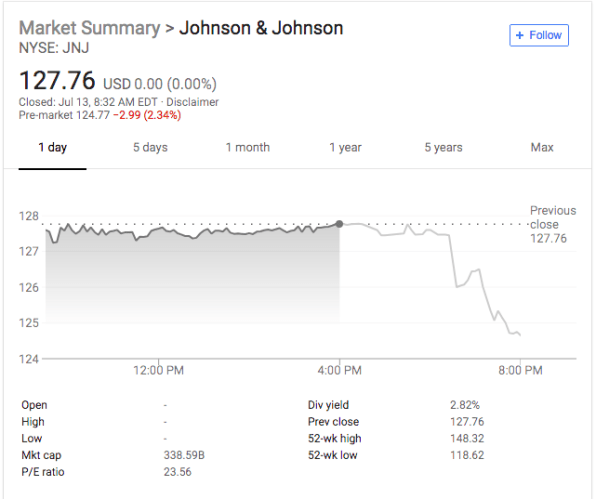 Johnson & Johnson called the ruling "fundamentally unfair" and has said it plans to appeal. Still, this is a huge win for both the women defendants and others who claim adverse effects from the company's product. CNBC reports that J&J is embroiled in thousands of court cases over its talc powder.
The company has been fighting claims that talc powder is unsafe for years. Johnson & Johnson has been ordered to pay hundreds of millions of dollars in damages, and has fought them all in appeal. The women claim that either the talc caused ovarian cancer or that the product's talc led to mesothelioma. This latest ruling included both allegations.
The lawyer for the 22 women in this most recent case said in a statement following the ruling that Johnson & Johnson should pull its product "before causing further anguish, harm, and death from a terrible disease."