After years of depressing statistics and rising death tolls, there's new evidence that the United States may be turning a corner on the opioid epidemic.
A report this week from Blue Cross Blue Shield Association said the rate of opioid use disorder among its members declined last year to 5.9 per 1,000, compared to 6.2 per 1,000 the year before. The dip follows a steady uptick since at least 2013, when it was at 3.4 per 1,000 members.
Even more dramatic was the decline in opioid prescriptions being filled by doctors, a number that has fallen 29% nationally since 2013. The decline is likely due to increased awareness of the risks of opioid addiction along with a new set of stricter prescribing guidelines issued by the Centers for Disease Control and Prevention. The opioid epidemic is widely believed to have been fueled by the overprescribing of powerful painkillers like oxycodone, which gained popularity in the 1990s.
The new data from BCBS suggests those days are on the wane, although the rate of decline was more dramatic in some states than others. Vermont, New Hampshire, Massachusetts, Rhode Island, Ohio, New Jersey, and Mississippi all saw prescription rate decreases of over 40%, well above the national average. That's a good thing because rates of opioid use disorder are generally higher in New England and the South, BCBS says.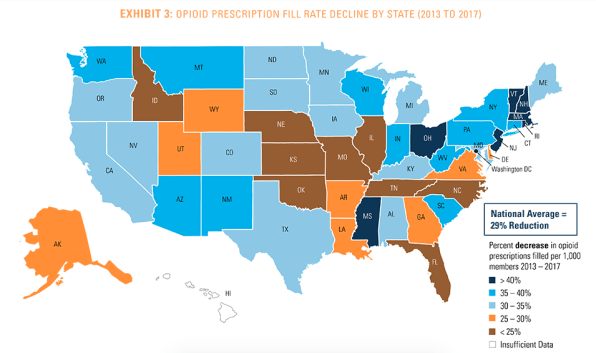 BCBS cautioned about reading too much into the data, however. "While progress has been made, there were 241,900 BCBS members diagnosed with opioid use disorder in 2017," the report says. "Identifying evidence-based treatment for these members is a priority."
What's more, the CDC says that illicitly made synthetic opioids like fentanyl now account for more than half of all opioid overdose deaths, meaning more people could be turning to street drugs as prescription rates decline.