Microsoft compares its MyAnalytics service—part of Office 365–to a fitness tracker for work. The tool uses AI and data collected by the Microsoft Graph to provide a dashboard with stats such as how much time you spend dealing with email. But just as with a fitness tracker, the fact that the stats are available doesn't mean you'll look at them or know what to do with them.
With new features coming this summer, the company is trying to take the work out of understanding your work by rolling MyAnalytics-powered "nudges" into its Outlook email program. "Let's say we get an email from a coworker inviting us to a meeting next week," product marketing manager Peter Bergen told me. "MyAnalytics recognizes that we have a lot of meetings on our calendar and the amount of time we have left for focused work is shrinking. And pretty quickly it will say, 'Hey, make sure to set aside some time for focused work.' Just like a friendly suggestion. It's not a mandate or anything."
In another example, MyAnalytics will notice if your coworkers are responding to your email outside of normal business hours and suggest that you be clear about whether you're making an urgent request. And a third will remind you of to-do items associated with an email contact so you remember to check them off rather than let them linger.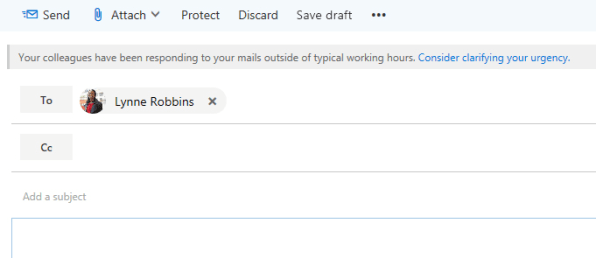 Integrating this sort of would-be helpfulness into software without it being an irritant isn't a cakewalk: Just ask Office 97's Clippy, who will be notorious forever for bursting in on your Word sessions and excitedly telling you that he'd noticed you were writing a letter. In Outlook, these new nudges will sit in subdued-looking grey boxes and won't go out of their way to get in your face—and yes, you'll be able to turn them off altogether.