In 2016, Microsoft unveiled a workplace collaboration and communications service called Teams. Though it sat squarely in the same domain as Slack, the only way you could get it was to subscribe to Microsoft's Office 365 productivity-suite service. That made it feel like the company had narrowed its target audience to organizations that were already committed to a Microsoftian way of working.
Teams is still part of Office 365 (and Microsoft 365, a superset which includes Windows 10), but today Microsoft is announcing that the service is going freemium. Like Slack, it will have a free tier of service designed to be robust enough to get businesses hooked, in hopes that some will pay for more features. However, Teams' free version imposes fewer restrictions than Slack's:
Teams doesn't limit how many messages you can store and search (Slack has a 10,000 message cap)
Teams provides 10GB of shared file space plus 2GB of personal storage per user (Slack offers 5GB total)
Teams has built-in group video calling while Slack limits you to one-to-one calls
Teams doesn't restrict how many app integrations you can enable (with Slack, the maximum is 10)
On the other hand, the free version of Teams allows a maximum of 300 users; Slack's is unlimited.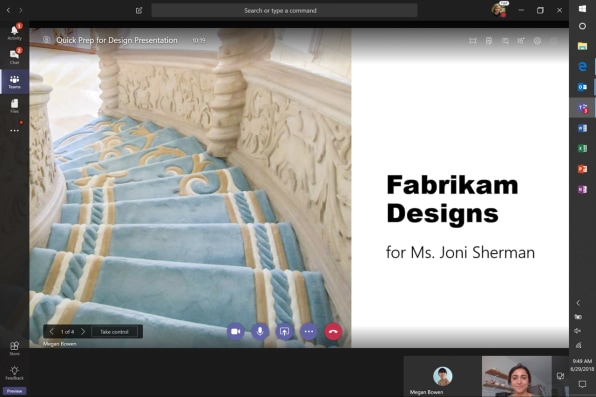 Most of Teams' features are available for free, including a cool new option which blurs out the background during video calls (useful if you're dialing in from your kitchen or a hectic coffee shop). Paying customers get more storage, integration with the desktop versions of the Office apps, fancier videoconferencing features (including live transcription), and other upgrades.
Microsoft 365 teamwork general manager Lori Wright told me that Teams' free tier is meant to be an "onramp" to paid Office 365 and Microsoft 365 accounts, a vital and growing component of the company's business. But by letting organizations try before they buy, the company is giving them the opportunity to compare the service to Slack without a commitment. And the free version sounds robust enough that some groups will be able to stick with it indefinitely.