The future of 4D printing is here—and now available for purchase at New York's Patrick Parrish Gallery, where Swiss designer Christoph Guberan and the Self-Assembly Lab at MIT's International Design Center have just unveiled a collection of functional inflatable lamps, vases, and vessels. Presented in the exhibition Liquid to Air: Pneumatic Objects (on view through August 26), the wares mark the team's latest advancement of Rapid Liquid Printing and, excitingly, the most directly market-viable—not to mention aesthetically pleasing—application of the 4D-manufacturing technique to date.
Rather than setting out to create a preconceived set of products, the resulting works were organically formed as an extension of the research process itself. MIT professor Skylar Tibbits, who founded and co-directs the Lab, neatly describes its material experimentations as threefold: "One is on self-assembly, how things come together on their own; one is on programmable materials, how materials change shape, change property, and so forth," he explains, using possibly the simplest terms to describe complex initiatives that could lead to a future of structures and products that build and operate themselves after they're printed and exposed to natural elements. "The third one," Tibbits continues, "is on phase change, or how materials go from solid to liquid, which is what this project falls under."
As Co.Design previously reported, Rapid Liquid Printing was developed by the Self-Assembly Lab and Steelcase Inc. last year, and allows for vast improvements upon 3D-printed processes now familiar to us. Rather than printed laterally, as a layered substrate, Rapid Liquid Printed objects are robotically "drawn" four-dimensionally in a vat of gel suspension, which supports the printed structure as it solidifies, allowing for vastly more intricate works in a fraction of the time—in many cases, down to mere minutes. Combined with the Lab's experimental materials, the 4D-printing technology carries a host of potential applications. Some of the Lab's otherworldly concepts to date have included self-lacing sneakers, a la Marty McFly, and modular products that can assemble themselves.
For the presentation at Patrick Parrish, the designers have chosen to focus their experimentations on printing inflatable objects with silicone. "The two major things that are new here is that printing soft, stretchy materials is very difficult in any other 3D-printing process," Tibbits explains. "It's almost impossible—and then, printing inflatables that are also air- and water-tight is really unheard of."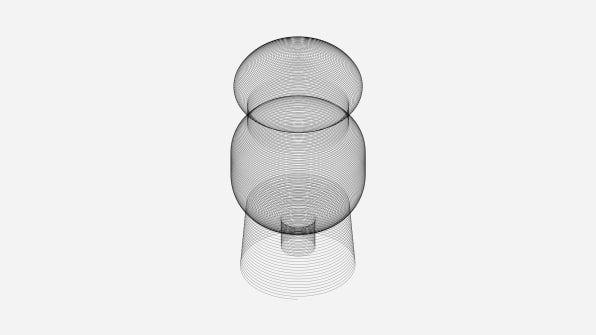 Here, the team's experimental designs naturally lend themselves to variations of inflatable, lantern-like lamps, fixtures, and vases in a range of complex shapes that both evoke the elegance of Brancusi and the minimalist novelty of the Space Age. Each vessel uniquely explores a complex set of geometries, rendered in a range of thicknesses, in an exploration of the material's translucence and opacity. Some of the vessels have also been printed with internal chamber layers, casting sophisticated patterns and shadows when paired with an LED light source. With or without the knowledge of how the glowing orbs are created, they're a beautiful sight to be seen—though a set of Rapid Liquid Printing apparatuses, placed upon plinths with finished vessels shown submerged in gel tanks, makes their manufacturing origins clear.
Parrish, Guberan, and the Self-Assembly Lab, along with Brazilian artist Marcelo Coelho, brought the Lab's first live demonstration to the public a few months ago, at Design Miami in December, with a fair-booth installation that produced a flexible, though static, rubber tote bag in a complex woven pattern that was printed in just minutes, and available for cash and carry right on the spot—a sight that thrilled and surprised fairgoers who were drawn to the stylish designs. With Liquid to Air, the team has furthered their utilitarian experiments by progressing to an inflatable medium.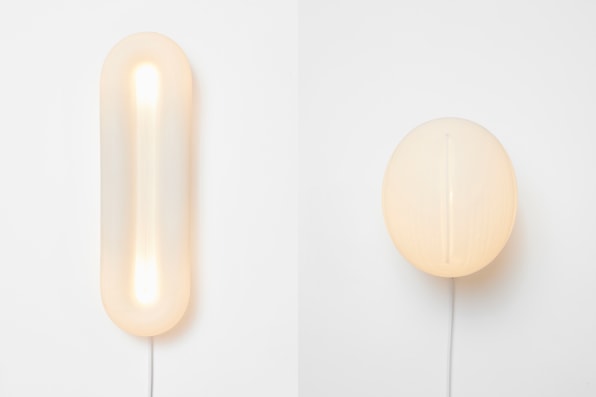 A time-lapse video on view at the gallery shows Guberan's small, handheld inflatable designs being printed—in a manner startlingly evocative of Westworld's opening sequence—then blown up like a balloon to nearly 10 times its size: a playful demonstration of its material strength and flexibility. For the purposes of the gallery display, they've been pre-inflated and paired with LED lights to be sold as lamps ready to take home, as-is.
Currently, the only limitation to Rapid Liquid Printing is physical scale. The printed object can only be as large as the tank containing it. But when that printed object is rendered in a material that has the ability to inflate, morph, or evolve in the span of its material lifetime, the potential applications become exponentially greater: portable shelters, furniture, interiors, and skins are just some of the applications the Lab suggests, and which a handful of industry players have jumped at the chance to explore.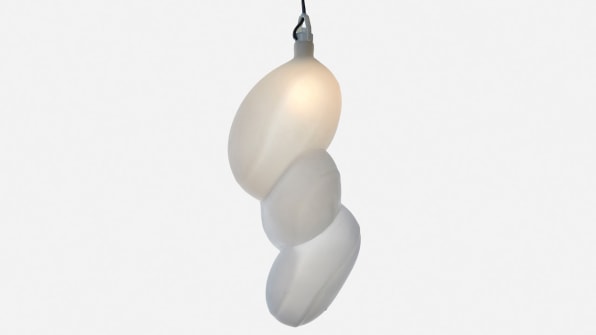 In a recent project sponsored by BMW and shown at London's Victoria & Albert Museum this May, the team created what Tibbits characterizes as "a printed, inflatable soft robot that moves and transforms," a pneumatic technology that, it's suggested, could feasibly be applied to car interiors for airbags or customizable seat-cushion settings in the not-so-distant future. Working with Steelcase, the Lab team also recently explored a future model of furniture production that's individually customized and printed on-demand.
With Patrick Parrish Gallery's market-ready inflatables on view to a wider, non-trade audience in the form of lamps and vases, and priced from $95 to $3,200 depending on size and complexity, the exhibition seems to mark a distinct milestone for the Lab's efforts. When I suggest as much, Tibbits responds with a humble and casual shrug, explaining that commercial viability isn't necessarily an end goal for the Lab, but simply one of many avenues to further its research and gain feedback.
"We'll do a research project and sometimes it's government-funded, sometimes it's industry-funded or self-funded, and other times it's through a different channel and we'll have different outputs, even if it's the same work," Tibbits says. "It could go to a gallery, it could go to industry, or it could go to an academic paper—it's all the same research work explored into different directions and possibilities. Here, it's simply research translated into a product and gallery context."
As Guberan also emphasizes, the inflatables suggest a new form of production in which the printed object isn't the definitive end product—but rather a marker within a lifespan of flexible use. It's an opportunity to reshape our understanding of product design, beyond our current systems of industrial mass production.
"People often ask me where the interest lies for a product designer, or if I identify more as a product designer or material researcher," says Guberan, who has been collaborating with the Lab since 2014. "For me, I see the lab and the people working there as simply having a new way of producing objects. It's like working with future artisans, the artisans of tomorrow. As a designer, people usually expect that we turn out one design, a perfect final masterpiece—but with this technology, the outcome is much more flexible, less definite. Once it's printed, the object has the ability to take on another life of its own."