Facebook's privacy and fake news woes notwithstanding, the social network giant topped the list of best workplaces as rated by Indeed's latest survey.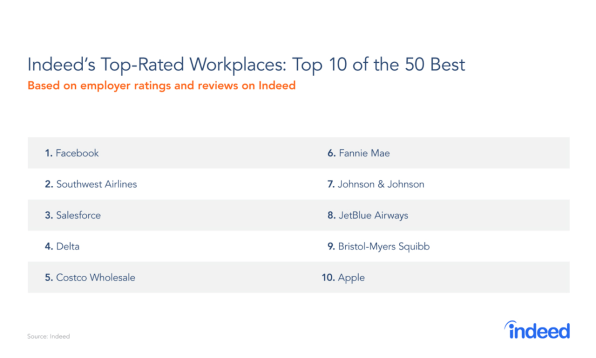 To identify the Top-Rated Workplaces in 2018, Indeed's data team analyzed 72 million ratings and
reviews for companies on this year's Fortune 500 list. Facebook rose from fourth place to take the No. 1 spot, followed by Southwest Airlines, Salesforce, Delta, and Costco.
Employees held Facebook's benefits and perks in high regard: They frequently cited their colleagues and the company culture as reasons to love working there. It was described as "intense but rewarding" work coupled with a high-energy, productive, and collaborative environment.
Reviews from staff at each of the other top five companies reveal similar satisfaction gained from collaborating with smart coworkers, as well as salary and benefits.