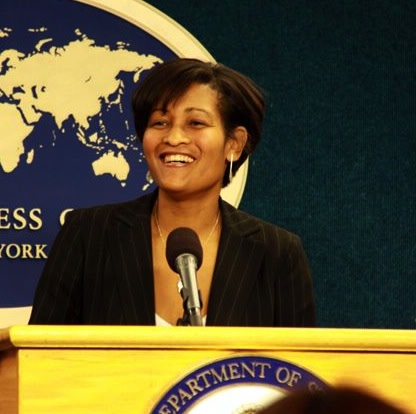 The government and private sector don't always get along. But Cheryl Mills, Hillary Clinton's current counselor and chief of staff (and former deputy White House counsel for President Bill Clinton), believes that entrepreneurship and strategic investments from the private sector can do more than government assistance alone in transforming countries in need.
Mills, who took a break from government after the Clinton administration to work at New York University and Oprah's Oxygen Media, is a champion for social good in developing countries. "My actual passion is getting things done," she tells Co.Exist. Specifically, Mills says, she's had the chance in government to see how interventions and investments can be transformative for circumstances, individuals, and communities.
Perhaps you've heard of the U.S. government's Feed the Future plan, a presidential initiative spearheaded by Mills to increase food security in struggling countries by increasing "agricultural production and the incomes of both men and women in rural areas who rely on agriculture for their livelihoods. Investments in inclusive agriculture-led growth encompass improving agricultural productivity, expanding markets and trade, and increasing the economic resilience of vulnerable rural communities," according to the website.
For Mills, the initiative has been a chance to "see what it can mean to have a second green revolution for people who haven't had the chance to be part of the first one." It's hard to imagine a second green revolution in the developing world without genetically modified food (there are plenty of people who think biotech can solve the world's hunger problems), but Mills stresses that she doesn't push any particular GMO agenda.
"Each country has to decide how to best engage their own citizens and their own policy environment to ensure they can produce the food they need," she says. "I think that there are definitely improved technologies that are beneficial. One of the things we try to do is to help people understand the choices, understand the benefits and opportunities and also … some of the risks and challenges."
Besides, she says, there are ways to alleviate hunger outside of changing the way people grow crops. Changing the way people get food products to market and giving them facilities where that food can be processed effectively means that people don't necessarily need to grow more–instead, they can save more.
Overall, Mills is optimistic about changes for the better in world food security. She believes that we'll see a meaningful impact from today's investments in about a decade. "It's about staying with investments over time," she says.
Mills is also deeply involved in Haiti's recovery efforts. She travels to the country every three weeks or so, where she works on figuring out how to catalyze economic growth, private sector investments, and entrepreneurialism. Things are slowly getting better, she says. "There are fewer people living in tents, more people with access to quality health care, more kids who are in school, and for the first time in a long long time, Haiti is attracting private sector investments."
The U.S. government is focusing not just on Haiti's capital of Port Au Prince (where most people choose to invest), but also on investments in the northern part of the country. The government has helped shore up investments in the area, which recently received a new industrial park (a $300 million public-private partnership that will create up to 65,000 direct jobs). The area's ports are also in the process of being upgraded, and the Inter-American Development Bank has also financed seismically safe homes in the region.
There is no upside to the Haiti earthquake, but Mills believes that "all of the investments in the north … would not have happened if not for the earthquake." Remember: Haiti was in need of an infrastructure revolution long before tragedy struck in 2010.
What's next for Mills once she leaves Foggy Bottom? After she takes some time to herself, she'd like to "help leverage private sector to transform communities." Says Mills: "I have come to appreciate that government assistance and donor assistance is tremendously valuable, but only as valuable as their ability to catalyze growth [in countries]. There are a lot of beneficial opportunities that [the private sector] could be embracing if they knew how to navigate those risks and have the right partners."