In the U.S. right now, seven out of every 10 pregnancies among unmarried women aged 18 to 29 are described–by women themselves–as unplanned. Those numbers are disheartening to Bill Albert, chief program officer of The National Campaign to Prevent Teen and Unplanned Pregnancy. "What we know about 18- to 29-year-olds is that an overwhelming number–90% of them–say they don't want to get pregnant," he says. "But only half are using contraception regularly and effectively."
The problem is largely that the factual information on preventing pregnancy isn't reaching this audience. "What's out there now for this age group are pamphlets on STDs with eight smiling faces–why are these people smiling?" says Albert. "The tone isn't right, it's too dense and scary and not helpful." Albert wanted a new way to empower young women to make the right choices for themselves that was more relevant to the way they live.
In 2010 he enlisted IDEO to create Bedsider, a website and community that helps women choose a birth control method that's appropriate for their sexual behavior and teaches them how to use it consistently and effectively. The site launched in beta in June of 2010 with 750 women aged 18 to 29 in Florida, and kicks off officially on November 10 with a three-year advertising push by the Ad Council.
As the IDEO team began its research, they agreed with Albert's assessment that sex information is horrendously out of touch. "People don't actually talk about sex at all–not in any meaningful way, at least," says IDEO's Jennifer Maer. "There really aren't any safe forums for adults to talk about sex, ask questions, learn, and not feel judged." When they first began their interviews with women in their target audience, they found that, more than anything, people were hungry for the opportunity to just talk and share–often asking the designers from IDEO their own questions about sex. That strategy, to start answering real questions in a meaningful way, became the heart of Bedsider's mission.
The team decided on two major goals for the site, says IDEO's Mary Foyder. "We needed a design solution that would honor the heat of the moment–not try to intervene once the heat was on," she says. "Secondly, to reach women we have to talk to them on their terms–to fit both visually and verbally into their lives." The strategy became to present honest, conversational information about 17 different methods of birth control, plus where to get them, and to do it in a way which acknowledges that having sex is a natural, enjoyable activity–not something that should be shunned. "Sex is fun, and hot, and intense, and emotional," says Maer. "You don't use birth control because you want to take a pill or insert a medical device into your body. You use it because you want to get it on without worrying about getting pregnant."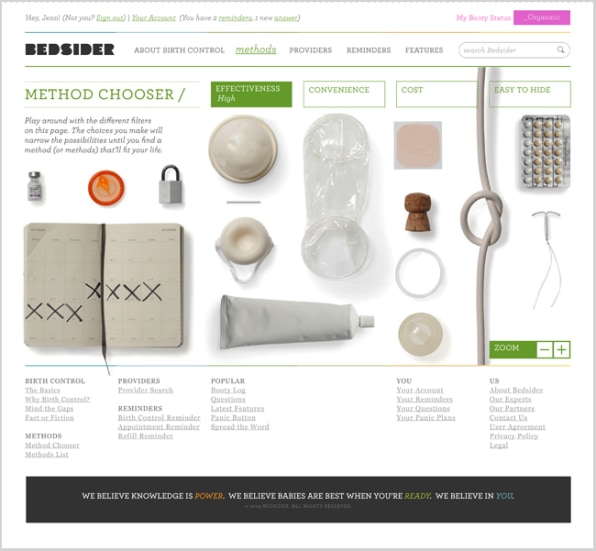 While the conversational tone was important, the team also had to add some authority to the site to back up the campaign's medical facts. Maer says they tested various voices with their audience to strike the right balance between sexy, funny, and scientific. "As we prototyped with women in our target audience, we found that if you went too sexy, it came across as slutty. Not credible. Too funny? Same thing. Too medical and official? Women tuned it out. So we played with those levers until we found a balance of all three that seemed to work."
In addition to the facts about birth control methods, a series of regular features allow women to explore issues around sexuality. A current events feed explores birth control topics and women's health issues in the news. Real Stories are videos of real women in the featured demographic talking about their experiences using various birth control methods. And Frisky Fridays is a weekly column that covers topics from relationships to sexual positions. "We wanted to talk to adults like adults and give them no-nonsense information that knocks down misconceptions and lets them decide for themselves what type of birth control is right for their bodies," says Foyder. The resulting content is more like a women's magazine than a public health initiative.
The site strikes a balance between entertaining and educational in a series of videos entitled Fact or Fiction. These short vignettes hope to shed light on some of the most pressing questions and myths around sexual behavior–like, could your NuvaRing pop out during sex and can you really use Coke as a spermicide? Charmingly illustrated by Kate Bingaman-Burt and animated by IDEO's Mark Del Lima, the videos' questions were taken from real conversations, which are supported or refuted by a real-life MD who appears at the end of each segment. The key was to make the videos so inherently topical and visually irresistible that women can't help passing them along to friends–along with the embedded kernel of knowledge, says Bingaman-Burt. "There were so many fun situations to draw," she says. "The burping vagina is a crowd-pleaser, at least among my friends." Twelve more videos will be rolling out over the next year, including a Busby Berkeley-inspired stage show starring dancing sperm.
Another area where Bedsider's voice shines is in a simple daily text-message reminder to take your birth control pill. The short texts are short and timely (recent messages were themed to Halloween candy, for example) and full of often hilarious facts ("There's evidence that masturbation can increase a woman's resistance to yeast infections. And for those times when you don't go solo, take that pill.") These are perhaps the most subtly effective tools in Bedsider's campaign. Even as someone who has been taking the pill for years, I have to say it really works: Even I appreciate the reminder and daily meditation on my sexuality. I'm now taking my pill at the same time every day.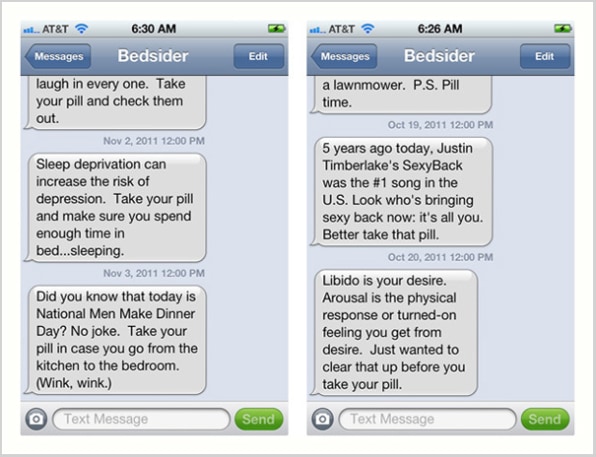 Those kind of small but incremental accomplishments will be a big part of Bedsider's official launch, as they're also planning to add a gamification element that allows users to accumulate points for positive behavior. "No one gets rewarded for doing the right thing," says Albert. "If you're taking your birth control every day, no one comes to you and says, congratulations for being responsible." Albert hopes to change that by working with the startup Daily Feats, which gives gift certificates or donations to nonprofits as rewards for healthy behavior. So just by taking your pill every day, you could win a free latte or a gift to a local charity.
While the site hasn't been promoted to a larger audience just yet, recently, says Albert, a study by Philliber Research Associates and the University of California at San Francisco has given some early signs that Bedsider is working. According to the study of the 750 women in the beta program, eight out of 10 women said since they started using Bedsider they had tried harder to avoid unprotected sex. And 83% of users said they had been more careful about using birth control methods. What Albert hopes that shows that having increased knowledge, delivered in the appropriate way, can indeed lead to an intent to change behavior. "That's a big deal," he says. "We do know that they are early results, so we caveat this to death. But we are over the moon."