Once upon a time, a friend and I ran the coffee bar in the U.K.'s flagship Next retail store. It was the first modern espresso bar that London's West End had seen and was hugely popular, as well as hugely profitable.
George Davies, the CEO of Next, came in most mornings and we would make him breakfast. During the nine months I was there, Davies took Next from what was predominantly a clothing brand into a lifestyle brand. Alongside women's clothing and menswear (and the coffee and cakes), we had Next interiors, Next wedding wear, Next jewelry, a couple of Next restaurants, and even Next hairdressing. It was too much. As a member of staff, my whole life was Next–my hair (with highlights), my clothes, my food, the chair I sat on. Everything I touched or owned was Next. I felt possessed by the brand–as though it were seeking to control and dominate every aspect of my life.
That was 1985. Such brand excess couldn't happen nowadays, and as it turned out, it wasn't sustainable then–even at the height of 1980s branding. Brands have changed and are changing for the better. The best and most effective are no longer marketing mechanisms designed to flog products. They are not even about establishing and defending competitive positions. The best brands play a different, connected, collaborative role. And they are fascinating.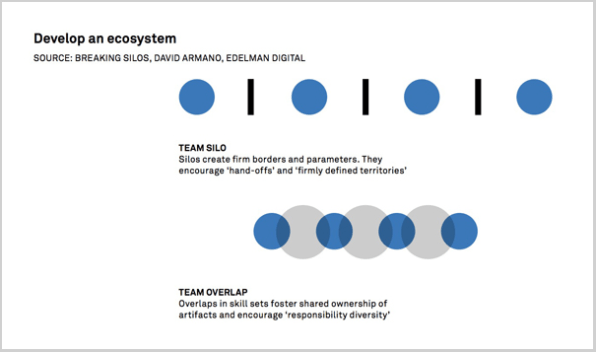 In 2012, growth is no longer a matter of market share. In a world dominated by constraint, the brands that grow do so by understanding and meeting more and more needs and producing products and services to meet those needs. Growth is about share of mind and wallet, not simply share of market. It's no surprise that the world's most powerful brands can jump categories at will. Apple, Google, Tata, Innocent, Sony, Sky, Virgin, Tesco can gate crash almost any category they choose. Credibility, not capability, is king. It's easier for a trusted brand to become a bank than it is for a bank to become trusted.
And the brands that will have the greatest impact on all our lives are those that see themselves not as citadels that need defending but as causes that need joining. The most important, most effective, most impactful brands are those that have put petty competition behind them and embraced collaboration as an operating principle–it is their core DNA. These brands are clear about their ambitions and are not shy about seeking out others who share those ambitions. And with these partners they will pool resources to create a better future.
Vattenfall and Volvo came together to work out how electric mobility should work for all of us. Nandan Biomatrix, India's sustainable energy provider and nutraceutical company pioneered a collaborative approach with thousands of farmers and quite a few governments to generate reliable energy. Cisco's highly ambitious Cisco I-Prize innovation contest invited outsiders to develop a business plan that took Cisco into territories they hadn't explored before. The winning entry was worked up alongside the company's own executives, and Cisco handed the originator $250,000. It conceived of household devices such as toasters and dishwashers that tell the electricity grid what their energy usage was likely to be before they were turned on. This would allow the grid to manage energy requirements in the same way that Internet infrastructure manages the demands of server traffic.
Could Cisco have come up with this idea itself? Possibly, but it didn't. The energy-saving initiative has gone into development, and Cisco has created for itself an ecosystem of new ideas that is seeded with the remaining 1,000 as-yet-unsuccessful business-plan entries.
This isn't CSR or even crowdsourcing. It is a smarter way of doing business. In this world of collaborative effort, brands have to get smarter about how they behave. The most impactful see themselves as players on a wider stage, as needing to understand and interact with the other players on that stage.
Mark Thompson, director-general of the BBC, talks compellingly of how his company must act with other creative institutions to "protect, develop and defend the public space." Traditional branding is currently too crude for the subtleties we now demand. Brands on a collaborative stage need to work out when it's appropriate for them to be present, when they should be absent, and when they should be recessive. It's a hangover from the age of brand as domination–from the Next school of branding. The brands of the future will not instinctively observe boundaries; they will work with others to further their ambitions. These brand-led businesses will understand the broader ecosystems that surround their traditional competitive landscape. They respect the context of their daily operations, but they will choose to extend outward when necessary.
They will also be more pleasant–less domineering than Next–and I suspect we'll like them that much more for it. More collaborative, with shared outcomes and incentives, and a culture of approachability–bring it on.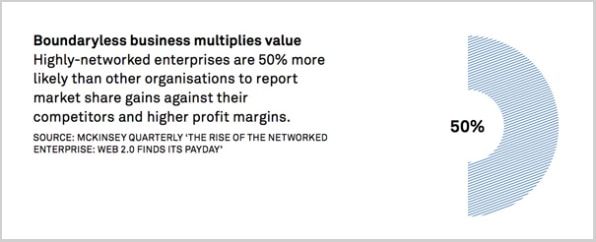 Find an ecosystm of partners who share your values and a common ambition.

Be boundaryless within your own organization by breaking down silos, and bringing people from partner organizations onto your management team.
***
Search for links in your value chain where you could stop competing and create a new model of cooperation.
Instead of competing with other retailers, Amazon chose to enable them. Its Marketplace is a fixed-price retail platform that allows any professional third-party vendor to access billing, marketing, distribution, and customer relationship management systems. By separating its production and distribution business, Amazon created an ecosystem of retailers who are wholly integrated into its fulfillment process, many even leasing space in its warehouses.
Take core experience out to every valuable channel.
PayPal has vastly simplified the online transaction process, allowing individuals and businesses to buy and sell conveniently and securely. Its recent inroads into mobile and transaction services for small companies give it a digital foothold in conventional businesses. And its distributed innovation model gives it access to the collective intelligence of 50,000 developers outside the organization who are busily creating more than 1,000 new apps each year, including a person-to-person lending mechanism.
Create an entirely new service or product with partnership as its proposition.
(RED) pioneered a new model of charitable giving by harnessing the power of brands and consumerism to create partnerships for change. 100% of the funds generated by (RED) partners and events goes to global fund programes, which provide medical care and support services for people affected by HIV/AIDS in Africa.
The (RED) system is designed for mutual benefit–brands get an elevated profile through the custom product design and the cause's own marketing, and the effort generates a steady stream of revenue for the global fund, far exceeding traditional one-off payments from corporate philanthropy budgets.