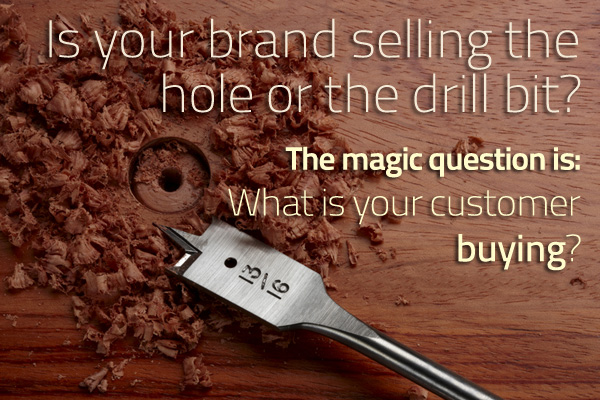 Frankly, it's the blind spot that costs more businesses to lose revenue faster than a roomful of politicians.
In two separate conversations earlier this week, I was discussing the brands of two very different companies that were plotting the future course each brand would take.
In each case (after a little while), I needed to bring the focus of our discussion back to the needs of their customers, rather than staying focused on the "who-we-are, what-we-do" box. I needed them to understand that their brand must be all about what their customer is buying, not what you're selling. (iPod is the classic example. The iPod was the 3rd or 4th [depending on where you read it] MP3 player. But Apple didn't sell an MP3 with x-number of gigabits, it sold "1,000 songs in your pocket." Brilliant.)
Then I came across the ideal example. It goes like this:
Most businesses are talking about "their drill bit."
Why? Well, they made it. They know its superiority. They know the remarkable materials it's made of. They know how brilliantly it can perform and that it surpasses what the competition offers.
There's only one problem.
When someone needs to drill a hole, they're looking for anything that gets them the solution and outcome of a drilled hole—not particularly a drill bit.
They are looking for anything that promises and represents the drilled hole. Especially if it's an easily, accurately, and fool-proof method of drilling that hole.
Which brings me to the point of this message:
Are you selling the advantage of your great drill bit, or
the satisfaction of the foolproof outcome of that drilled hole?
Too many companies "sell" drill bits. And as a result, they sell a lot less of them than they should.
Instead make sure your brand is built around that valuable, priceless outcome that is important to them (by doing that, your brand will become important, trust me). In short, you must build your brand about what your customers are buying, not what you're selling.
Action step:
Look at your brand(s) and make sure you're selling the hole, the outcome, the solution (to the right audience) and not just promoting your skills, services and products. You'll be known as the brand that achieves (–––––––), standing for something meaningful and selling a lot more.
Here's to successful branding.
Written by David Brier, award-winning designer, author and branding expert. His firm's work has won the admiration of peers and organizations but, more importantly, has helped clients jump start their brands in new and innovative ways, even (and especially) when they've failed in previous brand makeovers.