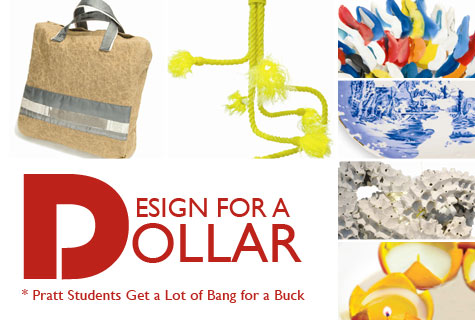 Designing anything beneficial–for one dollar or less–was the challenge Pratt students set for themselves as part of this year's ICFF Design Schools' Exhibition.
Surprisingly, the Pratt students managed to come up with a wide array of intriguing items, many of which were born of cast-off materials. That made their cost not only less than a dollar, but environmentally solid gold.
Directed by Pratt's professor of industrial design, Mark Goetz, students were asked to create designs that factored in such things as transportation, energy, material, waste, labor, and wide array of manufacturing costs. Some 80 graduate and undergraduate students took the challenge, and 15 of the best were chosen to participate in the exhibit.
"Students really gained a greater understanding, and cautious respect for all that goes into a product before and especially after it is designed," Goetz said. "In many cases, even with the most sincere of intentions, students learned their pieces exceeded the cost of a dollar. But most importantly, they learned why. Our students earnestly continue to search for ways to maximize the value of what they have offer to the world while minimizing the impact their ideas will have on the environment."
Students! Send us your projects and we'll feature the best on Fast Company's Design Channel. Email submissions to: fcdesign@fastcompany.com