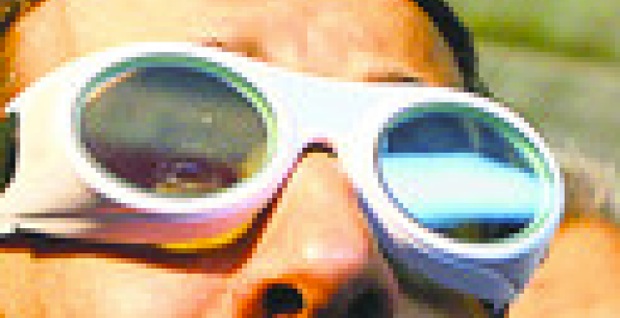 True, every picture tells a story. But which one?
The front-page photo in Monday's Wall Street Journal gave me a chill. Did Iran detonate a nuclear device? The Cold War era image of stern men donning protective glasses shielding them from an atomic blaze came to mind.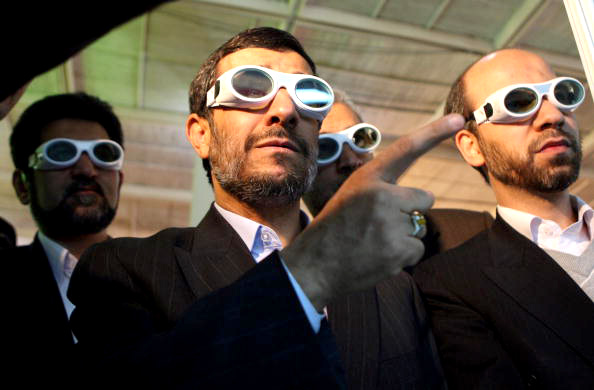 The headline read "Iran Points Up Its Nuclear Challenge to the West." However, given this bizarre picture any of the following headlines could have, at first glance, been a viable alternative:
"President Mahmoud Ahmadinejad Studies Avatar for Secret Weapons Program"
"A-jad's Debut Hip Hop Album, Plutonium Goes Platinum"
"Defiant Iranian Swim Team Holds Press Conference Stating 'We're Number One!'"
"Top Iranian Officials Patiently Await Next Solar Eclipse"
"New Karim Rashid Eyewear is All the Rage in Tehran!"
The photo caption actually read "President Mahmoud Ahmadinejad, touring a laser-technology exhibit in Tehran ordered Iran's nuclear agency to start enriching uranium for a research reactor ratcheting up his defiance of the West."
The image was designed to send a threat. Iran means business. Ahmadinejad, shot from below to increase his stature sports a double-breasted Mafioso jacket. His right index finger is aimed at the temple of the man to his left. If his thumb was cocked, pistol like, it might have enhanced his intended message of resolve.
Photographically, these four Men of the Apocalypse, set against radioactive green backdrop are meant to look deadly serious. In turn, they look seriously hilarious, proving that photography continues to be a weapon of mass deception.
[Photo: ATTA KENARE/AFP/Getty Images]
Read more of Ken Carbone's Yes to Less blog
Browse blogs by other Expert Designers
Ken Carbone is among America's mostrespected graphic designers, whose work is renowned for its clarity and intelligence. He has built an international reputation creatingoutstanding programs for world-class clients, including Tiffany &Co., W.L Gore, Herman Miller, PBS, Christie's, Nonesuch Records, the W Hotel Group, and The Taubman Company. His clients also includecelebrated cultural institutions such as the Museé du Louvre, TheMuseum of Modern Art, The Pierpont Morgan Library, The Chicago Symphony Orchestra, and the High Museum of Art.