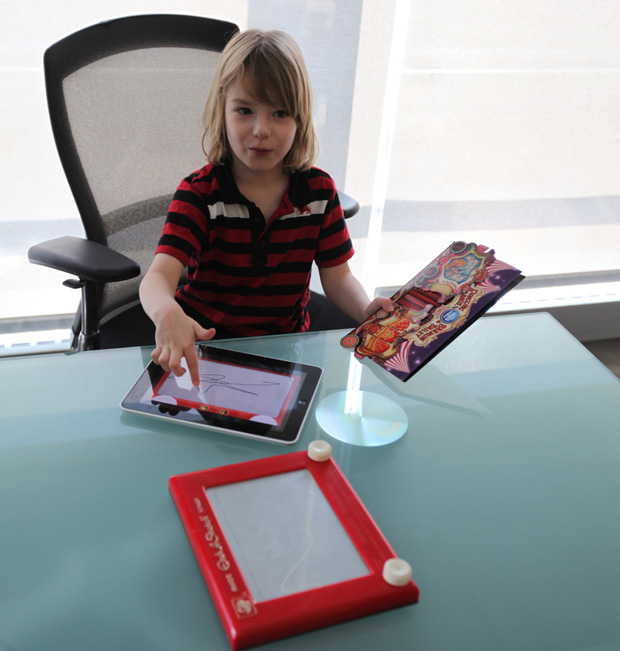 A few months ago, I dropped my iPhone and cracked the screen. After replacing it, I put a screen guard on the old one and gave it to my son, Cash, who's five. Within days, he had mastered almosteverything but the volume button. Occasionally, long after he wassupposed to be asleep, I'd hear 30-second blasts of Rob Thomas, Justin Bieber, orLady Gaga coming from his bedroom–he'd figured out how to go to theiTunes store and was playing samples of top hits. If he knew my iTunes password,he'd have broken my bank account by now–and developed a horrific taste in pop.
Then after reading an earlyversion of Anya Kamenetz's story, "A Is for App," in the April issue of Fast Company, Idownloaded a few educational apps and played them with Cash on his phone during the bus ride to school. I think it's helped him with spelling and coordination.
So as the iPad launch approached,I started telling Cash about it and showing him pictures, but I never toldhim anything about how it would work. "It's like a giant iPhone!" he said.
"What do you want to do on it?" I asked him.
"Tether it to an iPhone and run a multimedia presentation at the office!" he said.
Kidding.
"Play games!" he said, having just discovered Lightsaber Unleashed on his iPhone.
This week I read all sorts of thought provoking reviews by the likes of David Pogue and Walt Mossberg and Andy Ihnatko.But a true test of the iPad's genius, I thought (and convinced mycolleagues and Cash's mom to let me try) would be to let him test oneout. Could the tablet be so user friendly that a five-year-old could work it with practically no instruction? Let's see.
So, yeah. He pretty much figured it out in five minutes flat. He instinctively pushed the home button when he got stuck. He knew how to makepictures larger, how to draw on the Etch-a-Sketch app (he preferred itto the actual Etch-a-Sketch we had in the office). And, of course,because he's a boy, he learned how to shoot the shooting games andsteer the racing games. I'm not being sexist. It's just how it is.
Thebiggest drawback is that the device didn't know when the picture was upside downif it was lying flat (how could it?). And it needs a case to keep from slipping around and pivoting on its curved back when sitting on a slick surface.
Oh, and it should come with a crowbar to pry a five-year-old away from it.
[Photo: Michael Krakovskiy]