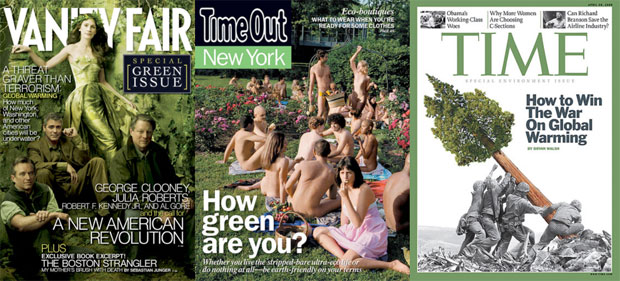 The sustainability conversation has evolved radically since I started the Designers Accord two and a half years ago. At that time, major magazines like Time and Vanity Fair were declaring "eco-wars," reveling in "eco-nakedness," and celebrating Indiana Jones-Athena hybrid "eco-pin-ups."
Industry conversations were punctuated with comments around recycling and material selection. Questions like "What's your end-of-life scenario?" became trendy corporate pick-up lines, provoking our clients into thinking differently about waste (thank you, Bill McDonough). But while the movement matured, the tone of this conversation had a reverse effect in the design community. Many designers found the topic too tactical, too focused on conscious consumption and sacrifice instead of the lingua franca of design: empowerment, status, beauty.
Of course there's great progress to be made by focusing on these specifics–everybody loves the reluctant-hero story of Method, and yes, the improved practices undertaken by Walmart around packaging, composting, and supply chain will continue to have major positive impact. But the dialogue at that time appeared to center on adaptation rather than change; checklists rather than experimentation. Even as a few hundred thousand people rallied around Designers Accord, extending the movement to somewhat of a global phenomenon, "sustainability" in many ways has still felt out of sync with the incredible potential of design, with the reason we all do what we do every day.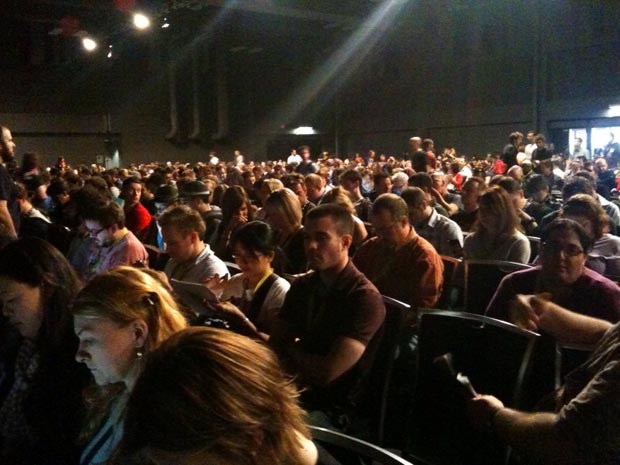 Enter the interactive community.
Last week I gave one of the keynote presentations at the 10-day film-interactive-music spectacle in Austin: SXSW. It was my first time at the event, and all of the rumors, innuendos, myths, and warnings rang true. The crew who picked me up at the airport cautioned me that the "South-by" audience ruled, and that the speakers served at the pleasure of a Twitter-equipped crowd who could ruin you (4evah!) within five minutes. The warning was raw: there had been a mutiny that morning during a panel, people constantly recalled the infamous 2008 Zuckerberg interview, and of course, the Umair-Ev interview the day after my presentation will go down in history. I was there, it was indeed that ugly.
Fortunately the talk I gave was well-received (you can see some of it here). And what I did in that talk was call out the fact that the interactive community has been acting as benchwarmers, sitting on the sidelines in the sustainability movement. And they've grown comfortable in this passive position despite the fact that their community is comprised of the developers and designers who create the products, services, and strategies that shape our global culture.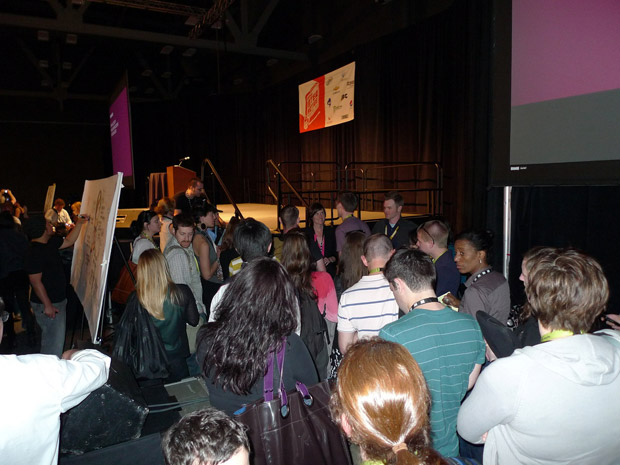 My answer for this audience was to think about sustainability as systems design, something any interaction designer is totally comfortable with–it's in their DNA. I outlined seven principles for systems design, but as was pointed out to me several times after my talk, interactive designers still wanted to know: What could they do today? Where should they start? One well-meaning designer asked: "Can't we just re-Tweet something?" While making a list of sustainability to-dos seems antithetical to the message of real systems thinking, I realized that offering real-world applications was the second, crucial part of my message. I've given it plenty of thought in the week since I've left Austin, so here are my seven principles, plus a start at seven action items for anyone is looking for a way to reconsider the sustainability challenge.
Principle 1: A system is more than the sum of its parts. If you take the system apart these properties are lost, and every part of the system affects every other part. Nothing is outside the system.
Action: Internalize the concept of the system. Using this simple diagram by Bruce Mau, it's easy to see how you can understand matter as a long piece of string with two fixed points. Where you pull one bit, others have to give. You can map your projects, your resources and your impact this way.

Principle 2. Delayed feedback results in "design traps." The time-lag that obfuscates what really needs to change, combined with the bounded rationality that comes from operating from what you immediately know, can cause designers to make bad decisions.
Action: Stop designing for the symptom. A lot of design work focuses on making the problem easier to stomach, rather than tackling its problematic source. Something like Recycle Bank rewards people for recycling without encouraging them to buy less or buy local. The numbers don't lie: For every $100 spent locally, about $68 stays in the community, if you buy from a chain store, it's only $14.
Principle 3: There is no such thing as a side effect. We often draw artificial boundaries around our projects not just to focus on the matter at hand, but to relinquish responsibility for what lies outside the boundary.
Action: Experience your own by-products. How about this exercise: Carry around your trash for a week. Don't throw anything non-compostable away. That means water bottles, packaging, tissues, plastic utensils, the lot. It's a quick lesson in understanding the material "side effects" of all we consume.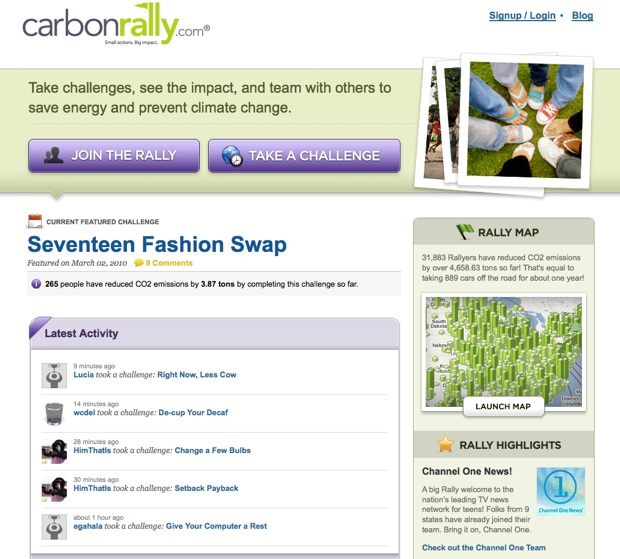 Principle 4: Create the right measurements of success. Less bad isn't good.
Action: Start a social network with a social cause. We love to create networks, but how about creating a reason for networking? Carbon footprint calculators fall short because the resulting data is abstract but sites like StepGreen, Carbonrally and The Carbon Diet with real users sharing their stories and progress makes the impact, and the effort, more real.
Principle 5: Select the right lever for change.
Action: Become a mentor. Spend six weeks working with a high school student, and learn about yourself while helping someone else use design thinking to change their environment: their school. We're launching a new program with Design Ignites Change named By Design that will do exactly that, and we need you to participate.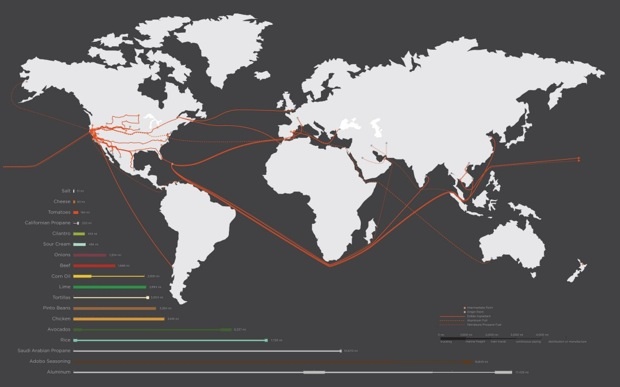 Principle 6: Recognize the relationship between structure and behavior. The structure of a team, organization, community, industry completely determines its behavior.
Action: Investigate a system. Research the food system in all of its corrupt political glory. Understand that what you put it your mouth is a political act. Watch Food, Inc. or the Meatrix, and while you're at it find out why a salad costs more than a Big Mac, why the global food market starves the poor, or why your taco traveled from halfway around the world. Visualize and share the source of something you love, and add a little rigor to your investigation–you might just debunk some of the typical sustainability assumptions, and launch a new way of thinking.
Principle 7: Public attention often does not reflect changes in real conditions. Don't fall for the tranquilizing effect of the buzz swirling around sustainability–you have to do something, too!
Action: Contribute, distribute. Act now! Add your own suggestion in the comments section, and if you feel compelled, write about this topic on your own blog. Sure, you can re-Tweet the link, but more importantly, ask others for their contributions, too. We can follow this conversation here, together: #DA_Action
Read Valerie Casey's blog Networked Culture
Browse blogs by other Expert Designers
Valerie Casey is a globallyrecognized designer and innovator. She works with start-ups,governments, and companies all over the world on challenges rangingfrom creating new products and services, to transforming organizationalprocesses and behaviors. Valerie is the founder of the DesignersAccord, the global coalition of designers, educators, and businessleaders working together to create positive environmental and socialimpact. Valerie's work has been highlighted in multiple publications,and she has been named a "Guru" of the year by Fortune, a "Hero of the Environment" by Time, and a "Master of Design" by Fast Company.Valerie lectures on design throughout the international community, andis an adjunct professor at California College of the Arts. She holds amaster's degree in cultural theory and design from Yale University anda BA from Swarthmore College.