The Post Office is rolling out near-real-time tracking of mail carriers–by using flip phones.
The not-so-state-of-the-art technology can be seen in the photograph uploaded by a postal worker forum user identifying themselves as 3zoner from Utah: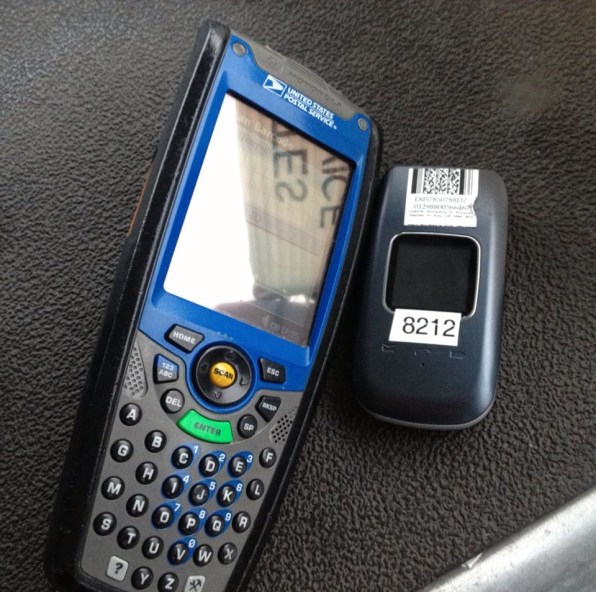 Labor Notes reports:
If your neighborhood letter carrier seems more hurried than ever, please be understanding: her every step may now be tracked with a GPS device.

A new program called IMD Wireless—already launched in some areas, and scheduled to roll out across the country by the end of 2013—uses Bluetooth-enabled cell phones to report carriers' progress.

The tracking devices are 1990s-style flip phones that have GPS built in. "They were probably in the basement of AT&T, gathering dust," said Frank Couget, a Manhattan letter carrier and steward.
Postal workers already carry the scanners, but the cell phone will allow that data to be broadcast wirelessly on a pre-determined schedule (currently every 15 minutes), according to USPS spokesperson David Partenheimer and will also allow USPS to "expand its GPS footprint."
Partenheimer told us over email that the flip-phone-and-scanner combination will be rolled out at a rate of 15,000 a month until 170,000 are deployed, before replacing them with something a little more contemporary. "This program is an interim step to a more robust replacement of the current scanners with a single device based on smartphone technology," says Partenheimer.
The rationale seems to be to give customers real-time tracking, a la Fed Ex or UPS. "The real-time scanning information market is a growing business opportunity with millions of dollars in potential revenue," writes Partenheimer. "Package carriers and mailing companies see this as a growing market for both mailers and customers who want to know package delivery status as it occurs."
But a USPS document uploaded to yet another postal worker forum doesn't mention sending information to customers; It says the purpose is "improving service level consistency."
The program been interpreted ominously by labor educator Charley Richardson, quoted in the Labor Notes story: "Managers monitor to gather data and then analyze the work process and intensify it. They use data to cut corners, speed workers up, increase stress, and eliminate jobs."
Asked for his response, Partenheimer wrote: "The Postal Service has a responsibility to the public, mailing industry, and its employees to continually improve the efficiency of its operations. The IMD wireless program enhances USPS efforts to provide the best value to the mailing public and the best business value to mailing industry."
The response of postal workers themselves is decidedly mixed, if the voices on the Federal Soup forum are any indication:
"Ask some of the UPS drivers how they are micro-managed. For those regulars that seem to go off their route for one reason or another, they will be questioned why they diverted off the line of travel. if some take a 45 min lunch instead of the normal 30, those days are over," said one commenter.
Replied another: "Or those regulars that get finished by 2pm and read a paper under a tree til 4pm."