Back in February, Senator Ted Cruz opined with his trademark lack of self-awareness: "The Democrats are the party of Lisa Simpson and Republicans are happily the party of Homer, Bart, Maggie, and Marge." This is definitely the more telling instance of a politician dragging the Simpson family across real-world ideological fault lines.
Not only is Cruz's observation dubious (does anyone think Maggie, or Bart for that matter, has a party affiliation?), it's also ill-advised. Lisa is the moral center of The Simpsons, while Homer is its dangerously (if lovably) uninhibited id. Homer's whole deal is doing everything precisely the wrong way, all the time, with Lisa pointing out sensible but oft-ignored solutions. Cruz probably meant to cast Democrats as the whiny killjoy minority, but in doing so he self-identified as a reckless, incompetent buffoon.
Although it was fun to watch the longtime Simpsons showrunner Al Jean clown on Cruz, something about the Senator's comment stuck in my craw. If the regrettable current crop of Republicans is indeed the party of Homer Simpson, does that mean Homer would have voted for Trump?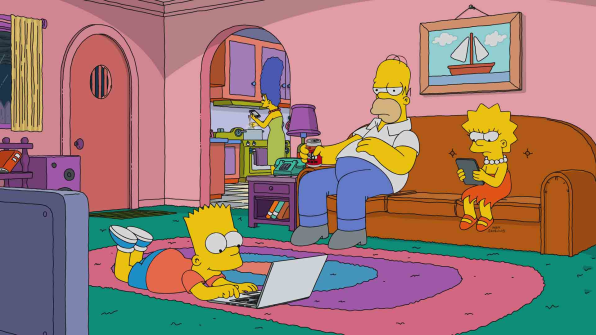 This question has kept me up an embarrassing number of nights this year. In the same way that Homer got progressively stupider in the show's later seasons, to the point where he'd become almost unrecognizable, the day-to-day antics of late-period Trump-merica have become equally insipid–when they're not outright terrifying. Unwinding with a classic Simpsons episode or two used to be the perfect antidote after a typical 2018 day of looking at my phone and screaming for 20 hours straight. Ever since Ted Cruz accidentally correctly painted his party with the Homer brush, though, my happy place has been poisoned.
When I watch the show now, I can't stop thinking about Homer and Trump. Trump and Homer. Homer and your garden-variety, spite-fueled, MAGA hat-sporting Trump Train passenger. Just with a cursory parsing that first time, I was unable to rule out whether Homer would have found himself merrily engaged in a "Lock her up" chant. (Hey, the dude loves chants.) At this point, I've considered from every angle the question of whether Homer would have actually voted for Trump–and now, reader, so too will you. Strap yourself in and feel the Gs.
Some ground rules
When you're batting around Simpsons hypotheticals, it's important to establish what is and isn't canon. For instance, anything that occurs in the "Treehouse of Horror" Halloween specials officially never happened. Homer never accidentally voted for McCain in 2008, nor did he intentionally vote for Romney in 2012. The sentiments put forth in Halloween episodes, however, are eligible for consideration. When the alien wearing Bill Clinton's skin in a "Treehouse" segment declares, "I. Am. Clin-ton," and Marge Simpson says to her TV, "That's Slick Willy for you, always with the smooth talk," it gels with the Simpsons' tendency to absorb media narratives.
Also up for consideration is 2007's The Simpsons Movie, along with the more recent episodes of the show, although I've admittedly not seen much of the last several hundred of them. Finally, for the sake of this analysis, any supra-episode short-form offerings–like 2016's "3 am," which posits that Homer did, in fact, vote for Hillary Clinton–are off limits. Lord knows, I wish I could just watch "3 am" and feel sweet relief. That's why it exists! The video came out during the late-summer sludge toward election 2016 and plays like a get-out-the-vote PSA. It's crystal clear about where the show's writers stand–but not necessarily where Homer does.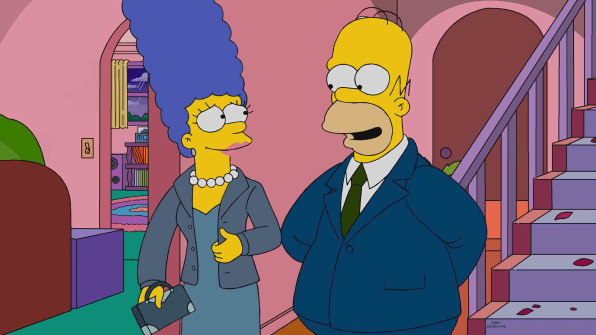 What we know about Homer's politics
Is Homer a Democrat or a Republican? The show's writers have been almost as cagey on that front as they have been about which state Springfield is in. During the season 18 episode, "You Kent Always Get What You Want," a suddenly Fox News-watching Homer insists, "Liberals: I hate them so much!" Given that episode's plot, though, it seems more a commentary on Fox News' prejudices than Homer's–even if it does reiterate how well they'd work on him were he a loyal viewer. Far more useful clues about Homer's political beliefs are sprinkled elsewhere throughout the series.
The beloved "Mr. Plow" episode from season 4 finds Homer daydreaming about helping then-president George H.W. Bush snowplow through some protesters (who are holding signs with slogans like "Pay Me Not to Work") so he can smuggle priceless works of art out of the White House. It's not exactly a Sopranos-level abstract dream, the kind that requires Jungian analysis. It is odd, though, that Homer's subconscious would be so pro-Bush when the previous year, the then-president said of his Republican platform: "We are going to keep on trying to strengthen the American family, to make American families a lot more like the Waltons and a lot less like the Simpsons."
A few years later, in season 7, Homer encountered George H.W. Bush outside of his dreams. The episode about their relationship not only dilutes Homer's apparent affinity for the Republican president, but for politics in general. In "Two Bad Neighbors," the Bushes move across the street from the Simpsons. Shenanigans most certainly ensue. Before the dust settles, we find out that Homer apparently didn't vote in the previous election at all.
That's right, Homer Simpson–who loves to roll the dice, but is super lazy–did not vote. Aside from a few pointed utterances, he is mostly apolitical. This little wrinkle makes Homer's 2016 ballot decision harder to decipher. Sure, he's susceptible to messaging, fawns over celebrities, and is often fooled by empty promises, but Homer is never portrayed as any easily categorized voter. He is instead the person candidates struggle hardest to actually reach. He's a patriarch who's just trying to get by but doesn't seem aggrieved in any particular way. Even Cambridge Analytica probably wouldn't have been able to suss out those grievances, since Homer appears to keep off of social media. (Not Marge, though.) Homer is basically a pollster's enigma.
Here are the three scenarios that might have unfolded on his Election Day 2016.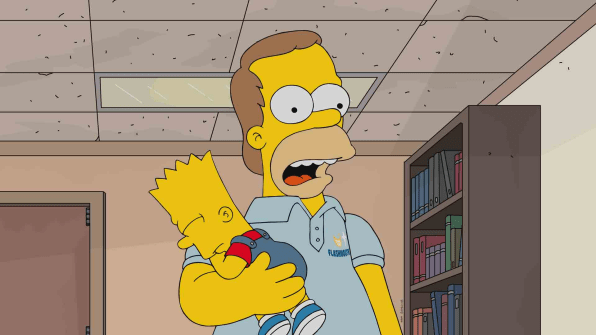 Scenario #1: Homer voted for Hillary Clinton
According to Grandpa Abe Simpson, Homer's family emigrated from The Old Country ("I forget which one.") Abe is as conservative as they come, especially in the episode which reveals that Homer comes from politically active hippie stock on his mother's side. The two polar halves of the parents seem to balance themselves out nicely in the son.
Homer is too unengaged in politics to either be energized by her platform or hate the Clintons as an institution the way that so many reluctant Trump voters did. He would've had to have some other issue in order to not vote for her.
While he may resemble the standard aging white Boomer who is furious about his changing country, over the years Homer has learned tolerance in just about every direction (if not always for the best reasons). He got over his homophobia the way almost everybody else does–by having an extremely John Waters-like gay man literally save his life. Homer eventually went on to become a minister and marry every gay couple in town in one lucrative spree.
On a similar note, Homer is initially anti-immigration. He gets swept up in the jingoistic push for Proposition 24, which would deport all illegal immigrants from Springfield–including everybody's favorite caricature, Apu. Even though they are friends, Homer still puts up an Uncle Sam-style sign at Apu's Kwik e Mart, which reads "I Want You Out." He finally come to terms with his xenophobia, though, realizing the value of immigrants and calling them "some of the truest Americans of all." (Lisa, of course, was against Proposition 24 from the start.) Homer isn't always the most enlightened man, but he usually ends up hewing close enough to pass as one.
It's impossible to consider whether Homer would vote for Hillary Clinton without examining his track record with women. Here he's shown signs of extra un-enlightenment. He once got Marge a bowling bowl for her birthday which was clearly meant for himself, he almost cheated on her with a hot, klutzy coworker named Mindy, entered his daughter in the Little Miss Springfield beauty pageant without her consent, and he's done more than his fair share of ogling, pandering, and discriminating over the years. But Homer can be reasoned with and he generally respects women. If he were initially averse to voting for one as president, it's hard to overstate just how strongly Lisa would dedicate herself to changing his mind.
Also, finally, Trump is a teetotaler who has tried to incite an NFL boycott. Homer would be completely turned off by such a person, and make fun of him mercilessly with his friend, Gerald Ford.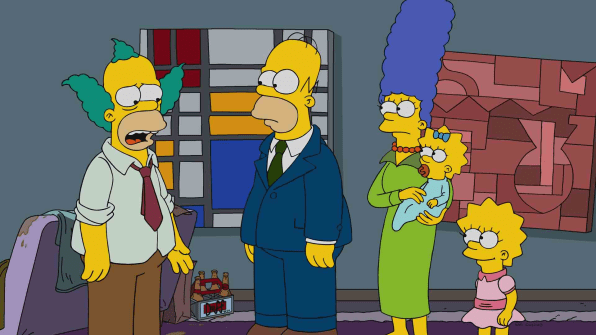 Scenario #2 Homer did not vote at all
There are any number of ways Homer would end up not voting. A train full of bratwurst overturned on the Springfield countryside? A structural cave-in at Moe's forces Homer and a slumming Mayor Quimby to figure out how to save themselves? As mentioned above, Homer is easily distracted, prone to impromptu adventures, and has sat out elections before. Stranger things have happened and often do.
Scenario #3: Homer voted for Donald Trump
This is the hard part, the moment I have to look one of my all-time favorite fictional characters in the face and give him an honest appraisal. Let's get it over with.
In an early episode, Homer's boss Monty Burns runs for governor just so he can change the laws in a way that would benefit himself personally. (Ahem.) Homer is the unlucky employee who ends up having to host Burns for dinner as part of a folksy photo op. Although Marge and Lisa oppose Burns, and end up sabotaging the dinner in a way that brings down his campaign, Homer quietly supports his boss until the end. He knows where his bread is buttered.
Homer has an anti-authoritarian streak, but his dedication to providing for his family means fervent loyalty toward his corporate overloads. Although nuclear power plant employees in real life are likely to be Trump supporters because of Trump's proposed investment in their industry, Homer's extracurricular activities reveal more about how he might have voted. (Plus, he's been fired from his job so many times at this point, it's hard to keep track of whether he even works at the power plant anymore.)
Finally, no overview of how Homer would perceive a political candidate would be complete without examining how Homer behaved as a candidate himself. In "Trash of the Titans," he decides to run for Springfield Sanitation Commissioner because he has an idealized, impossible vision for how trash collection should work. In doing so, he employs some Trumpian tactics to knock out the incumbent, Ray Patterson (Steve Martin). His campaign mostly consists of crazy promises, a catchy slogan ("Can't somebody else do it?"), sabotaging his opponent and viciously owning him during a debate.
After he wins in a landslide, Homer spends a year's budget in a month and causes an environmental disaster that can only be fixed by moving the entire town over five miles. Who could've seen that coming?
Homer's indifference to environmental protection is glaring, but ultimately it's his lack of scruples here that worries me. I can't deny it: Homer may have voted for Trump.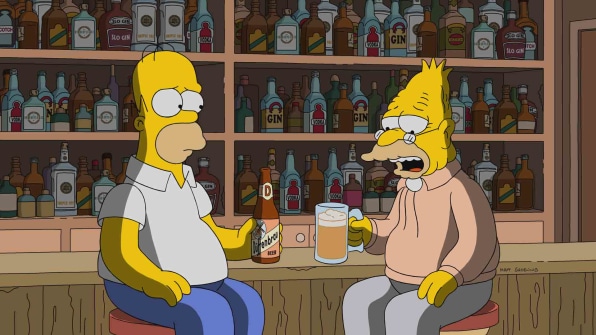 The bottom line
In order to get some input from others on this question, I took a Twitter poll. Out of 98 respondents, I got the following input about Homer:
14 say he would vote for Clinton.
17 say he would vote for Trump.
69 say he wouldn't have voted.
Few if any of those people have chased this thought experiment as far as I have, though. Considering everything outlined above, here is my final opinion. The person that Homer Simpson is meant to embody, that middle American everyman striver; that person indeed voted for Trump.
The actual Homer Simpson, however, is a different story. He walks through life on autopilot, his worst instincts constantly steering him in horrible directions… that are ultimately thwarted by fate, or coincidence, or more often than not, his do-gooder daughter. Homer Simpson, as we know him, exists in a universe that would have prevented him from voting for Donald Trump, one way or the other. The tragedy is how many of his real-life otherwise redeemable counterparts have been led astray by their worst instincts, with absolutely nothing that may ever set them straight.