When I first visited autonomous car company AImotive in May 2017, I thought Google Maps had led me astray. Instead of an office building or warehouse, I faced a suburban home in a cul-de-sac near Highway 101 in Mountain View, California. I've visited startups in houses or apartments before, but they were developing software. This was a self-driving car company taking on behemoths like Google, Intel, Baidu, and plenty of others. The unusual setting was my introduction to AImotive's offbeat take on autonomous driving.
Inside I met 44-year-old László Kishonti, CEO of the Hungarian upstart, whose main office is in Budapest. I came to investigate AImotive's claim that it could navigate primarily using the input from webcams positioned around the car (including a front pair to provide stereo vision). Inexpensive radar sensors would be onboard for backup. But AImotive wouldn't need the gold-plated standard of most self-driving cars–lidar laser scanners that cost tens of thousands of dollars.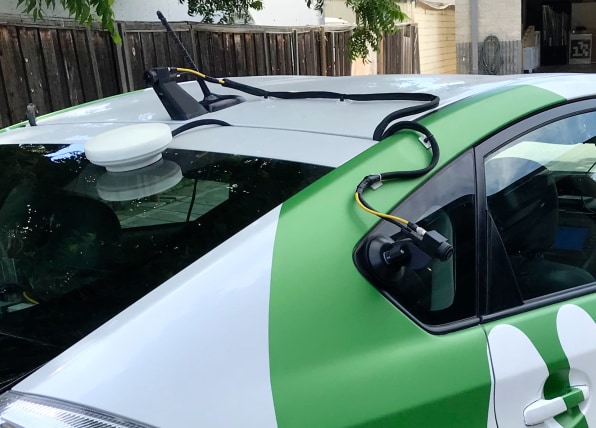 Eyeballing traffic
"If you think about how humans drive, you don't have radar in your mind," Kishonti says. "The traffic is mostly visual–so lane markings, traffic signs, traffic lights, all the surrounding objects." Lidar navigation–accurate to within millimeters–also requires digital maps accurate within centimeters, and made by companies such as Google, TomTom, and Here Technologies. AImotive doesn't need these maps, says Kishonti. The company will add lidar as a backup, he says, if the sensors ever get down to the commodity prices that self-driving car companies hope for.
---
Related: With its tiny chip, this lidar startup is challenging Velodyne for the autonomous car business
---
Kishonti's claims were all talk in 2017, as AImotive didn't have a license to test in California. But on my recent return visit, it did, and so we hit the road.
What AImotive showed is that a car navigating by standard cameras on a sunny day can stay in its lane when it needs to and change lanes when an engineer tells it to. (The company thinks that the same cameras can handle night driving, but may add infrared cameras if needed.)
Those lane changes were rather abrupt, admits Kishonti. "It's more aggressive than I would like," he says as we ride along Highway 101, which is itself a bit rocky. "The environment [in the U.S.] is much worse than in Europe, where you have smooth roads [and] very nice lane markings," he says. "So we spent a few months first just to be able to simulate the U.S. road traffic quality." Kishonti pronounces "quality" with ironic intonation, and chuckles.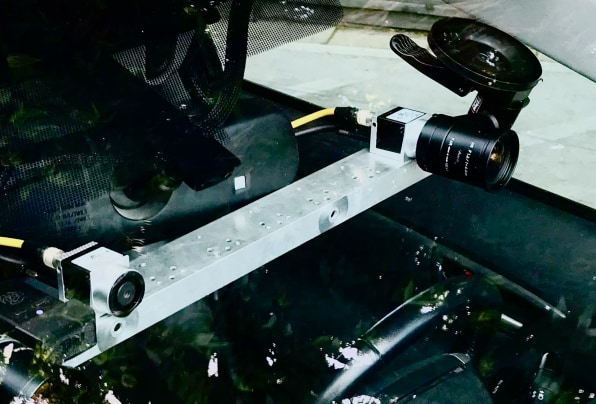 The car can also maintain a safe distance from cars ahead and behind on a freeway–a common function called adaptive cruise control. These are all entry-level driver-assist features, and less than the capabilities of Tesla's autopilot system, which also eschews lidar, augmenting visual cameras with radar and ultrasonic sensors. (Teslas running on autopilot have also suffered fatal accidents.)
Tesla's autopilot also parks and retrieves cars for drivers. AImotive is currently testing this capability, but only in parking garages. Later this year, it will release and start testing software for driving in urban environments–by far the most challenging settings, Kishonti says.
Using custom silicon
AImotive has tested its technology with Volvo and is now working with other companies, including a "Japanese Tier 1" automaker, it says. Clients would like to deploy the highway driving component as early as 2021, says Kishonti.
AImotive is trying to compete with silicon giants Intel and NVidia. Intel, for instance, provides self-driving computer systems to carmakers including Audi, BMW, Fiat/Chrysler, Honda, and Nissan. NVidia customers include Audi, Mercedes-Benz, Toyota, and Volvo. Tesla also uses NVidia's hardware. (Some carmakers hedge their bets by working with multiple tech companies.)
Little AImotive, though, has designed its own neural network accelerator, called aiWare, with chips due in the coming weeks. "Why did we develop this?" says Kishonti. "Because we think that GPUs are not power-efficient enough." Graphic processing units are mainstays of artificial intelligence systems, and NVidia dominates that market.
In October 2017, NVidia introduced a circuit board—about the size of a small laptop—that takes the place of the massive desktop computers in the trunks of prototype autonomous cars, consuming well over 1,000 watts. With similar processing power, NVidia's optimized board, called Drive PX Pegasus, requires about 500 watts.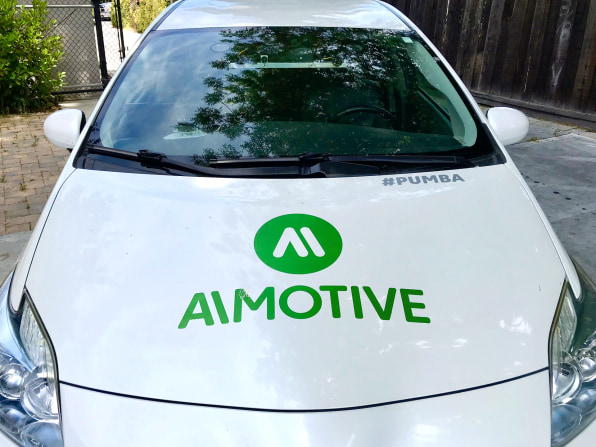 That's still too much for AImotive. "We plan to decrease this power consumption below 100 watts," using aiWare, says Kishonti, who has a history in the chip business. In 2003, he founded Kishonti Informatics, maker of benchmarking software for testing the performance of desktop and mobile processors and GPUs. Clients include Intel, NVidia, AMD, Apple, Samsung, and Qualcomm. Working with a maker of automotive chips convinced Kishonti to get into the self-driving car business in 2015.
AImotive's power-saving goals complement its thrifty testing aims through the development of simulation software. "Simulation is obviously cheaper, safer–it saves time, and [it's] repeatable," says Kishonti. He reckons that virtual test miles cost only 1/80th as much as real-world miles.
Faced with the need to drive billions of miles to statistically prove the safety of their systems, all the autonomous carmakers have been augmenting road tests with virtual runs–a trend that has gained momentum after a self-driving Uber car struck and killed a pedestrian during testing in March. By chance, that's the same month NVidia announced a simulation system called Drive Constellation .
---
Related: Here's how to avoid more self-driving car deaths, says Uber's former AI chief
---
Here again, AImotive is rolling its own–developing, from the ground up, software called aiSim, rather than building on popular video game engines such as Unreal.
AImotive has raised $47.5 million to date, from investors including Robert Bosch VC, Cisco Investments, Samsung Catalyst Fund, and even NVidia. It raised $38 million of that in a C round that closed at the end of 2017, lead by Prime Ventures and Facebook billionaire Eduardo Saverin's B Capital.
Those are signs of confidence in the company's technology. But it will take real vehicles on the road, operating smoothly and safely, to demonstrate whether AImotive's unorthodox approach to autonomous driving can work.