Heyday, which allows you to pop into stores for a customized facial, is expanding its reach. The beauty service startup already boasts five locations in New York City, and now it's setting up shop in Los Angeles.
Heyday announced its newest outpost on Beverly and La Brea, which will open in mid-July. The centrally located area is near prime retail opportunities, including The Grove, Erewhon, and high-end boutiques. It intends to make getting a facial part of one's shopping experience.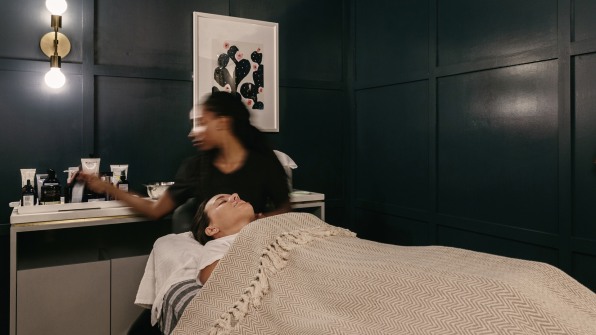 Like at its East Coast counterparts, clients can walk in for personalized, affordable facials that range from 30 to 75 minutes. Each treatment also comes with a deep cleanse, exfoliation, mask, hydration, and SPF protection. The longer facials include extractions.
A big part of the Heyday experience is product curation: Staff members analyze clients' skin types and concerns–along with their budgets–then recommend specific products from a number of brands. Heyday attempts to reimagine the facial experience, which was generally reserved for upscale, more stuffy day spas.
"Our in-shop experience is a modern, unintimidating experience that feels more residential compared to other concepts," Heyday co-founders Adam Ross and Michael Pollak said via email. "There are a number of other in-store touch points such as our chairs, music, phone chargers, etc. that certainly create a different environment."