The next time you're at the Smithsonian's Hirshhorn gallery in Washington, D.C., don't be surprised to see people scanning the artworks. The gallery has just unveiled its new museum guide, Hirshhorn Eye (Hi for short). It uses state-of-the-art image recognition and machine-learning features that, thanks to Linked by Air technology, let users scan the works of art in front of them and hear about the piece directly from the person who made it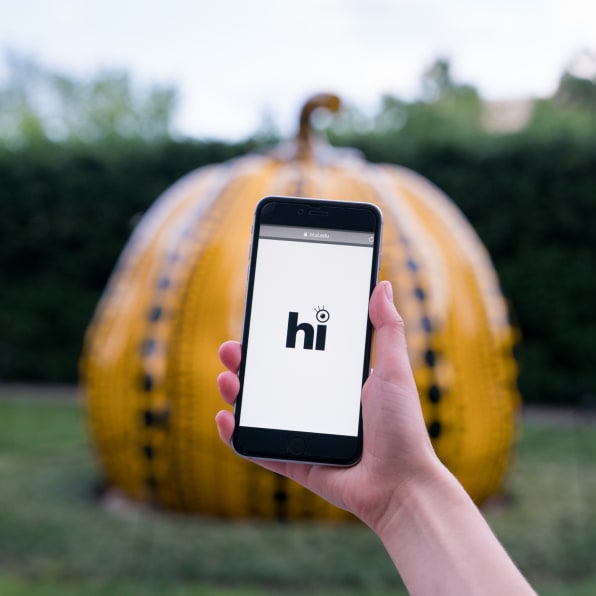 The guide launches on Saturday, June 30, and will be available for free to anyone with a smartphone. The best part about the guide is that it's easy enough for non-techies to use.
"We've been slowly sharing it with small groups of visitors, and absolutely anyone can do it and enjoy it," says Melissa Chiu, director of the Hirshhorn. "It's beautifully streamlined, and a leap forward in both functionality and how it integrates into your museum visit."
For instance, if a piece like Yayoi Kusama's "Pumpkin" catches your eye, simply pull up the URL hi.si.edu on your phone, scan the painting or sculpture from any angle, and get new insights on the work from Kusama herself. Artists like Damien Hirst, Lorna Simpson, Olafur Eliasson, Annette Lemieux, Jeff Koons, and many more have all gotten involved with the project. "The content can't be found anywhere else, and you're able to connect directly with of some of the most fascinating artists working today," says Chiu. To ensure that the art is accessible, all Hi videos come with visual descriptions for visitors who are vision impaired and captions for those who are hearing impaired.
"Contemporary art can sometimes feel intimidating," Chiu says. "We wanted to spark a personal connection with the art, and let you 'meet' the artists and hear their vision, their mindset, what inspires them. We hope people will take away a sense of the radical creative spirit that underlies art, and that's something that is much more than the conventional museum wall label."