By 2022, 70% of American homes are expected to have smart speakers, dominated by Amazon Echo, says Morgan Stanley analyst Brian Nowak in a new research report on Alphabet. There will be 1.3 times as many Echos as Google Home speakers in homes by then, he predicts, giving Amazon a huge advantage when it comes to the growing world of voice commerce.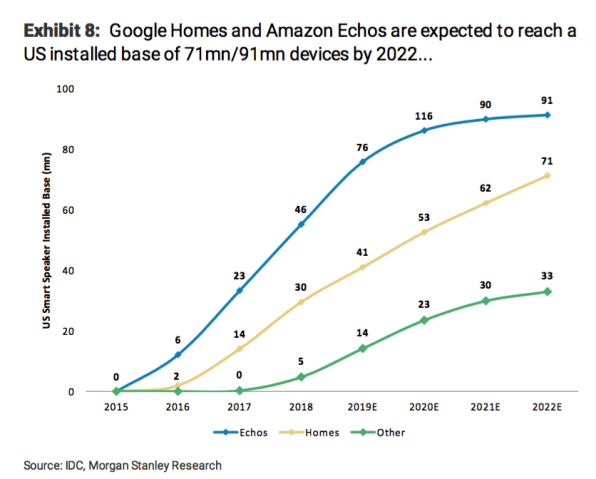 For Google to catch up to Amazon, the company should just give away Google Home Minis "to every U.S. (arguably global) household," writes Nowak, citing the precedent of Google giving away Android to OEMs and paying Apple to power Safari search. Though it sounds like a ridiculous cost suck, he argues that it would only cost Google about $3.3 billion, or 3% of 2019 operating expenses. "One way to look at it, GOOGL's estimated U.S. retail search profit over the next 5 years would cover this 5X over," Nowak writes.

He also recommends bundling the free Google Home Mini with a YouTube Premium trial subscription to drive the adoption of that feature. If even 15% of American households that get a free trial being paying for YouTube Premium (not unrealistic, given that Spotify has converted 25% of its free users), it would generate $1.8 billion of incremental revenue, writes Nowak.