I'm looking at an app, and I could swear it's Instagram. I see large square photos in an endless feed. Avatars appear in round circles. You can tap a heart to like something. Inside any post, there are dozens of comments.
But while the wireframe looks like Instagram, the intent behind the software couldn't be more different. This is Studio Connect, an app developed inside Target in 2016. It's used to connect the Target design team to the customer they're designing for, informing projects like its ambitious new Made by Design line of housewares.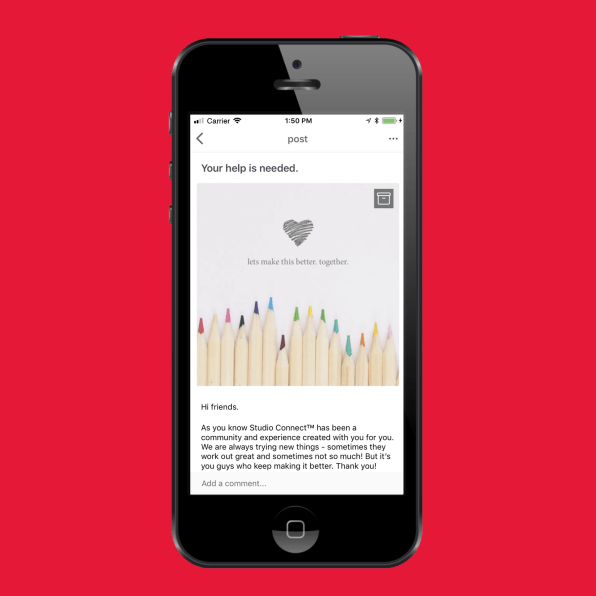 Not just anyone can join the service. Target keeps the group at roughly 600 members (that's 0.002% of its 30 million weekly shopper base). Each member is personally invited to take part, and they're recruited via online research and receipt polls. They are not paid for the service, but can earn points toward discounts and gift cards. The larger incentive is that these fans get to be part of a feedback loop, seeing and sometimes trying products early, while encouraging Target to develop products that they will love to buy. They get to help shape Target into the Target they want.
Target launched Studio Connect for a simple reason: Products are being developed faster than ever, but conventional consumer insight research methods–like running official polls, or coordinating in-person focus groups–takes several weeks at best. By the time a product developer has their question answered (such as, "What kind of sheets do you prefer, and why?"), it may no longer even be relevant.
"Studio Connect enables our designers to interact with guests at any point while developing products," says Julie Guggemos, senior vice president of product design and development at Target, "encouraging conversations and adding a level of flexibility to the formal feedback process."
Every Target designer has an account on Studio Connect, which they can use to ask the crowd anything they're wondering about. That crowd is broken into various subgroups, like those who have kids and those who don't. A recent question to the group read, "Mother's Day is this weekend, if you could design a shirt with a message that celebrated how awesome moms are, what would it say?" Within 24 hours, questions have an average of 40-50 responses from the community–though themes generally start cropping up within the first 10 or so. In the case of the Mother's Day shirt question, Target used the slogans suggested by the Studio Connect community to develop new shirts that will debut in stores next year.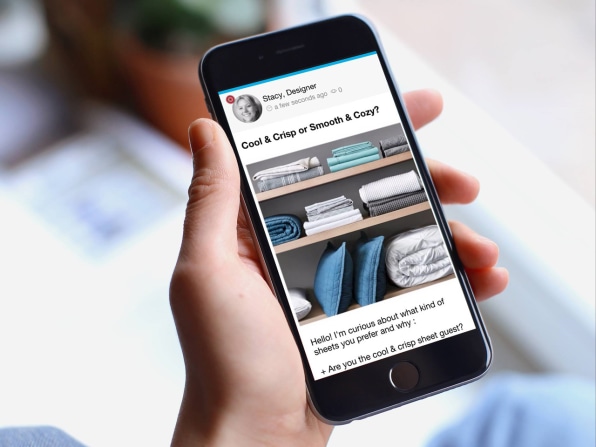 As the Studio Connect team shares a promotion video, which includes stories and photos of its closely guarded members (which I, unfortunately, can't share here for their privacy), I get a sense that it really can be an incredible experience for families. In the case of the company's Cat & Jack line of kids wear, it goes a lot deeper than coming up with some clever catchphrases. Target's designers prompted children to complete fashion design activities on Studio Connect. Scanning through the submitted photos of drawings, Target's designers quickly realized that many children were designing leggings that featured a surprisingly similar funky print. It was like children had a vision for their own clothing that had never been realized, and so that vision became a theme that the designers pulled to develop new garments.
After a grade-school girl submitted drawings for a clothing line, her mom got an update that it hit stores, and within an hour, the girl was proudly posing for a photograph with her inspired garments (which she then bought and wore to school the next day). Target designers get an insight to kids' minds and tastes that they wouldn't otherwise–and members get to enjoy being part of the process, even if they receive no public credit or proceeds.
"I love Studio Connect. I love you guys," says a woman on the verge of gleeful tears, talking through her webcam. "I think it's brilliant, genius, and honestly something every company should be doing."
It's a nice, if quiet, PR moment for Target. But Studio Connect also allows the company to practice more inclusive design with relative ease.
While inclusive design is generally born from having a diverse set of designers on staff, Target further stretches the idea by including diverse users who can answer quick questions in its app. Through Studio Connect, Target gets feedback from families with kids on the autism spectrum, for whom typical clothing can feature distractions. They also hear about day-to-day life with other disabilities by talking to members living with them. In turn, Target has expanded its Cat & Jack brand with sensory-friendly and adaptive apparel. These pieces feature clothing with no tags and flat seams for people on the autism spectrum, along with clothing with holes for feeding tubes, fabric designs that create less friction in wheelchairs, and wide leg openings for leg braces. Target priced these clothing items like any other garment from Target, rather than a specialty item with a medical market markup.
"Our guests are at the center of everything we do," says Guggemos, about the purpose of the app. "We're constantly engaging with them through a number of forums—like guest reviews on Target.com, social media, in our stores, and Studio Connect—to give them an opportunity to weigh in on what they like and don't like."
But in the case of Studio Connect, that feedback loop doesn't just happen after a product comes out. It happens at any moment during the product development process. And Target's products should be better the first time around as a result.