Today, Chipotle is testing a new pickup system in five stores across New York City. It's a shelf. Order a burrito via the company's mobile app, and when you come into the store, you grab your lunch and go.
The shelf is part of a complete digital transformation on Chipotle's back end, which lets employees preparing pickup orders in the kitchen build your burrito simply by looking at an infographic layout of its ingredients. The system lets Chipotle workers build menu items faster and with over 99% accuracy. It's a back-end upgrade that is already increasing sales at the 350 stores where it has already debuted–and now, the addition of shelf pickup will advertise the benefits of Chipotle's new digital prowess to consumers, too.
Chipotle's new CEO Brian Niccol–who, in his last job, led the "Live Mas" turnaround at Taco Bell, and boosted revenue by introducing breakfast, mobile ordering, and wild menu items like the Doritos Locos Taco–takes over as Chipotle still struggles to recover from a series of food safety scares. He recognizes that the company needs to find a new way to woo customers and increase same-store sales to satisfy Wall Street. Niccol believes that one of the biggest hurdles is Chipotle burritos just need to be easier to buy. "He's brought with him a recognition that one of the biggest opportunities for Chipotle is one around access," says Curt Garner, chief digital and information officer at Chipotle. "We don't have that many locations relative to the amount of people who want Chipotle."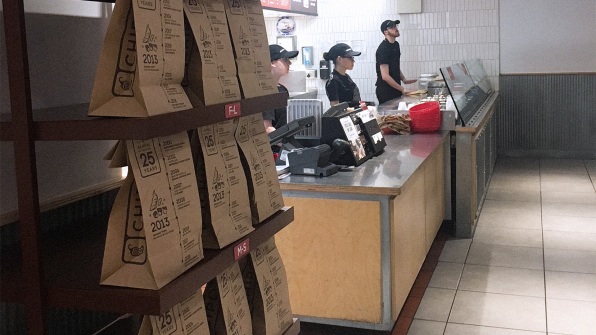 Chipotle has always prided itself on doing things slowly and by hand: Even with over 1,500 restaurants, braised carnitas were pulled in the back. The visitor journey was one of standing in line to have a face-to-face experience and have your order made just the way you wanted it But anyone who has stood in a long line wrapping out the door during lunch hour knows that this charm of waiting can quickly wear thin.
"For most people, the first time you go to Chipotle, it's a much different experience than anything you've had before in the segment. A lot of times, it involves looking at the food, talking to folks behind the counter, and experimenting a little to figure out what you like," says Garner. "It usually takes somebody a couple of visits to start nailing down a favorite. But once you've determined your Chipotle order . . . waiting in line to tell somebody doesn't add any additional value."
The line becomes an obstacle to more sales in a physical location–just like it was for Starbucks before it embraced mobile ordering. Because today, a restaurant's value has to be about more than food quality or even convenience; chains have to embrace smartphone-era expectations. For Domino's, that's led the pizza company to transform into a technology company–taking orders via an app, tweet, or Amazon Alexa, and firing all of that data to the one person closest who can make your pizza. There's no rule that says fresh, locally sourced burritos are immune to the same market pressures to selling coffee or pizza.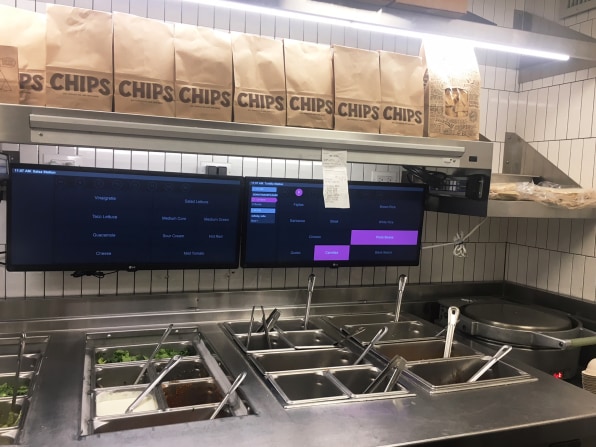 New Lines
Over the past few years, Chipotle has been investing in what it calls "second make lines" to alleviate the main line. It's not much more complicated than a set of steel tables in the back of the kitchen, with an extra tortilla press, for employees to prepare digital and catering orders–which grew 40% between 2016 and 2017. But it adds significant capacity to its restaurants. And that simple adaptability of design–these were installed in Chipotles that had already been built–speaks volumes to Chipotle's bohemian kitchen operations, which lacks the machinery and regimented systems of chains like McDonald's.
But as Garner explains, those second make lines came with a pretty big catch. The main line allows burrito buyers to explain what they want face-to-face. People can point and gesture to create their perfect custom burrito, ensuring it's exactly as they want it.
The second make line, on the other hand, gives the employee nothing but a receipt to squint at. "A team member would take that receipt, kind of look at it, and walk through making the order," says Garner. "If there were multiple orders on the receipt, they'd have to go down the text, make sure they had everything right, then hand-write on each entree who it was for."
This made the process slow and error-prone. Garner doesn't have hard numbers on just how many orders Chipotle was getting wrong at the time, but the mistakes were significant, he says.
In response, the retrofitted, tech-enabled second make line adds two LCD screens to the mix. Orders go from the app into an algorithmic queue, that can adapt to the volume of orders that are about to come in, and schedule burritos to be made in 15-minute increments. Perhaps most importantly of all, the screens show prep cooks exactly what ingredients go into each burrito, and nothing more.
First, the hot items show up. Each is just a word with a bright, magenta highlight. White rice. Pinto beans. Chicken. Then the cold items. Mild tomato. Medium corn. Cheese. In the mobile app, users can specify if an ingredient goes light, is doubled, or placed on the side. On the display, various symbols appear on these ingredients. The entire system is graphics, which makes it intuitive. "With in a couple of minutes of making orders, people will have it down," Garner says. These digital make lines are now in 350 Chipotles, and making their way to roughly 1,000 locations by the end of the year.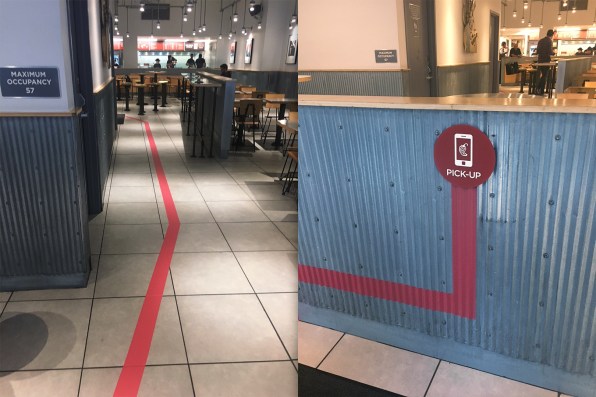 Next Up
Even though this new efficiency isn't marketed to consumers, it's felt in the bottom line. "When retrofitted, we see an immediate increase on sales in the second make line," says Garner. Whether it's the increased speed of order pickups, or increased accuracy, or a mix thereof, Garner says he doesn't know.
However, what he does know is that there is another way to drive people to place more digital orders–and that's by showing customers who might normally be standing in line that pickups are available. A location in Denver added a small pickup window in a store, and its digital sales went up "tremendously."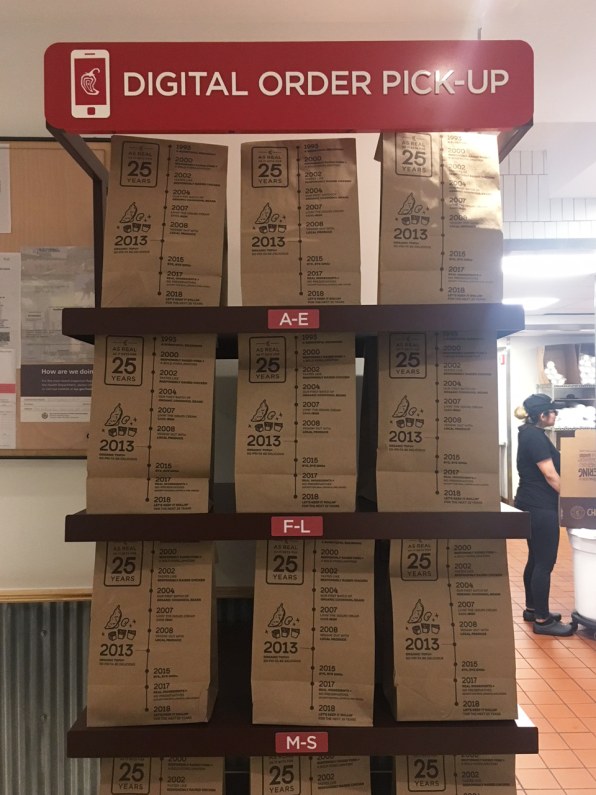 "What we learned was, people standing in the line became aware this digital service was available," says Garner. "Whereas before, it didn't click to people [that] those were digital orders coming in.
So today, in five locations across New York City, Chipotles will get a new shelving system near the door, where digital orders can be grabbed in seconds. The shelf is a test. It's not heated–Garner explains that heated shelves might be bad for the salads or a curious child's hands–but it's easy to imagine how these simple shelving units will increase digital orders further. For one, it will make them much faster to grab than going to the counter and negotiating the pickup. Secondly, the shelving is a prominent advertisement to the benefits of digital ordering to anyone standing in the queue.
If it's effective, Chipotle will woo more customers to order online, and less of us to stand in line. And even if Chipotle has tarnished its halo as the fresh, locally sourced food chain we loved, it can be reborn as the convenient, mega burrito we cannot resist.