Identity theft. Squatter's rule. Price gouging. They're not terms you'd normally associate with the friendly board game Monopoly. But that will change this June, when Monopoly Cheaters Edition goes on sale for $20–the result of two years of work by Hasbro to make a version of Monopoly that plays faster, zanier, and perhaps more apropos of the current socio-political climate. Most of all, it's a version of Monopoly that properly reflects the impulses inside our own dark hearts.
"We've had this data for years. 50% of all Monopoly players cheat," says Randy Klimpert, Hasbro's senior director of design and games development. This fact of life was always something of a running joke within the walls of Hasbro. It became the giggly fodder of proposed ad campaigns. Employees got a kick out of listening to the messages left on its holiday helpline, established in 2016, to help families settle disputes in their games and address accusations of creative cheating. "We were literally sitting around thinking, 'what would really corrupt Monopoly?' And someone said, 'what if we cheated?' "
"Our senior marketer. . . you could see him mulling it," Klimpert continues. "Monopoly. . . cheaters. . . Cheater Edition!" Hasbro instantly had the hook for a new game. But how do you make a game for cheaters that's still sensical and fun?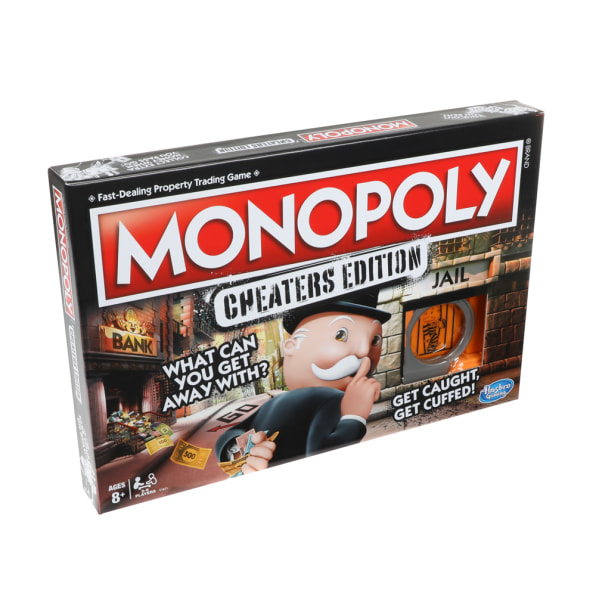 The original Monopoly was designed in 1903 as a protest against uber-rich turn-of-the-century families like the Rockefellers and Vanderbilts–the original 1% that consolidated power by owning everything. But in the political climate of 2018, another class has risen to rule. They're rule-benders, law-breakers, and, for lack of a better term, cheaters, who seem to intentionally rub their own misdeeds in the face of the American public. Intentionally or not, this is the modern day Monopoly game to roast them.
A team of four game developers were assigned to the project, and that team handled everything, from rethinking the rules to developing the game's art to meticulous, ongoing game testing to get the rules just right. They reimagined all the little touches you'd expect, like the tokens you move around the board. The car's trunk is loaded with loot from a heist. The top hat covers a pile of money. Even the T rex now has a robo-arm–cheating the limitations of biology with cybernetic enhancement. They also wanted to cut the average play time down from about two hours to something more "snackable" like 45 minutes. So they got rid of houses. Now, you just buy hotels.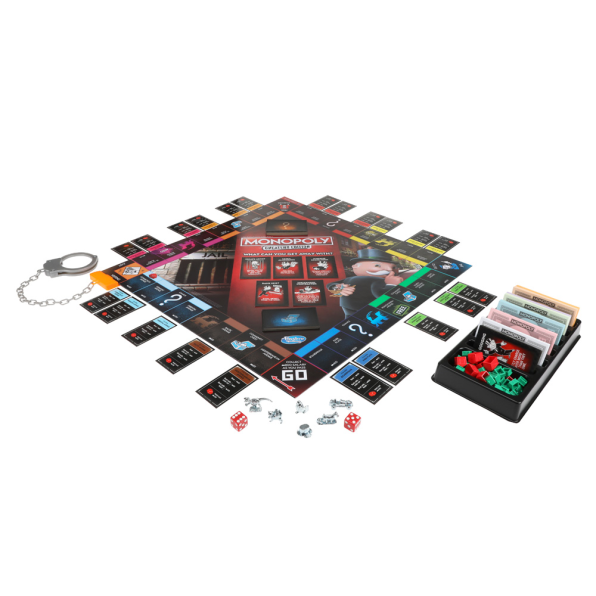 The greater updates were to the rules, however, and the team started by folding real, common Monopoly cheats into the gameplay itself. "We did our research," says Klimpert. "We honed down the 15 most popular cheats–known cheats." That includes stealing money from the bank, taking someone's hotel, or moving the wrong number of spots on a dice roll. "We also added funny new cheats," Klimpert continues, "and we found the best way to bring each one to life."
Here's how it works: there are five spots for active cheats on the board at a time. They're like missions, broadcast to anyone bold enough to attempt them. Bank Heist, for instance, tempts any player to steal money from the bank at any time. Once a player steals the money, they wait for the next dice roll to be completed, then they gloat about what they did to the group–and they get an extra, secret bonus for pulling it off. (In this case, each player has to hand over an extra $100.)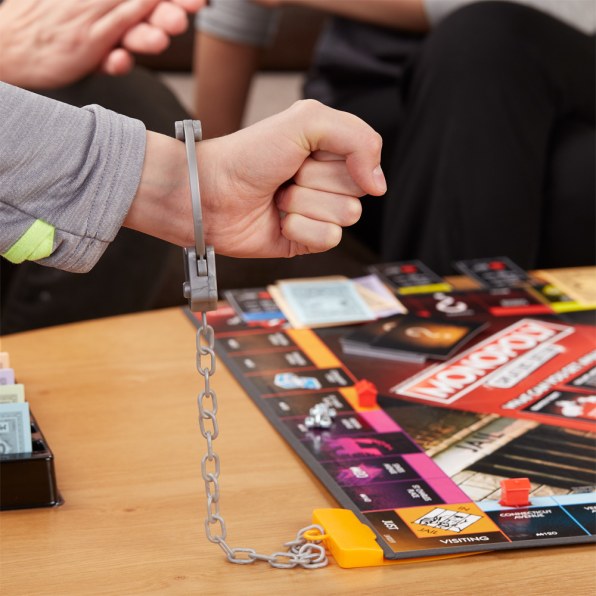 But if you're caught red-handed by anyone at the table and they call you out to the group, there's a punishment for the cheating. In this case, you have to pay each player $100. And you also go to jail. Jail in Monopoly Cheaters Edition, however, is a bit more shaming than you remember from the classic edition. "When you're caught cheating, you wear actual handcuffs that lock you to the board," says Klimpert. "Because it's a nice feature that really ramps up the jail component. It's an extra punishment, it's not a token going to jail, but involves you physically." The cuff adds a social whimsy to the game, putting one's ego at stake for the laugh of the group. It also adds the gameplay opportunity to quietly sneak out of the cuff to break out of jail.
"We've got what we think is a nicely robust experience, that will be a little controversial, but will make people interact," says Klimpert of features like the cuff. "This is perhaps the most human interactive game of Monopoly we've done."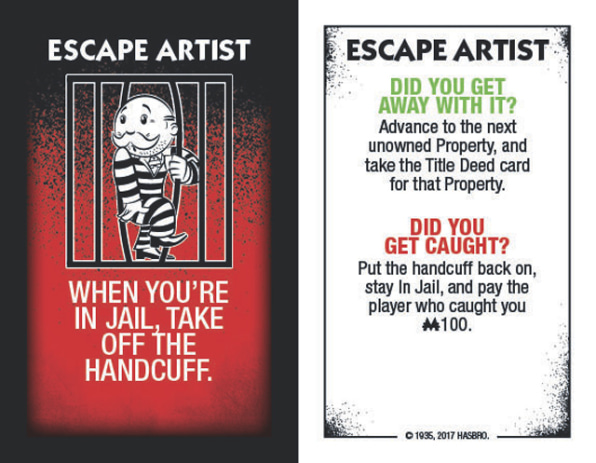 Of course, not every cheat is a good cheat, because not all cheats can have a positive payoff to the psyche of players. A big one was board flipping–the act in which an angry or mischievous player turns a board on its side so the pieces scatter everywhere and the game can't continue. The team thought that board flipping would be the perfect, epic cheat for the game. After all, board flipping is a YouTube sensation! "It's fun for a moment!" Klimpert says. "But it's not a great way to end the game." So in the end, it didn't make it into the game.
Getting the tone and function of the cheats just right was the hardest part of development. Even naming them in a funny way plays a role in undercutting the maliciousness of the cheat while optimizing the Schadenfreude. Removing a hotel is called a "Surprise Demolition," while sneaking an extra hotel onto your own property is dubbed "Unlicensed Contractor."
It's enough to make you wonder, might Monopoly adjust its business plan, and consider expansion packs that build upon its 15 base cheat cards in Cheaters Edition–echoing the model of Munchkin or Cards Against Humanity? "I think it's a really interesting idea. I'd expect if and when this really catches on, this might be [possible]," Klimpert says. But he adds that Monopoly is a much different game than the others I mentioned. "Cards Against Humanity is a very different game because it's all about content. We call that content burn, you burn through the content and you constantly need more." Monopoly, on the other hand, is meant to be a reusable template that never wears thin, and the fun comes from your choices and the unpredictable actions of your friends.
Hasbro has high hopes for Cheaters Edition, believing it could be the most popular Monopoly spinoff to date. It also feels the most modern–given that it so perfectly captures the mentality of 2018's cheating ruling class. When I bring this parallel to Klimpert, asking if Monopoly Cheaters Edition is the only sensible Monopoly of our day, he just laughs.
"Well, it could be," Klimpert says, before adding a word of caution. "But if you get caught, there are penalties."