We're living in the age of on-demand, subscription-based convenience, from Netflix to Car2Go. The new Japanese startup Kamarq is applying the same concept to the home, convinced that it may even be passé to assume that consumers, or at least young millennials, care to own the furniture they pay for these days.
However, the company may have overlooked the value of authenticity in its ambitious plans to disrupt the furniture industry. A mere hour after Kamarq publicly launched its subscription furniture plan today in New York, the company told Co.Design via a statement that it would be pulling the majority of the collection after Instagram users identified the pieces as knockoffs of a 2015 collection by designer Ana Kras for Matter Made, the in-house line produced by the gallery-boutique Matter.
Now, with the exception of two designs, Kamarq's collection will never see the light of day. It's a story that illustrates the pitfalls of this new, rapidly evolving model of design–and how, in the age of social media, there are always #receipts.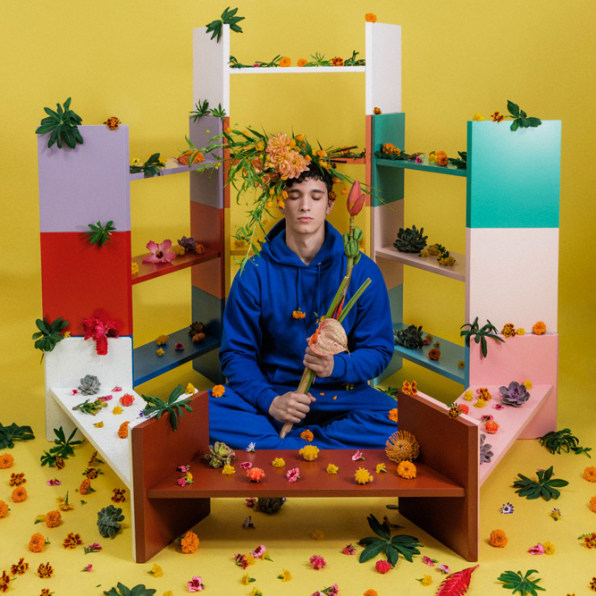 But let's back up: What is Kamarq? The company–whose name is a play on the word for "my room" in Indonesian–offers a subscription-based model with six and 10-month plans for its furniture items, like a single unit of a modular shelf. Order a piece online—as of now, debut prices range from $5 to $18 per month per item—and at the end of your plan, you can choose to either keep it or have it sent back to exchange for another product, presumably from the next, newer collection.
The pay-as-you-go model doesn't just enable instant gratification, it doubles down on it: Customers only receive new, unused items, shipped worldwide in ten days from Indonesia, where they're manufactured at a high-volume facility with quick turnaround. All returned items, advertised as made from 100% recycled materials, are sent to be pulped and reused for future collections.
Kamarq is taking a "fast fashion" approach to disrupting the market, says fashion designer and erstwhile Lady Gaga collaborator Nicola Formichetti, who, along with friend and creative consultant PJ Mattan, was tapped to design and direct Kamarq's debut collection. Their designs include modular shelves, seating, and tables in an array of bright, pop monochromes, made to mix and match in an accessible, lighthearted way. Arranged into elaborate color vignettes paired with miniature prototypes, lush flower arrangements, objets, toys, and other items from Formichetti and Mattan's personal collections, the preview installation that debuted this week at NYCxDesign was an energetic display that touted a sugary lack of self-seriousness.
"We do other jobs, in fashion and elsewhere, so we just wanted to have this be a fun thing that's also recyclable and ecological, and also reasonable in price, which is different from what's happening in furniture. It's like a styling approach to furniture, which is what the young generation needs," Formichetti told me at the preview. Added Mattan: "We kept it intentionally very simple, because we're not product designers or industrial designers, and we didn't want to pretend we were."
The duo's debut collection for Kamarq is pure eye candy, accessible, priced to be affordable, and promises to be more ecological than most–a feat to achieve all in combination, to be sure. But like many fast fashion retailers that have been caught up in plagiarism accusations, it was almost immediately tied back to an independent designer's work.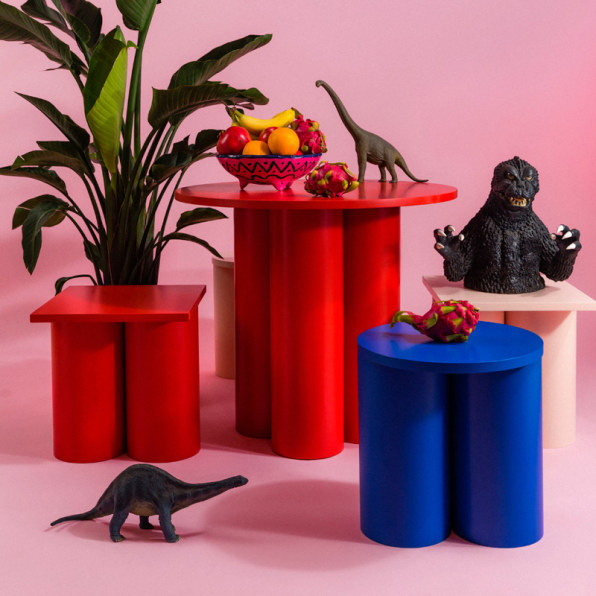 Formichetti and Mattan were forthright in naming some specific influences, all august Italian architect-designers: The Memphis Group, the contrarian and visually aggressive 1980s design collective founded by Ettore Sottsass, which has come back into teeming popularity among millennials, its riot of patterns and punchy graphic appeal well-suited to the visual currency of Instagram; Gaetano Pesce, the elder enfant terrible with a maximalist approach to material, color, and experimental sculpture; and the minimalist luxury designs of Mario Bellini, most apparently his Il Colonnato table for Cassina–variations of chunky cylindrical legs and simple geometric tops, all made of solid marble and stone, which often fetch thousands in the secondary market. Bellini's iconic 1977 design is a clear reference for the Kamarq collection, all circles and lines and monochromes.
But it's almost a dead ringer for Slon, a 2015 collection for Matter Made by the New York-based designer Ana Kras, who, also showing inspiration from Il Colonnato and Memphis, updated and edited the classic with several subtle twists. Bellini's version, meant to evoke the columns of Stonehenge or the Parthenon, places each table leg slightly apart. Kras's reimagining sets the design to an earthy palette, clusters the legs together, and rounds the collection out with seating and lidded stools that double as containers—as does Kamarq's debut collection, on all three points. Where Kamarq and Kras deviate is the price point: Slon pieces start at $1,600. Fittingly, Slon, which translates to "elephant" in Kras' native Serbian, might just be the elephant in the room.
This wouldn't be the first time Kras, who is also a photographer and model, has seen brands run with her independent designs: In 2016, the fashion brand Marni released a collection of string-covered pendant lights that shared likenesses to her Bonbon collection.
Asked if the collection also referenced Kras' design at yesterday's morning preview, Formichetti and Mattan didn't respond but instead eagerly showed me images of Bellini's work on an iPad, flipping through variations of Il Colonnato. I wasn't the only one to notice a likeness to Kras' work, though: Later that afternoon, various designers began commenting and trolling Formichetti and Mattan's Instagram posts taken that morning, calling it out as a direct copy. For her part, Kras posted images from Slon on her Instagram account and website, bolstered by friends and followers proclaiming her design the original.
By the next day, the popular and feared Instagram account @dietprada—which tracks and pokes fun at offenders within fashion's copycat culture—joined the scuffle and began posting receipts on Stories. One showed an old post from Mattan documenting his visit to see Slon at Matter when it launched in 2015. Shade moves fast in the social media world.
This morning, in an exclusive statement shared with Co.Design, Jamie Gray, the proprietor of Matter who developed Slon with Kras, was clear on his stance:
I think if Ana had never designed Slon and I had never produced it with her, I would totally agree with the Mario Bellini reference. If Ana had said that she was inspired by Bellini I'd say, yeah! But that's not really what happened is it? In truth this is totally fucked up. PJ came to Ana's show at Matter in 2015. And three years later he's releasing a collection that references that collection, Slon. Or more to the point, copies Slon. Right down to the name. It's bad enough that Instagram has become the de facto intern for many designers who without any filter copy what they see in their feed. But to walk in to Matter, see a collection, even post it to your own Instagram account and then release near replicas three years later under your own name. That's just terrible. We're all fighting to protect our IP and it's obviously not easy. But I didn't expect to see this from someone who's been a supposed fan of Matter for years. And judging from the response to the collection on IG I'm not the only one that's disappointed and angered to see respected people in the design industry getting behind this. It's just careless. And it's disheartening to work so hard to develop and build something with integrity to then see it dumbed down, chewed up and spit back out as an original. I call bullshit.
Shortly after, Formichetti and Mattan shared the following statement via Kamarq's publicists, announcing plans to recall portions of the collection, just one hour into its public launch:
This week we debuted our inaugural collection with Japanese brand, Kamarq. Part of the collection was heavily inspired by the elegant long legs of Mario Bellini's set of Il Colonnato tables from the 1970's. We acknowledge that certain pieces could be attributed to the work of designer Ana Kras, and out of respect for Ana, we will be removing these pieces from the collection. Kamarq is an ever-evolving brand that will strive to work with many different designers, and we remain respectful of and committed to supporting the creative community at large.
Reached for comment, Kras herself shared the following statement with Co.Design:
When I was sent the screengrab of a post about the Elephant collection by Kamarq few months ago – I laughed. Not only because the pieces looked very similar to my 'Slon' collection, but what stunned me the most is the fact they translated the name as well – since 'Slon' means 'Elephant' in Serbian, my mother tongue. Yesterday I was overwhelmed by the support of the community – so many people i don't know messaged me pointing out the Kamarq launch of that same 'Elephant' collection in NYC – stating it's a collaboration between PJ Mattan and Nicola Formichetti. On PJ Mattan's instagram we can see a photo of my 'Slon' tables that he posted upon his visit to the launch at Matter store in 2015. We are all inspired by many things that we see and like, but to be "inspired" by the design so literally as to copy the design and name it the same way via translation to another language, to me seems very disrespectful.
While it's safe to assume a "fast fashion" approach to anything would involve some form of pastiche, it would be cynical to excuse plagiarism. One thing is certain: In our hypervisual age of collage and constant #content creation, it can be decidedly hard to tell the snake's head from its tail. The tide has turned for Kamarq, and in record time—faster than you can say "fast fashion."