For decades, Adobe has excelled at creating powerful software and then commanding top dollar for it. In the 1990s, the company sold Photoshop in a box for $900; today, people pay up to $83 a month to subscribe to the Creative Cloud service, which includes Photoshop and a whole lot more.
"In my memory, there's never been a desktop product for creative professionals from Adobe that's free," says Scott Belsky, Adobe's chief product officer and executive vice president for Creative Cloud. But that's changing with the release of Adobe XD Starter Plan, a new edition of XD, the company's user experience design/user interface software.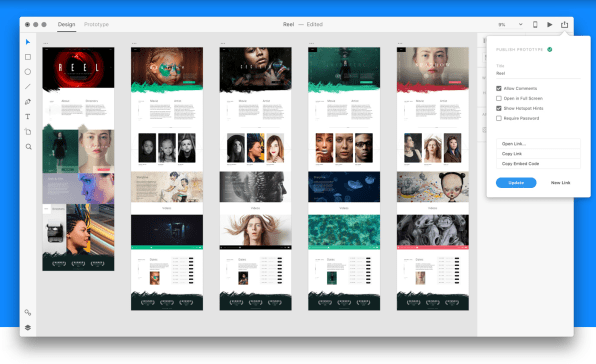 The Starter Plan is, indeed, free. And despite sporting a moniker that makes it sounds like it might be a less-than-useful trial version, it offers all the functionality of full-blown XD. It just limits you to sharing a single design prototype and specs at a time rather than as many projects as you like simultaneously; it also comes with a relatively skimpy 2 GB of cloud storage and offers a smaller selection of TypeKit fonts.
Naturally, Adobe is counting on some of the users who start out as freeloaders getting addicted and upgrading to the full version, which costs $10 a month. Even better, they might plunk down $53/month for Creative Cloud's kitchen-sink "All Apps" plan. In other words, XD is embracing a freemium model. Still, even the freebie edition is useful enough that it should be all the UX/UI software some creatives need. It "basically resembles a lot of things that are on the market today," says Belsky.
None of this is happening in a vacuum. XD's new approach looks a lot like the one InVision is taking with its Studio design tool. Studio is free, too, and intended to introduce users to InVision's collaborative platform, which lets teams share and discuss Studio creations.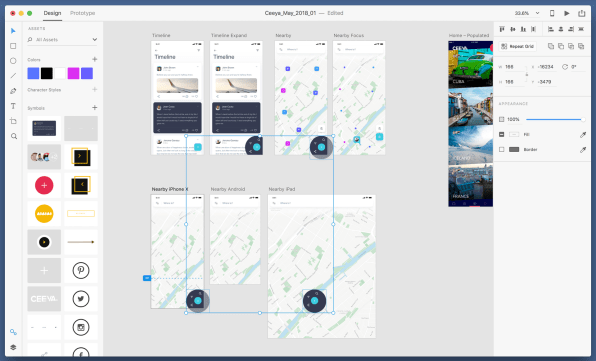 InVision's Studio gambit presumably helped inspire XD's new pricing. The upshot feels a little like the early days of web browsers when Microsoft started giving Internet Explorer away, Netscape was forced to do the same, and the battle started being less about browsers than broader platforms. In that case, Microsoft emerged the victor and Netscape faded away. But with any luck, both XD and Studio will flourish, each providing healthy competition for the other and benefiting users.
For Adobe, the worst-case scenario would be if XD, which came out of beta last October, turned out to be an also-ran among UX/UI tools. The company, which did as much as any to invent the whole idea of using computers for graphic design, has offered many category-killer products since the 1980s–none more dominant than Photoshop. But UX/UI remains a fractured market, with XD and Studio competing against other highly viable products such as Sketch, Framer, and Figma.
So what will sway designers to XD, beyond the opportunity to use it without paying? On a mundane level, it runs on both Windows and Macs in essentially identical form–a standard capability of Creative Cloud offerings–giving it the opportunity to go after customers whose workflows involve Windows PCs. (The interface-design software business has historically been highly Mac-centric, though InVision does say that cross-platform compatibility is important and a Windows version of Studio will be out later this year.) Adobe is also buttressing its ecosystem–another traditional area of strength–by plowing $10 million into a new fund that will invest in startups that make plug-ins, stand-alone apps, and other tools for use with XD.
Perhaps most important, as Belsky sees things, the competition between UX/UI design products is just barely getting underway–and its future involves a lot more than laying out elements on screens of various sizes. Services such as Amazon's Alexa make voice an everyday part of how we interact with the digital world. And hardware and software like Oculus Go, Apple's ARKit, and Google's ARCore are nudging virtual reality and augmented reality toward the mainstream. As designers preserve their own professional viability by becoming experts in voice, VR, and AR, they'll need tools to help them noodle out experiences, turn them into prototypes, and share them. Providing such functionality, Belsky says, is part of XD's mandate.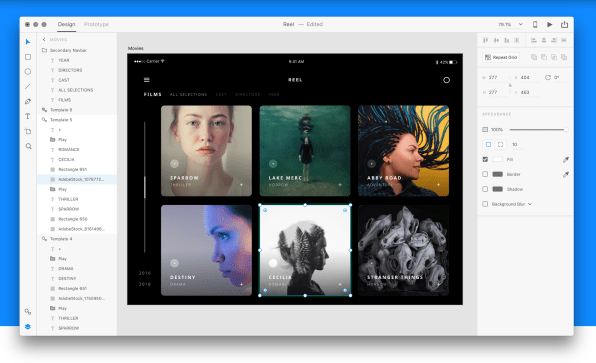 Though the app's prototyping features are currently screen-centric, "a lot of the same logic can be used for a voice experience," he explains. On the AR/VR side, new functions within XD could let designers "start to say, 'What would this look like on something that's round and actually flies around in space?'" Already, Belsky adds, "the customers of our customers just say to designers, 'This is what I need. Oh wait, I also need this for voice. I need this for this AR thing.' We need to be there to bridge that for them."
There are no guarantees that Adobe will figure this out before its rivals. But the company, with its long history of providing industrial-strength tools for creating across different types of media, might be in as good a position as anyone to push the boundaries of what it means to be a UX/UI design tool.