Emails, blog posts, and social media feeds were designed to be read on screens, but plenty of people still prefer a good physical book for reading fiction. What if screens could bring another dimension to literature, utilizing tech to create a new kind of experience where books respond to your presence as a reader, making the world around you part of the story?
These are the driving questions behind the project Ambient Literature. A collaboration between the U.K. universities UWE Bristol, Bath Spa University, and the University of Birmingham, Ambient Lit has published three stories over the course of two years that adapt to the reader's environment using GPS and weather data from their phone. As the project comes to an end this summer, Co.Design caught up with the writers, academics, and creative technologists behind Ambient Lit to learn what they discovered about the future of literature. In a world dominated by smartphones, storytellers are using all kinds of technology, from location data to blockchain, to turn reading stories on a screen into a new kind of immersive experience.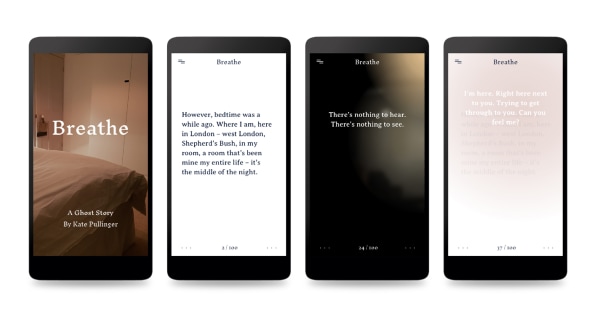 "We're living in a phase where visual media is so readily available to us and visual media is so seductive for us," says Kate Pullinger, an author who worked on a mobile-first ghost story called Breathe for Ambient Lit. "Part of what I'm interested in is what does it mean to read on screen in this world we live in that's dominated by visual media. What kind of reading experience might be native to the smartphone in a way that just sticking an e-book on your phone isn't?"
Open up the link to Breathe–which recommends you use a smartphone to read it–and the page will ask for your permission to use information like your location and your camera. When you agree, it uses three different data sets to personalize the story to your setting every time you read it: location, weather, and season. When you read the story on a rainy Monday in New York City, that's referenced in the story.
"The world is full of ghosts," Pullinger writes. "It's as though they were there all along, waiting, with me in my room, with you in New York, on my phone, in your house, in the air that we breathe."
As I swipe through the story's screens, getting deeper into the main character's perspective, the text continues to reference where I am in the world. And during creepy interludes, the background behind the text shifts into whatever my phone's camera is looking at as the ghost takes over the story. "I'm close by," Breathe narrates. "I'm on Greenwich Street already. You need me–not her." Greenwich is the street my office is located on.
There's no change in the story's interface that indicates these locations have been swapped in, making it a very slight shift–one that readers might not even notice unless they come back to the story weeks or months later. But that's part of the point. "It's subtle and hopefully that contributes to the slightly uncanny feeling that readers have that the story knows where they are," Pullinger says.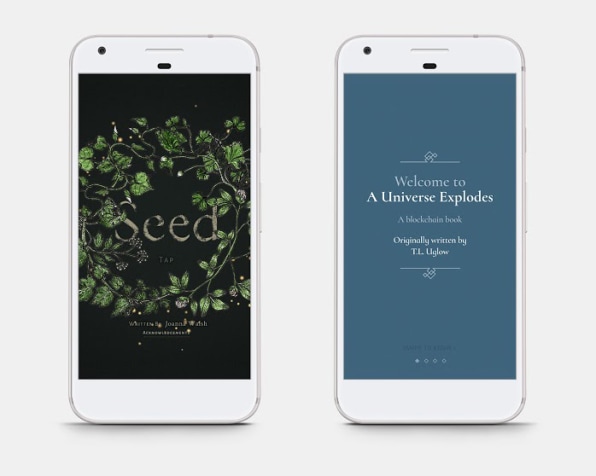 Matching the form of the story to how technology brings it alive is a crucial tenet of Ambient Lit. "We never start with tech because we believe that the story needs to be the driver for the experience that we would like to share with readers," says Anna Gerber, creative lead for the project Editions at Play, which produced Breathe.
Editions at Play is a collaboration between the London-based publisher Visual Editions and Google Creative Lab in Sydney, Australia. Similar to Ambient Literature, the project aims to create new forms of digital literature that can't be printed and instead use technology to reimagine a centuries-old art form. With this goal, Gerber and her business partner, Britt Iversen, have created experiments like the first book built on the blockchain, a story about a man who goes insane, which has text that slowly disintegrates, and another work that uses Google Street View as a narrative mechanism to travel around the world.
Ambient Literature commissioned two other stories besides Pullinger's, both of which take the form of apps. One, It Must Have Been Dark by Then by Duncan Speakman, combines a physical book with audio–which people listen to via an app–and incorporates the reader's geographical surroundings into the story. The other, The Cartographer's Confession by James Atlee, can only be experienced in London, and combines audio with historical photos. Both utilize location data to create different kinds of stories that adapt to the reader–a stark contrast to traditional novels that ask readers to engage in their fictional world.
Other features of the smartphone besides location data can find their way into the story, too: Another thriller Pullinger wrote (outside the Ambient Lit project), called Jellybone, pulls out all the stops, utilizing vibrations, video, audio, and even pinging notifications. However, not all tech should become part of literature. Pullinger says that during the design process for Breathe, she and Editions at Play experimented with pulling in real-time headlines about the war in Syria to the story, but were never able to quite make it work in a seamless way.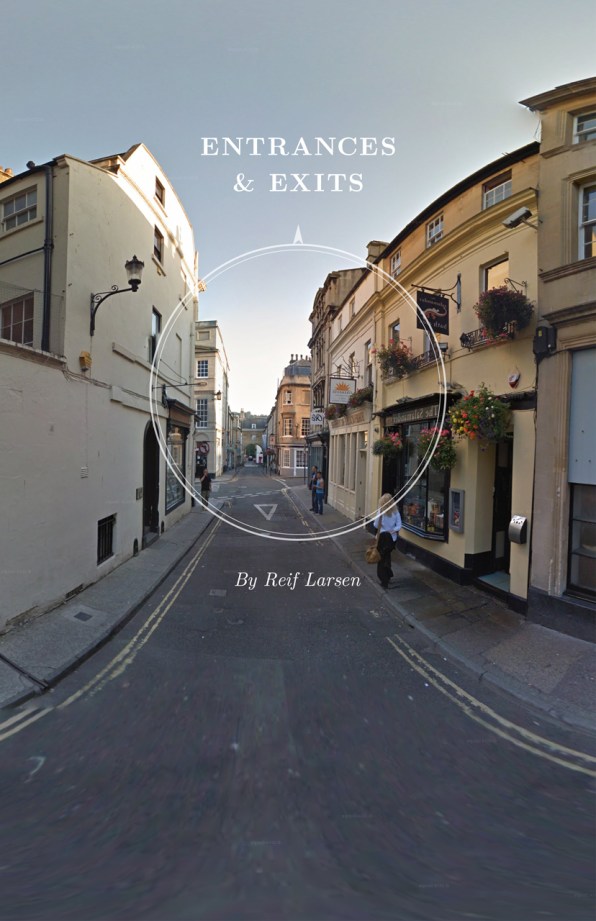 For creators on the cutting edge of literature, there's no shortage of emerging tech to experiment with. Pullinger is especially interested in augmented reality–she imagines a "reading experience version of Pokémon Go." Gerber and Iversen's next literary project, which they plan to release in the next month, features machine learning. Gerber says she's drawn to the idea of an on-demand book, which could transform some of the personalization possibilities of a digital book into a high-quality physical copy.
While these experimental forms of digital-first literature might seem esoteric, other examples have already gained a foothold. In Japan, novels designed for the cell phone have been popular for years. Famous authors like David Mitchell, Jennifer Egan, Tao Lin, and Teju Cole have written partial or full stories on Twitter. Even Pottermore, J.K. Rowling's fan website, is a form of digital literature. Pullinger's story Breathe and many of the Editions at Play stories are easily accessible online for anyone who's interested.
Many of the more ambitious works in this category–like Vanitas, an app-based story that requires you to visit a participating cemetery–have a very small audience. Compared to paperbacks, digital books are, ironically, far less popular despite the ease of access. After all, Pullinger says, "in some ways, you could argue that a good book is the most immersive experience of all."
So what's the value for writers–and the medium of literature itself–in these technological experiments? Matt Hayler, a lecturer at the University of Birmingham who's part of the Ambient Lit project, likens these kinds of technological forays to the work of literary greats in the past. "Woolf's and Joyce's experiments with literature were so important in shaping what the form could do," Hayler says. "Joyce and Woolf just became part of the landscape of what a novel could do. It doesn't matter if these experiments aren't read by everybody, as long as they're encountered by people who are excited by them and incorporate them into their own work. "

Ambient Literature could do similar things for digital-first books. The first step may sound counter-intuitive: ensuring novelties like digital books that are personalized to a reader's environment become so common that using a phone's capabilities for literary purposes just isn't that remarkable anymore. "Your phone having GPS is a literary thing that feels new," Hayler says. "As long as it feels new it'll feel weird. The moment 20 stories have done it really well, then it becomes part of the fabric of things people can draw on. It's part of the fabric of writing now."