Talk of artificial intelligence is often wrapped in confusion or paranoia or both. You know, like: "How are Russian hackers manipulating Facebook's news algorithm to subvert democracy?" The hodgepodge of clever computing technologies has been baffling interface designers, too, as they try to figure out how to make AI genuinely useful but not overwhelming, or menacing.
To grapple with the challenge, design firm Ideo built five single-purpose AI machines that explore ways technology can help people sort their thoughts, plan for the future, and even communicate better with each other.
Jure Martinec, senior interaction designer at Ideo's Munich office, lead an effort to get a conversation going with clients through a private exhibit of the gadgets, called Hyper Human. Ideo made a big bet on AI when it purchased Chicago-based data-science firm Datascope in October 2017, and Hyper Human was an opportunity to show off its AI chops to clients.
Using deliberate retro designs to make the tech less intimidating, Ideo's devices are not prototypes of any products you will see soon, or ever. Instead they aim to provoke ideas about how fast-evolving AI technologies, such as natural language processing (NLP), can help people. (For a reality check, I discussed the ideas with NLP guru Kieran Snyder, CEO and cofounder of Textio, which uses the tech to hone the wording of job descriptions and other recruiting documents.)
"It was really important . . . to highlight a human-centered approach to AI as well and how we could use the processes or the sense of AI to augment our most human aspects," says Grishma Rao, an Ideo interaction designer in Munich.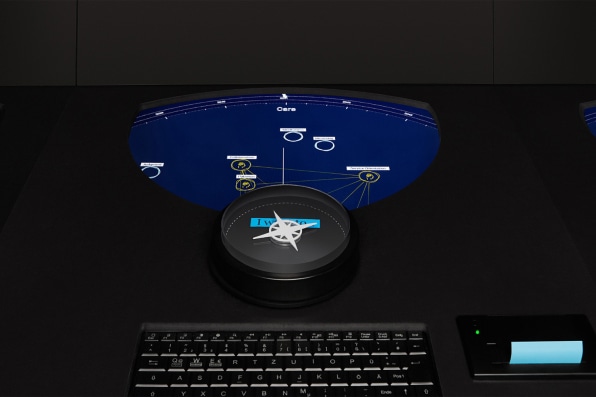 Using AI to Survive AI
The most provocative example is the Purpose Compass, which uses simple AI to predict how workers can adapt to the technology eating into their skill sets. "Mundane tasks are going to be performed by AI, so that frees up human capabilities for things that are more abstract and subjective," says Rao. (McKinsey has produced a thorough, worrisome database of how automation may affect different jobs.)
She begins by typing in her profession, and getting back a list of corresponding attributes, such as computer skills, problem solving, and illustration. Rao also turns a dial to choose a "direction" for her type of career path: invent, teach, care, or lead. Turning another dial shows how some skills, such as illustration, are expected to be subsumed by AI over time. The device recommends emerging skills, such as project management, that she can learn to stay relevant.
"The provocation here really is something that our clients have been asking a lot about," says Dean Malmgren, who cofounded Datascope, "which is how do we take advantage of the skill sets that we see in our employees and build on that without having to necessarily go through the recruiting process . . . We want to take advantage of the people that are already part of the family." Malmgren is now an executive portfolio director in Ideo's Chicago office.
Using Robots To Understand Humans
A distinctly more lighthearted prototype is the Empathy Writer. It's a mock typewriter running a program that crafts letters tuned to the personalities of the sender and recipient. Users select from pink tiles with personal attributes such as analytical, outspoken, or even narcissistic. They plug two tiles into the sender side of the machine and two into the recipient.
"Your voice is my favorite sound. What kind of coffee do you like? I miss seeing you and I'm trying to remember every physical detail about you," reads one from a curious, analytical writer to her lover. (The creators drew material from literature and real people, such as Zelda Fitzgerald's letters to her husband, F. Scott.)
It's a whimsical example of an approach that could have serious applications. "Imagine using this for writing [to] a coworker in a different culture or any other context where you're writing with somebody else's state of mind in mind," says Dean Malmgren.
I sent an email to Kieran Snyder, asking how doable this concept really is–and learned that the tech is further along than Ideo's prototype might suggest. "Understanding the personality map of the reader is the 'easy' part," she replied, with the caveat that none of this is truly easy. A company called Crystal, for instance, analyzes publicly available data about people to discover attributes like, "Makes quick decisions." (Not creepy at all, right?) No need to manually guess what someone's personality attributes are.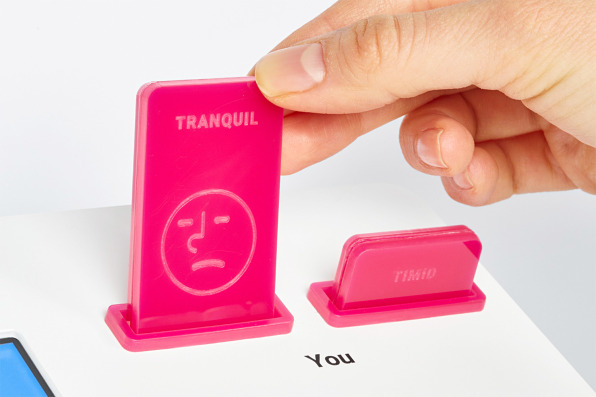 Putting Money Where Your Heart Is
Of the five projects, Snyder best liked one called Belief Checkout, created by Ideo's Chicago office.
Around the machine are shelves of milk carton-shaped boxes representing values such as economical, healthy, or artisanal. Shoppers pick three and place them on pedestals to show order of importance, and the machine generates a fitting grocery list. Someone choosing convenient, economical, and novel might get items like a cookie, hamburger, and ice cream. Someone valuing sustainable, natural, and local gets ethically raised chicken, organic fish, and a locally grown apple (and probably a longer life).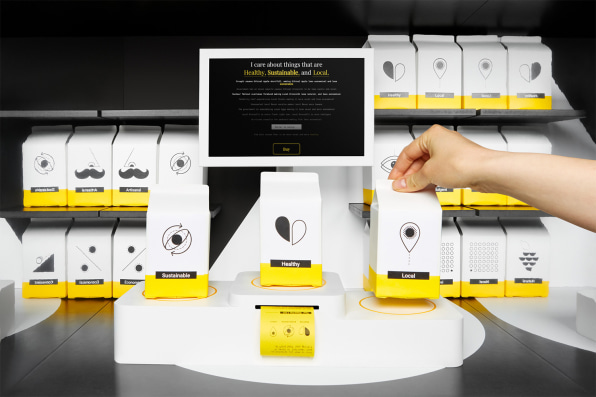 "Because it's specific about what it's trying to do–intent and context . . . it has a chance to work well," says Snyder.
Ideo further envisions tying the device to news feeds. If investigative journalists expose abuses at the "ethical chicken" farm, for instance, the recommendations could change.
Apps such as HowGood allow shoppers to scan products in a store and learn about their ethical bona fides–such as treatment of workers or impact on the environment–based on research by activists. But Belief Checkout doesn't assume any values for the shopper. If convenience and price rank highest, they may not get the most ethical products.
Ideo also envisions learning people's preferences from experience–like Netflix does, but hopefully better. "One of the things that AI is really good at is pattern recognition and adaptation," says Rao. "It can pick up on small behavior hints and start adapting . . . to be more customized to them."
AI developments have often been focused on what's possible, not what's amenable to the human users, say Rao and Malmgren. With Hyper Human, Ideo's goal wasn't to show what the future should be, but what it could be. The reactions these machines provoke might be positive, negative, or nonplussed. But it's better to go through that experience when first contemplating new AI products and services, instead of after they've been let loose in the wild.