Is Ikea rebranding through its collaborations? This year's splashy partnerships alone–ranging from Japanese audio brand Teenage Engineering to maximalist costume designer Bea Åkerlund–have seen the Swedish big-box giant jumping wildly out of its safe, midcentury-modern comfort zone, and beyond the circuit of furniture designers entirely.
Now add to that growing list of surprise collaborations: a new collection by the much-hyped, architecture-trained fashion designer Virgil Abloh—longtime creative director to Kanye West, founder of the cult "haute streetwear" label Off-White and, as of this March, artistic director of menswear at Louis Vuitton. Ikea just unveiled designs from Abloh's new collection, MARKERAD, in an early preview live-streamed from New York, and we are here for it.
"Designed for Millennials," in Abloh's words, the collection marks his first foray into home goods. And like all things he designs, it features a signature mix of high-and-low cool and a studious touch of pop-art irony. A peek at early prototypes, still in development, included a transparent glass cabinet, with door handles colored bright-red and styled to look like industrial nails. More than an ordinary cabinet, it takes the appearance of an art museum vitrine, made to showcase your prized possessions. The idea isn't just ironic: Abloh believes a clear storage unit will also serve as a "visual reminder" of your belongings and encourage a more "curated" approach to consuming goods.
"I wanted to bring a sense of pride to these items," said Abloh of the designs, as his half-hour product preview began to take on the professorial air of an art-history lesson in making and looking at furniture. "Look at the positive side of the world 'hype.' It may just be sneakers, but they come from a halo, and if you own them there's a different sense of pride . . . if we can make that same halo effect, that aura, for a chair, a credenza, a rug, or a display case, then you have a sense of pride in it, and can begin to appreciate and notice the design, instead of only when it's broken," he said. His overarching goal for the collection, he added, was about "trying to embed an artistic quality in things you already have." The preview also demystified the design process, as the camera panned to show a room full of product development staffers working with Abloh.
Other items included a red rug featuring the word "BLUE" prominently across the center—which, Abloh suggests, also makes for a nice wall-hanging. A simple Shaker-style chair, designed to have three even legs and one that's slightly too short, comes with a red doorstopper-shaped piece to level it out. "The person who designed the wheel must think he's god's gift to Earth, but the person who designed the doorstop is equally impactful, because it can stop a plane in its tracks," says Abloh, who found his inspiration at an airport tarmac.
As for his take on the ubiquitous blue Frakta bag: it's rendered in cardboard, and emblazoned with the word "SCULPTURE" in all-caps.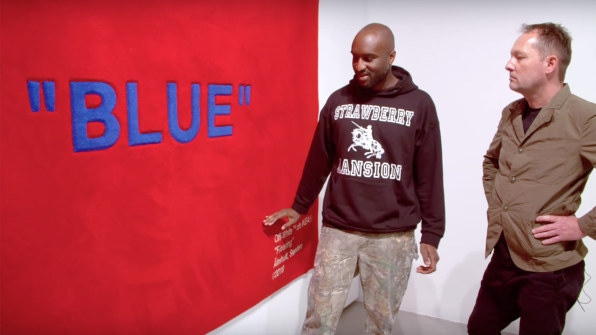 "This is going to be a unique project, in that it'll be, by large, the first thing I've done that has the most amount of design and difficulty to actually making the goods," Abloh told Hypebeast. "A) It addresses the realm of our living spaces outside of our closet, and B) this is something that will be readily available and priced at a means that people can participate. Anything that's best in class or beyond iconic, I find interesting: Coca-Cola, Nike, NASA, you know–these brands that, when you say them, something resonates beside just product itself."
MARKERAD is scheduled to drop in 2019, and, we're assured, priced at "normal Ikea prices"—though if we can expect anything from Abloh's coterie of fans, we're betting the pieces will fetch a pretty penny on the resale market.