Over the past few years, the Facebook feed has become a reviled part of pop culture–a symbol of everything people complain about when they think of the company, from opaque algorithms to political echo chambers. But onstage at its annual developer conference F8 this week, Facebook put on a new . . . ahem . . . face.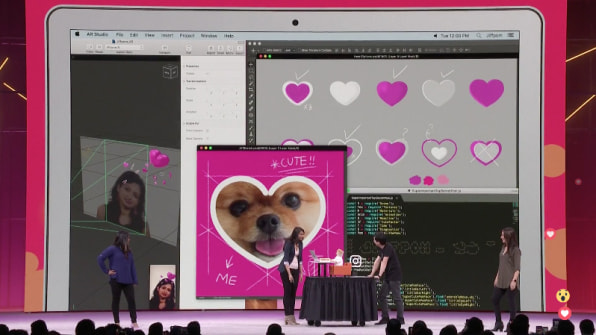 In front of a pointedly friendly backdrop of pink heart graphics, bunny ear filters, and one real-life Pomeranian Instagram star, Facebook showed off a cornucopia of new services that have nothing to do with your News Feed. They range from Dating to a new Groups zone, and each leverages the power of the social side of Facebook to create spaces distinct from the endless scroll of its main user experience. The way people are using Facebook today may support the idea–Facebook shared that 800 million people around the world are currently using its eBay-like Facebook Marketplace feature each month, and that includes one in three Americans. That's insanely successful for a spin-off that launched just last year, and a great proof point that some of these new services really can, and do, stick.
Facebook seems to be demonstrating that its News Feed is but one service among many, including new functionality that could threaten to replace apps like Tinder and eBay. Together, these new products almost look like an internet within Facebook, where dating, e-commerce, messaging, and more all exist within the Facebook ecosystem. It was a profound way for Facebook to respond to the #quitfacebook movement. You can quit a feed, but you can't quit everything else you do online. Here's a closer look at the services: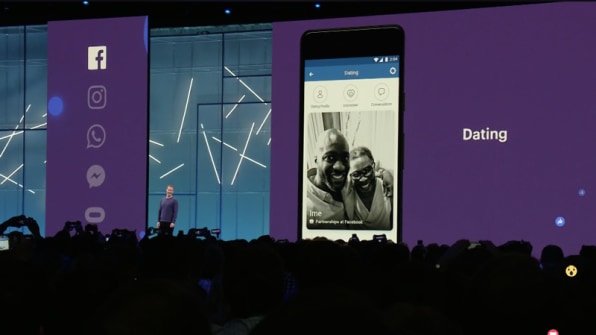 Facebook Dating
The biggest news of the day was, by far, Dating on Facebook–or just Dating, as Facebook sometimes called it. "Today, we haven't even built any features to help people find partners. There are 200 million people on Facebook who list themselves as single, clearly there's something to do here," said Zuckerberg on stage. "If we're focused on helping people build meaningful relationships, this is perhaps the most meaningful of all."
Dating is rolling out this year as an opt-in section within the core Facebook app. It seems to function like its own mini-feature where you can scroll through a list of eligible singles, who notably, are not your friends. You can also tap on events in your area, making yourself discoverable by others there. It's all very Tinder-like, though Facebook's Dating service does go so far as to list a few facts about the person you're interested in to serve as an icebreaker to the first conversation.
Notably, when you text one another, you don't do so through Facebook Messenger. The company is actually using your anonymized phone number, so that you can keep friends, family, and lovers separate.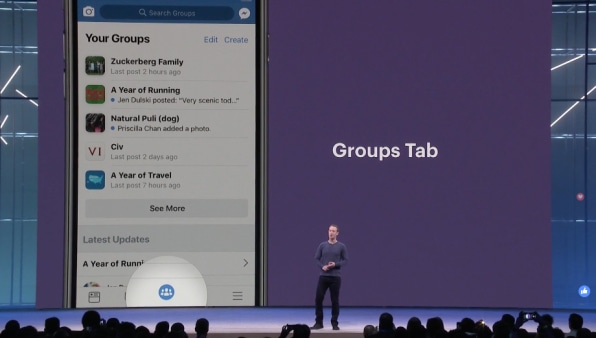 A Bona Fide Groups Zone
Groups have proven to be Facebook's best service–the functionality has helped millions of women organize to march together and let new parents find events in their neighborhood alike. But anyone who is part of a few Groups knows that following them is a bit of a mess, a mix of managing notifications and your feed itself.
Yesterday, Facebook announced that Groups will get its own tab, and when you click it, you can see all the groups that you're part of. "People tell us Groups are the most meaningful part of Facebook," said Zuckerberg of the feature. "A new Groups tab makes Groups more central to the overall Facebook experience." Rather than weeding through your News Feed to see your more meaningful Groups post, you'll have a dedicated zone.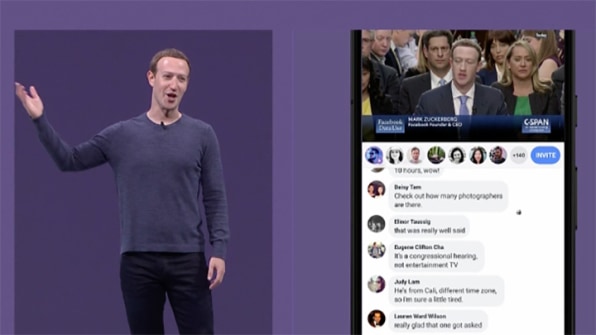 More Ways To Chat, More Ways To Watch
The keynote featured a major focus on new video-enabled aspects of Facebook. For example, the company debuted a new social way to watch videos. With a screenshot of his own uncomfortable testimony in front of Congress, Zuckerberg showed off a Facebook feature called Watch Party that lets you watch videos with friends.
"We're also focused on new ways people can use Instagram to communicate," Zuckerberg said. That means Instagram is getting one-on-one video calling. It's also getting group chat, in which you, along with three of your friends, can peruse Instagram together, sharing stories that you find with one another in real time. Whatsapp is getting group chat, too. Meanwhile, Instagram is getting fancy AR filters, like Snapchat (or Facebook itself). It seems like Facebook is pushing hard into getting lots of people live, in the same place, at once.
Facebook is also reinventing Messenger. Most of us avoid Messenger like the plague right now–it's essentially the most bloated, confusing way to text someone possible. Facebook acknowledged that by introducing a full redesign of the app, which looks a lot more spartan at a glance. "It's clean; it's going to be fast," Zuckerberg said. It's easier to imagine hitting that Messenger tab in the Facebook app if the user experience isn't so painful.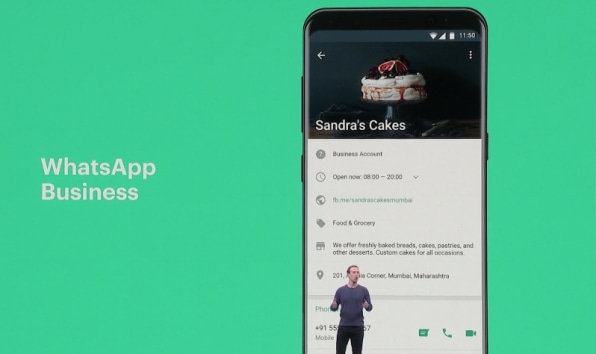 WhatsApp For Businesses
Whatsapp has lagged behind competitors like WeChat, whose users flock to the service to contact, or even buy items, from retailers. That's changing. "A lot of people don't want to call businesses, or they want to text. Earlier this year we launched Whatsapp Small Business. More than three million people are using it," says Zuckerberg. "The next step is giving large businesses tools to be on Whatsapp, too. We're working on this now." That's a vague description, but if WhatsApp pushes hard into retail, it will be a much tougher app to resist when those coupons come flying.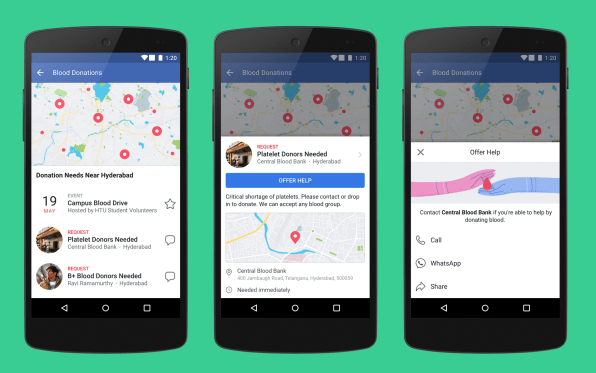 A Hub For Clinics And Blood Donors
Facebook took the opportunity to remind us all that its Safety Checks, and initiatives like its blood-matching services in India, have become hugely important–Facebook is now actually the largest online blood-matching service in the world. The company announced it will create a hub for clinics, donors, and bloodbanks abroad to find one another more easily–and also teased bringing the technology stateside in the future.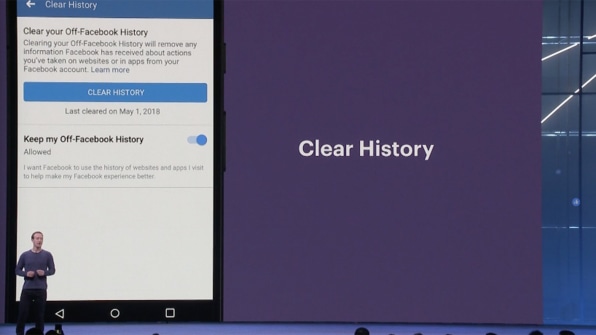 Clear Your History–If You Dare
Zuckerberg used his own keynote to tease a wild demonstration of the company's photo AI technology. He showed off a 3D family room that could be visited in virtual reality, which was fully constructed by analyzing the backgrounds of the photos that you and your family may have shared on the service. "You're going to be able to go into VR with your family and feel like you're in a dream," says Zuckerberg.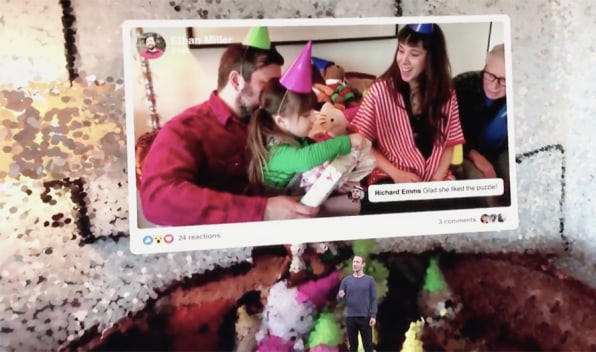 There was no timeline for if or when Facebook would actually release this tool, but it made an important, tacit point: That Facebook's social data on you, while contentious, can also do incredible things that we've yet to imagine. And because of all those magical features-to-come, Zuckerberg implied that we may all be reluctant to use the company's other major announcement today: A "Clear History" button that is currently in development, capable of wiping the service of your recent activity, much like you can wipe your web browser today. Zuckerberg was careful to point out that such privacy features would lessen your experience of Facebook.
"To be clear, when you clear your cookies in a browser, it can make parts of your experience worse…you'll have to re-login to dozens of sites," he says. "Your Facebook won't be quite as good when it relearns your preferences. But we think this is the kind of control people should have."
Indeed, we should all have the opportunity to opt out of Facebook–but as it adds new services that more users will find irresistible, the company may convince more of us to opt in.