If you've ever taken a ride on the New York City subway, you're familiar with the musty stations, the feeling of bodies packed into crowded cars, and the desperate rush to make an overcrowded train. You've probably caught a glimpse of an enormous rat scurrying among the garbage on the tracks.
But when Philip Ashforth Coppola descends into the subway, he sees something different: exquisite mosaic artworks, some of which are more than a century old.
For the last 40 years, Coppola has meticulously documented every subway station in New York, drawing every mosaic mural, sign, and detail. To date, he's drawn 110 stations–right now, he's working on the stretch of the Lexington Avenue line that runs between Grand Central Station and 106th street. Coppola has self-published six volumes of his work, including his sketches, notes, and history that he's dug up on the designers and architects behind the stations, in a series called Silver Connections. Some of the editions had only 100 or so copies made, and they were bound by hand.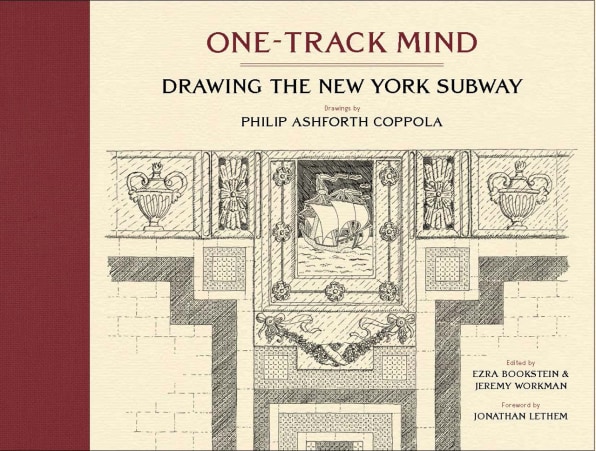 After decades of obsessively documenting the subway system, Coppola is finally getting his due. Princeton Architectural Press is publishing the first commercial version of his drawings for the general public in a volume called One-Track Mind: Drawing the New York Subway. The book pays homage to Coppola's labor of love and presents a selection of his sketches of the most iconic art in the New York City subway system.
As the book's editors Jeremy Workman and Ezra Bookstein explain, the intricate mosaics that Coppola has documented weren't just decor, even though they're certainly beautiful. When the subway opened in 1904, its planners knew they had an uphill battle to convince people to ride it. "It was like, you're going to go underground at high speed in a crowded car? It was like going on a roller coaster," says Bookstein.
The art, some of which resembles rich oriental rugs and statues, was designed to elevate the experience of going underground. Coppola points to the mosaics at 110th Street and Lenox, where a large section of the wall is covered in bright tiles featuring floral chains and rings–it truly looks like a tapestry. Borough Hall in Brooklyn is another example of this tactic at work: There are rich motifs of flowers, ribbons, and even victory wreaths–all of which have survived for more than a century.
The wonder of Coppola's work is that he reveals these details to everyone–even those who ride the subways daily but likely don't notice them or have any idea about the history behind them. "Even if you're not interested in the nuts and bolts of subway design, people were just thunderstruck when they saw [Coppola's] artwork," says Workman, who did a documentary on Coppola in 2005. "It reminded them of art they had seen themselves and maybe didn't notice. We thought that was a powerful message: reminding people of the beauty that's right in front of their eyes."
As a New Yorker myself, I find the subway mosaic art strikes me at strange moments–catching my eye as I'm waiting on the platform or running to catch a train. But some of the most fascinating mosaics are those I haven't yet discovered in my relatively short tenure in the city.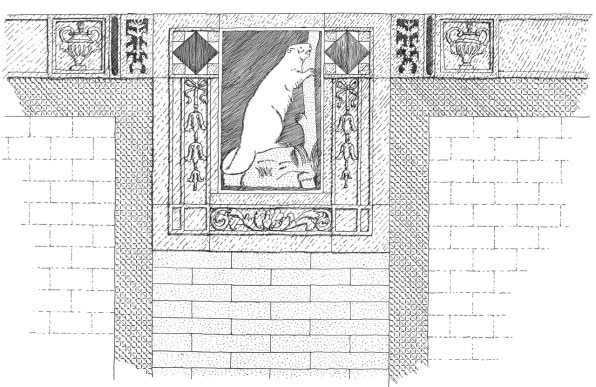 Take the beaver at the Astor Place station–a curious little fellow who's gnawing on a tree in an elaborate frame. His presence in the subway is a nod to John Jacob Astor, who was one of the wealthiest men in the world during his lifetime and was a prolific New York City landowner. But before he became one of New York's first moguls, he made a great deal of money importing beaver skins from Native Americans and Canadians and selling them to fancy gentlemen who expressed their elevated station in life by wearing top hats made of beaver fur. In the course of his research, Coppola learned that the beaver–which is a tile panel rather than a mosaic–and its surrounding cornices were created by Grueby Faience, a Massachusetts ceramics company founded in 1894. It was part of Astor Place station when it opened as one of the first 28 stations of the subway in 1904.
Another favorite is the subway art rivalry between City College and Columbia University. Columbia, which was lucky enough to count the subway's chief engineer, William Barclay Parsons, as one of its alums (class of 1882!), has an ornately decked-out subway station at 116th street. The walls of the station display the university's seal, as well as elaborate mosaics. City College, which has a station just north of Columbia, didn't have fancy mosaics or even its name in the station's title. The college petitioned the Rapid Transit Commission for over a decade to change the name, until the agency finally obliged by adding small placards to the station–which the college found utterly unsatisfactory. In response, it raised enough money to retile parts of the station to include City College's name, along with 12 mosaic panels. Only two of those survive today.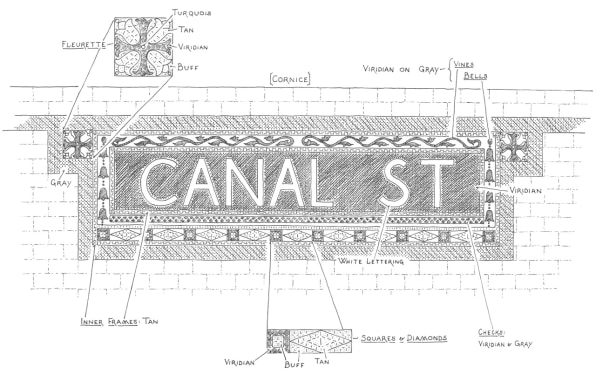 Of course, the mosaics are a reminder of the history of the subway, but also its age. Delays and overly crowded trains are frequent and frustrating; the lack of adequate funding for a line that's become the most expensive in the world to build is something of a joke. But the subway remains the lifeblood of the United States's most dynamic city and its economic powerhouse: as Johnathan Mahler argued in The New York Times Magazine earlier this year, "Before the subway, it was by no means a foregone conclusion that New York would become the greatest city on Earth."
The art–and Coppola's dedicated documentation of it–is a reminder of the subway's former glory, its history, and its singular role in transforming New York into the cultural and financial hub it has become. "What everyone now talks about is how the subway is delayed, but what Phil's art reminds you is that the subway in New York City is this over 100-year-old massive superstructure that has all this history embedded in it," Workman says.
And as the subway chugs along, so does the 70-year-old Coppola. He has no plans to stop until he's completed all 472 stations–though he's cutting short some of his research in an effort to finish the job. "It's a cause and now it's obsessive," he says. "But the joy is to go there and see things and be able to talk about it. People haven't looked at the stations like I have." There are a few stations he's hesitant to tackle–mostly the new ones that have opened in the last few years on 2nd Avenue and at Hudson Yards.
"I've seen Hudson Yards–it's like, way the heck out of my range. It's so space age," he says. "I can handle mosaics. I don't know if I can do stainless steel."