The fabric looks like pearlescent mosquito netting or a screen door made of snakeskin. As it shimmers in an ever-changing array of pinks, oranges, and greens under the light, I can literally see right through it.
This is Nike Flyprint, the first 3D-printed performance fabric in the world, which will debut on the feet of the elite Kenyan long-distance runner Eliud Kipchoge at the London Marathon this week. It's lighter, more breathable, and more water-resistant than Nike's Flyknit. Instead of using a high-tech loom to weave a shoe out of yarns, as Flyknit does, Flyprint is woven out of polyurethane with a 3D printer. This technique allows Nike to create a lighter, more breathable upper that won't absorb water and can be customized to a runner's foot shape and gait.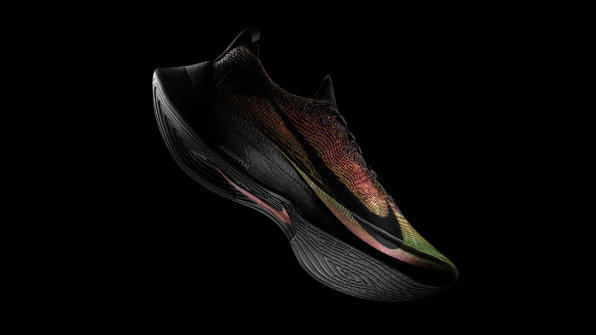 You might categorize Flyprint as the technological successor to Flyknit, but Flyprint isn't replacing Flyknit, at least not right away, and perhaps not ever. That's because the two materials can be blended into one shoe–creating a dry, light super-shoe designed for pro runners, but also Nike fans.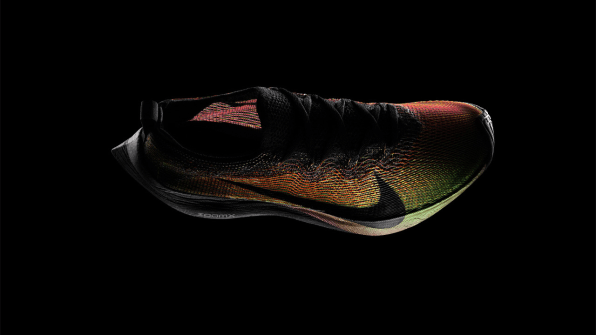 An Idea Born Of Failure
If you look at the timeline leading up to its creation, it's easy to see how Flyprint evolved from one of the most successful failures in sportswear history. Last year, Eliud Kipchoge set the world record for the fastest marathon time ever recorded, clocking in at 2 hours and 25 seconds. But it still fell short of the ambitious goal Nike had set in a hugely publicized initiative called Breaking2. In a single race, the company planned for one of several of its sponsored runners to break the two-hour marathon record. Nike released a special shoe just for the race, and even had Kipchoge run on a circular track in the most optimal running conditions possible. But Nike's footwear could only push the world's fastest marathoner so fast.
Around September of last year, eight months after Breaking2, Nike began thinking about how it could shave off even more time for Kipchoge's marathon runs. The company didn't want to tweak the marshmallowy midsole, which rebounded so much energy in a runner's stride. Instead, it looked at the upper, the fabric that holds the shoe on someone's foot. Nike wanted to make it lighter and more breathable, but it also heard something else from Kipchoge: Shoes he'd run in in the past sometimes picked up water on a wet course, weighing his strides down. Could the company fix this problem, too?
Digging through its options, one technology seemed to fit the bill: 3D printing. In reality, Nike had been 3D printing parts of shoes for years. The company released 3D-printed football and track spikes in the past, and had been rapid-prototyping shoes to analyze designs internally for just as long. But any lead Nike had in the space was lost to Adidas last year, when Adidas released the world's first commercial 3D-printed outer sole with a clear industrial timeline to scale it to everyone. At the same time, Adidas's sales were in an all-out sprint to catch up with Nike.
"We didn't want to use 3D printing for the sake of using 3D printing," insists Roger Chen, senior director of digital innovation at Nike. "That's where we took a step back, and thought, how do we focus on the design brief: a lighter shoe, that's more breathable, and allows rain and moisture control?"
Of all Nike's available materials, a thermoplastic urethane extruded from a 3D printer could provide these characteristics, in theory. But Nike would have to make 3D printers operate in an entirely new way, first.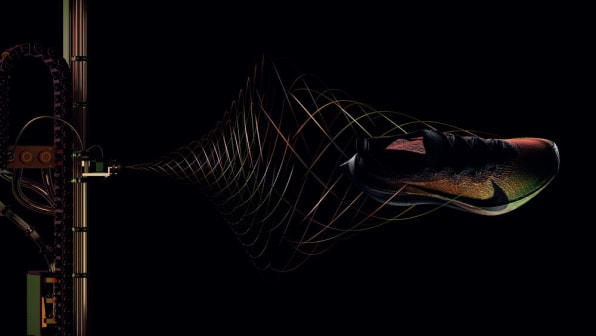 Hacking A 3D Printer
The biggest surprise about Flyprint is that you can make a Nike Flyprint shoe with an off-the-shelf industrial 3D printer. Adidas, on the other hand, partnered with a new company to secure machines to produce its 3D-printed shoes. Even the plastic being used by Nike, while technically proprietary, is close to what's available on the market.
The difference between the process of 3D printing Flyprint and a typical 3D-printed object is how the printer itself behaves. "With Flyprint, our designers asked, 'How could we control the 3D printer like a paintbrush?" says Chen. "Could we lay down every line with invention and purpose?"
3D printers generally work by layering micron after micron of plastic, building a structure one strata at a time. As Chen puts it, the printer itself is deciding how something is made, and it's always made the same way. To bring an artisan approach to printing, Nike hacked commercial printers with smarter software. Instead of building a shape by extruding entire layer after entire layer, their software allowed them to lay down filaments of plastic like yarn. That means instead of merely layering plastic, Nike can actually weave these strings together into complex patterns with unique physical properties.
It's an approach that sounds a lot like Flyknit, but extruded plastic pushes the bounds of weaving beyond what Nike could do with yarn. "We may not weave [a string] from X to Y, we may go X to A to C to Y," says Chen, as he zigzags his hand across a shoe. And with the assistance of computational design software, which can help designers create patterns across the shoe for various degrees of support and flex, every bit of a Flyprint upper can be optimized to a particular runner's foot.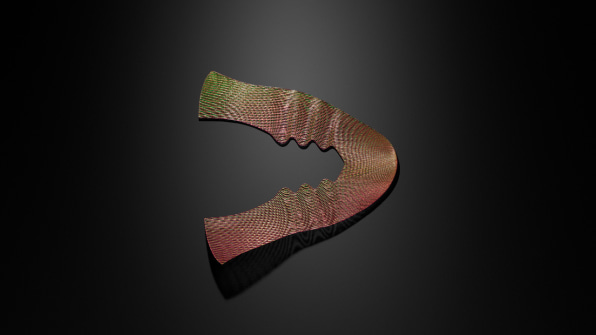 On the shoe Kipchoge is wearing this week, the toe box features a weave of small diamonds, which offer little flex and lock his toes down on the midsole. Into the forefoot, the weave transitions into curves to increase lateral flex and breathability. Then at the heel, the diamond shape returns–though this time, larger–to offer a touch more flexibility than found the front of the shoe.
Style is just as importance as performance for Nike and its competitors, no matter what these companies say. Sneakers have become high fashion, and computational design helps here, too. It allows designers to use algorithms to create Flyprint's shimmering colors, and perhaps even colorways we haven't seen before. (Nike won't detail how it extrudes such unique colors onto its shoes, citing that information as proprietary.)
Without having worn the Flyprint myself, however, it's hard to know what running in plastic feels like. The final shoes are definitely . . .slightly lighter than what Nike has made before. The Vaporfly elite weighs 180 grams, while the Flyprint version is 169 grams. That's a savings of 11 grams, or 6.1% of the shoe's weight, dry. Sweat or puddles could increase the gap.
Comfort was a big concern to Nike–the company insists that woven plastic, like its filament weave, is more comfortable on the foot than a single, 3D-printed piece of plastic. And anecdotally, Kipchoge has likened the breathable sensation of Flyprint as to running on air. However, in Kipchoge's final pair, Nike opted to include a Flyknit tongue, as opposed to a complete Flyprint upper that had been explored in prototypes. Why? The top of the foot is the most sensitive part, and Flyprint V1.0 simply wasn't as comfortable as Flyknit for this key part of the shoe. Luckily, Flyknit material can be heated and bonded with Flyprint. This means that as Nike irons out Flyprint's kinks, it can easily make hybrid Flyknit/Flyprint shoes–or maybe even other apparel–at scale, for the market.
"As we're introducing Flypirint, we're not replacing Flyknit," clarifies Chen. "They've very complementary." Though what any of this means for the possibilities of mass performance customization for the average user, speed of shoe production, or Nike's own bottom line remains unclear, as Nike isn't commenting on any of that yet.
For now, Flyprint is only available to Nike's pro runners, along with a few collectors who might purchase a $600 Flyprint version of the Vaporfly Elite through Nike's app later this week. That said, Nike hinted that it has a pretty predictable cadence when it comes to releasing its new technologies to the mass public. They're built for pros who prove them in competition. Then, those technologies are scaled to the masses in commercial release.
In other words, you can look for iridescent Flyprint shoes on store shelves by the tail end of 2018, or early 2019 at the latest. And while they might not shave all that much time from your next marathon, their unabashed embrace of color makes them scream Nike through and through. Triple white Adidas Ultraboosts, these are not. Nike is going maximalist, full speed ahead.