In 2013, designer Jason Mayden was at the height of his career, working as a global design director at Nike and functioning as the creative lead for the Jordan Brand. Then he walked out the door. Spurred by his young son's health problems, Mayden was determined to research the problems he saw with childhood obesity and the rise of anxiety and depression in kids–and find a way to fix them. "I realized that my industry of health and wellness is structured to fix broken adults," Mayden says. "I really wanted to use play as prevention to build stronger children."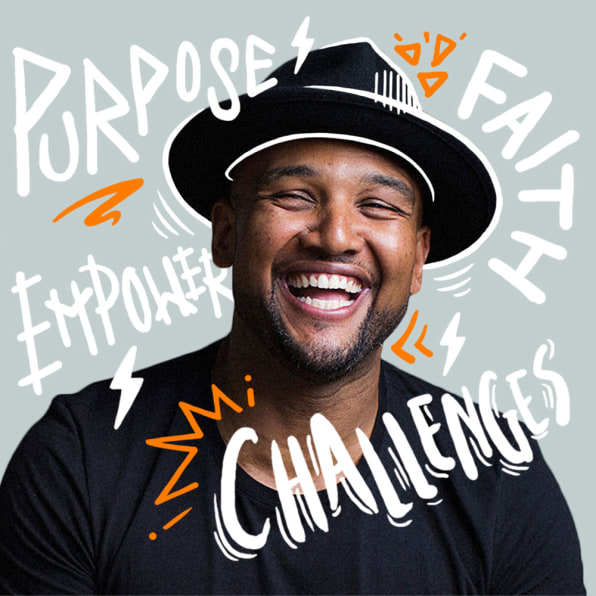 Mayden wondered if he should start a nonprofit, become an elementary school teacher, or maybe even go to back to law school. But he realized that the key to encouraging young kids to get outside and play could be hiding in his skill set as a shoe designer. So, after a few years of working in startups and venture capital, Mayden started Super Heroic, a design-led company that sells children's shoes with a unique goal: to convince every young kid who puts on a pair of its shoes that they're a superhero, capable of solving problems and saving the world.
This ethos is embodied in the shoes' packaging. The shoes arrive in the mail inside a large cardboard cylinder. When you pull on one end of the cylinder, the shoes emerge as a video game-inspired sound effect plays. If you hold the cylinder under one arm, pulling the shoes out mimics the motion of unsheathing a sword from its scabbard. But the best part? The shoes come with what Mayden calls a "utility cape": a drawstring backpack that includes a cape emblazoned with the company's lightning bolt logo. The entire experience, even for an adult, is utterly delightful. "This is the transformative moment," Mayden says. "We often see the child put the shoes on, pull the cape on, and then they go out and run around and play."
The company soft-launched in July of 2017 with its first shoe, a blue-and-green gender-neutral slip-on for $79, and today Super Heroic is launching its third iteration of this initial design. With 32.6 million elementary school-aged children in the U.S. alone, children's athletic shoes brought in $334.6 million in revenue in 2017. But the most compelling part of Super Heroic is Mayden's belief that encouraging every child to embrace their own superheroism can help make them more active and confident.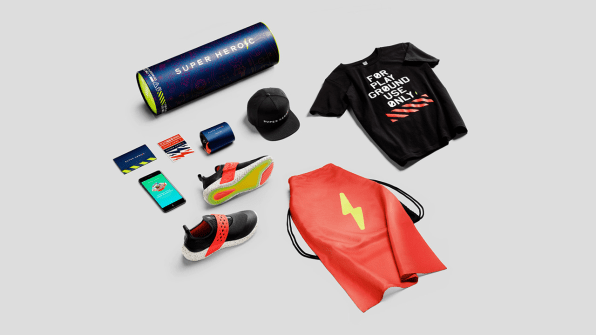 Before the design process began, Mayden identified a few problems parents have with buying shoes for their kids. For starters, most are looking for a more convenient shopping experience. They want shoes for their kids that are easier to put on, and wish there were more companies that spoke to kids on their level. In response, Super Heroic is direct-to-consumer, but aims to bring joy back into the buying experience through the fun packaging. The shoe itself features an adjustable strap that makes it easier for kids to put on and take off themselves. The brand's voice and design are aimed at talking to kids on their level, through an archetype they can all understand.
Mayden says that most kids' shoes are just sized-down versions of adult shoes, so he was careful to take into account what kids really need when designing the initial line of shoes for kids ages 4 through 11, called the TMBLR. He spent plenty of time at the playground with his own children every day, of course, which helped him realize that kid's shoes are too complicated and have too many layers. Kids need their shoes to function on a wider variety of surfaces: carpet, hardwood, gravel, dirt, and wood chips, and Mayden found inspiration in looking at the feet of another creature used to stabilizing on uneven surfaces: a mountain goat. So he added more dense material around the shoe's perimeter for stabilization, with softer material in the middle of the sole for standing and heel-to-toe movements.
Instead of laces and extra material, the top of the shoe features a "utility strap" that holds the kid's foot in place. The strap, in a contrasting color to the body of the shoe, visually matches the cape and adds a dash of style. The back of the shoe has a "heel bumper," or a little ledge to give kids leverage to remove the shoes when they're done playing.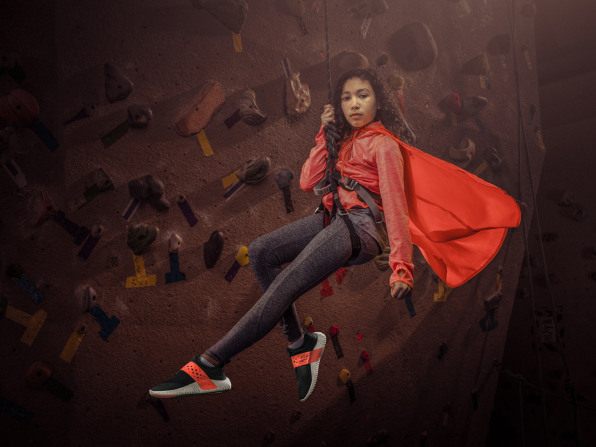 Chief among Mayden's product testers are his two children. His 14-year-old son is his "pseudo head of research and development," while his younger daughter is his wear tester. "They're both heavily involved in the process," Mayden says. "I put them to work. They earn their meals every day."
Mayden's daughter has been particularly influential in the development of the shoes–and in the TMBLR's gender neutrality, both color and fit (Mayden says there's little difference in the foot at this age). But the company's brand is also keenly aware of empowering girls to be superheroes, too. "I think about my daughter a lot with this product," he says. "She's very athletic, very sporty, and oftentimes she's playing more aggressively than the boys. And they'll exclude her and say you can't play because you're a girl. And I'll tell her, 'because you're a girl you're stronger.'"
For the first six months. Mayden did everything himself (and even invented a "team" of 10 other people, each of whom had their own email accounts). Later, he then brought on his cofounder and chief marketing officer, Harshal Sisodia, a friend from Nike. When his father–who has a background in supply chain management and industrial engineering–was diagnosed with cancer, Mayden would sit at his bedside and the two would discuss supply chain logistics. After he went into remission, he joined as the company's third employee and chief operating officer. "We're trying to become the real-life Incredibles," he says. "That's literally my goal."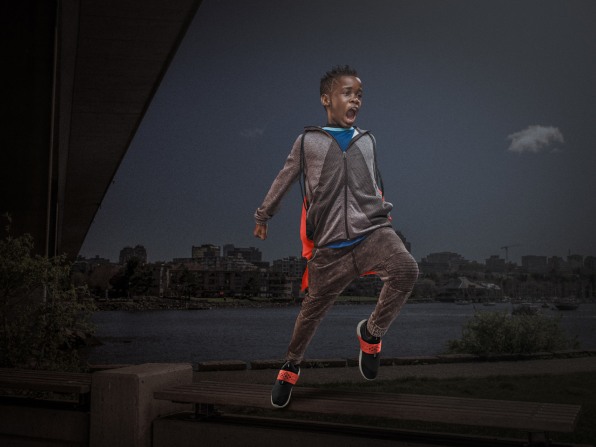 Mayden's gut feeling was that making a kid feel like a hero could positively impact childhood development. Indeed, researchers at Hamilton College and the University of Pennsylvania recently found that kids in costume tend to work harder and persevere more. The 2017 study, published in Child Development, coined the phenomenon the "Batman Effect."
"They believe it's not them, it's Batman, so therefore they're held to a higher standard," says Mayden. He interprets the study as verifying the idea that make-believe is critical to childhood development.
Since launching last year, he and his team have driven around the West Coast in what he calls the "Hero Lab," a traveling van outfitted with an obstacle course for kids (their parents, of course, can buy the shoes). It's a way to expose the startup's products to more people and show kids and parents the possibilities of Super Heroic's brand of imaginative play.
In 2019, Mayden envisions releasing products that aren't shoes at all, but "missions." While he doesn't go into detail, that might mean hero-focused toy sets. Eventually, the company may experiment with sensors that give parents (and Super Heroic) feedback on how products are used. "We'll have the ability with the missions and how we're building the product to know how the child has moved, for what length of time, and what they did, what they completed," he says. It remains to be seen whether parents will be open to the company monitoring their children's activity. Mayden, however, is optimistic that parents will want to know more about their kids' play. For now, the goal is to build trust in Super Heroic's brand–and perhaps one day provide parents with data about their kids in a safe, secure way.