As partners in both life and in work, Amale Andraos and Dan Wood, cofounders of the celebrated architecture firm Work Architecture Company (WORKac for short), share a bond that is inherently intimate. The two met as young colleagues working with Rem Koolhaas at the Office of Metropolitan Architecture (OMA) in Rotterdam, before they married and moved to the United States in 2003 to set up their own independent practice. After trying their hand at Los Angeles, they settled in New York City, partly for geographic proximity to their European network, and partly out of ambitious bravado: An urban setting notoriously squeezed by square footage, they reasoned, would make for some intriguing challenges.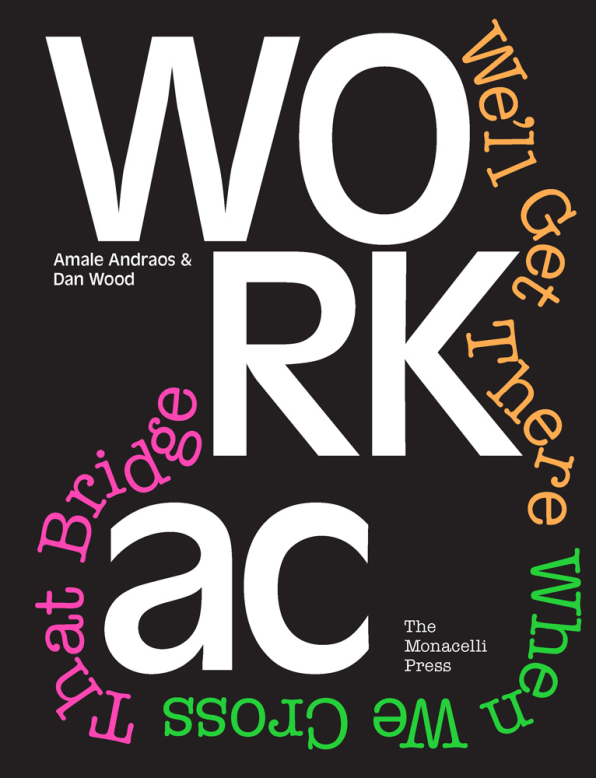 Now, 15 years later, Andraos and Wood reflect back on navigating these challenges through a set of three five-year plans—and with the renewed insight that time lends to experience. Architecture is hardly a solo sport, and the duo call their latest book, We'll Get There When We Cross That Bridge, a collaborative "duograph," featuring a running, conversational dialogue between them. While the title and the playful graphic design suggest a freewheeling MO of winging it, scribbling notes in the margins, and coloring outside of the lines, the partners make a strong case for making goals and taking stock of them, even when the path isn't a straight shot, as it rarely is. "These days, nothing is linear," Andraos says. "It's not like you start at a point A and end up at point B; you don't really know, and you have to design the practice, you have to design the engagement—you have to design so much more than the projects or objects."
Ahead of a talk next month in New York with book designer Neil Donnelly, Andraos and Wood offer a few lessons learned in retrospect. Whether you're an architect, designer, or creative professional making it on your own, read on for a few points of advice to consider as you design your own five-year plan.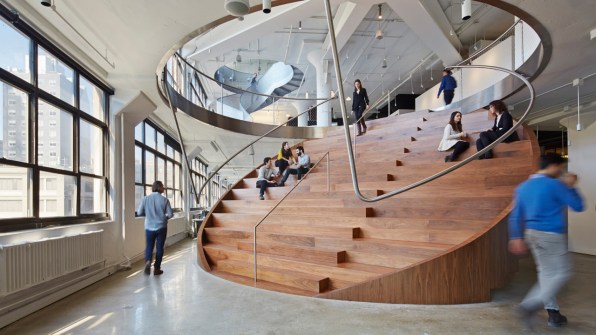 Ignore your instinct to be a lone genius, and build a brilliant team
The myth of the singular heroic genius has plagued architecture—and nearly every corner of the creative world, really—for years, and the damaging effects of that culture are only now being seriously discussed in the media in light of the #MeToo movement. By contrast, Andraos and Wood have embraced a collaborative ethos from the outset, starting with the name of their studio—a cheekily generic moniker that represents the entire team. "At the time, it was really a statement about practice," Wood explains, an axe-to-grindstone resolve "to work, and figure out what our take on architecture was through the work."
Early on, the partners also resolved to embrace "disagreement as a process: to never agree to disagree, but rather to continue to disagree until we agree." Having a trusted partner and team to challenge your ideas, in other words, will only help refine and strengthen those ideas—or help you realize when it makes sense to ditch them all together.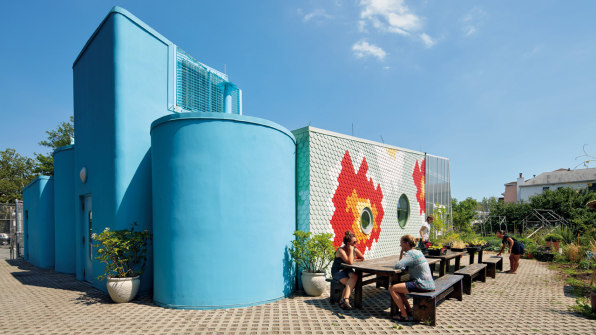 Maximize your ideas, no matter how small the project
In the early years, WORKac's scrappy operation began at home, at Andraos and Wood's tiny apartment in the East Village. The living room doubled as their ad hoc workspace, the dining nook was used as a model shop, and an array of office equipment lived on the kitchen counter. And while their first commissions consisted of small interiors projects, often locally based, none were too small or humble an opportunity to convey big ideas: Early works were "very intimate, with very small budgets, short schedules, and—luckily—no lack of ambition," they write. "We weren't going to maximize anything with time, or money, since we didn't have any to work with."
The firm's first-ever commission was, in fact, was a doghouse. In what they now refer to as their "mascot project," Villa Pup offered a virtual environment for the urban dog, with a treadmill, an odor machine, and wall-to-wall immersive video featuring pastoral scenes—a playfully conceptual design intended to "[allow] the city dog to experience the life of its rural cousins." Case-in-point: Sometimes the smallest projects can become the most memorable gems of your portfolio. Wood would often say that "interiors are like short stories that we're writing on the side while working on a novel," Andraos recalls in the book. "I don't know if we have gotten to the novel yet, but we have definitely cranked out the short stories," she adds.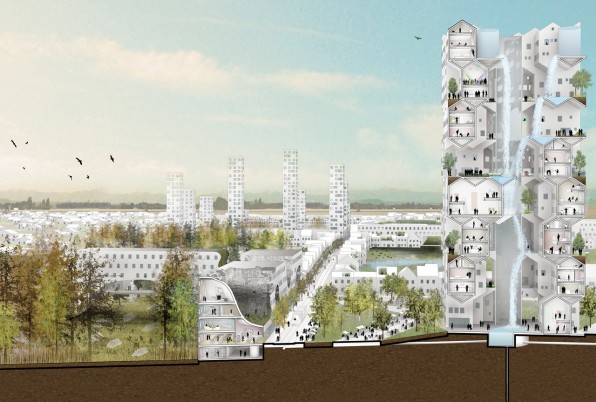 Say yes to everything (in the beginning, and within reason)
Multi-hyphenates balancing entrepreneurship, teaching, parenting, and the practice of actually designing and building works that are now global in reach, it would seem that Andraos and Wood devised an extensive strategy from the outset. And yet this is how they simply describe their first five-year plan: "Say yes to everything." It's a mantra that won them that first commission for a doghouse—and while the phrase may suggest chance, luck, or even modesty, it more aptly embodies a drive and eagerness to take on the unfamiliar.
Saying yes has led them to everything from mundane bathroom renovations, to a high-profile commission to design fashion designer Diane von Furstenberg's headquarters in New York, and even their first forays into teaching, now a longstanding involvement; Andraos was named Dean of Columbia GSAPP—making her the first woman to be appointed the role—in 2014. "Despite our commitment to 'work' as a means to discover our voice," she says, "we have become academics almost by accident, by not saying no to anything."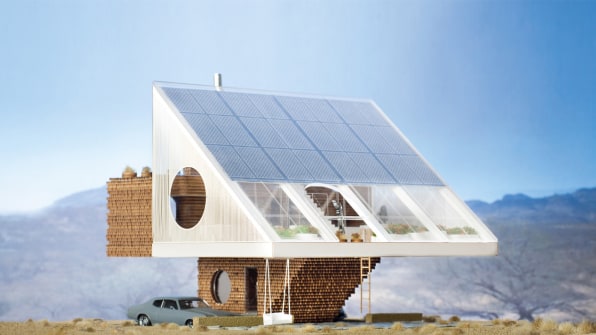 Build your own vocabulary and rewrite the script
"I always say that one of the most exciting things about architecture is that someone's floor is another person's ceiling," writes Wood, in an account especially telling of the firm's spirited approach to seemingly mundane details. The art of the witty, critically developed alternative became an early signature for many of the firm's seminal works, including their 2008 Young Architects Prize commission at MoMA PS1. For the annual competition, winning designers are given the opportunity to build a temporary canopy in the museum's concrete courtyard. In response, WORKac delivered Public Farm 1 (P.F. 1): a working, self-sustaining edible garden in the museum's enclosed concrete courtyard. Built almost entirely of oversize cardboard tubes and elevated above-head, the ambitious, self-watering structure offered a compelling alternative for ecological urbanism—and did, inarguably, function as a canopy, a detail that made the final presentation an all the more remarkable feat.
Subverting expectations requires rewriting the script—and developing a vocabulary of your own. Investing time and energy into ambitious, self-initiated projects like P.F.1, says Wood, "allowed us to impose bigger ideas onto the work, and add a level in enquiry that could live beyond a certain project." Passion projects can also lead to new commissions: Having established a unique interest in urban agriculture with P.F.1, WORKac went on to later collaborate with chef Alice Waters on The Edible Schoolyard project.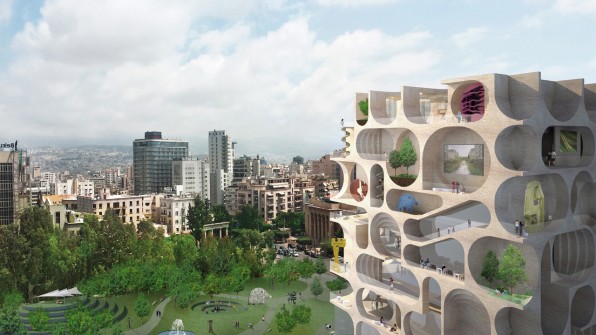 As you scale up, resist "authenticity"
As the firm's work has grown in scale and reach, ranging from the Centre de Conferences in Libreville, Gabon, to a campus library in Weifang, China, so has an understanding and belief that their work should resist an attempt at "authenticity." In a formative experience, the duo was once commissioned to design a new residential district outside of the city of Ordos, in the middle of China's Mongolian Desert. There, along with 99 other firms, WORKac was tasked to design a suburban development—and were promptly assigned a parcel on the empty, undeveloped lot.
"There, we really began to understand the larger condition of global practice in architecture and to realize that there is always a context, even in the 'middle of nowhere.' Sometimes that context is global practice itself," Andraos writes. While other firms attempted to address or recreate an idea of cultural identity through local Chinese craft or vernacular styles—a so-called "authenticity" that can often become flattened to what is expected, or what has been done, rather than what is possible or appropriate. It was a rare, nearly tabula-rasa brief that made the architects critically revisit their own understanding of context and authenticity at a wholly new scale.
The takeaway? As your company scales, so must your perspective. While a fresh or unprecedented venture can be daunting, it can also calibrate your thinking to a whole new level, and challenge you to consider a wider set of possibilities. "Ultimately, we're interested in ideas, thinking about the world through architecture, and, in turn," says Andraos, "bringing architecture to the world in new ways."