Ikea is the biggest furniture retailer in the world–a title that the company has managed to hold on to, amazingly, without a serious digital presence. In the age of free Amazon same-day delivery, Ikea still does a vast majority of its sales through its physical stores.
Its commitment to digital is quickly increasing, though. People visited Ikea stores 936 million times last year, but they visited Ikea online 2.3 billion times. Meanwhile, the company debuted new ways to shop using AR and VR, partnered with the visual AI startup GrokStyle, and acquired the gig economy company TaskRabbit. In short, Ikea is acting more like a tech company than a furniture maker. And within the next few years, the way you think about shopping at Ikea will probably change entirely, as the company is aggressively pursuing a new, digital identity through its evolving wave of experimental apps.
"The business model of Ikea having a blue box in a cornfield, and you jump in the car with your family and have an ice cream [at the store], is not the only thing we should offer our customer," says Michael Valdsgaard, leader of digital transformation at Ikea. "For the majority of people in the world, Ikea isn't accessible. Apps can make Ikea accessible."
Note that Valdsgaard said that "apps" can make Ikea more accessible, not just "an app." That's because the company has aggressively experimented with mobile shopping apps over the past year, debuting many discrete pieces of software rather than rounding up all of the features into a single, perfect digital shop.
For instance, Ikea VR lets you build a kitchen–and make virtual pancakes–inside an HTC Vive. Ikea Catalog builds digital rooms on your phone. And Ikea Place uses AR to drop full-scale digital furniture right into your room. Most recently, Ikea penned a deal with the visual search startup GrokStyle to let users of its Place app search for furniture using their smartphone camera.
To Ikea, none of these apps is necessarily the answer, but a step toward figuring out what the Ikea customer experience looks like on a smartphone, one UI trick at a time. "How do you create this whole vision of the customer journey, and plug in all those capabilities?" Valdsgaard asks. He admits that Ikea will eventually consolidate some of its apps–like Ikea Place and Ikea Catalog–into one more comprehensible experience. But the company isn't there yet, because Ikea is still sussing out the strengths and weaknesses of its various apps.
"The visual search is one of the things that clicks fast and easy. Everyone instantly gets it," says Valdsgaard of the new GrokStyle partnership. "To me, it's very obvious, in the future you're going to search either verbally or visually. How we've searched until now doesn't make sense for the coming decade."
"In VR, people love it, but don't use it," he continues. "Then you go into AR–people love it, but half can't use it because they're not used to it yet."
In this sense, Ikea's approach is a reflection of the tech industry–and its confusion over emerging mediums like AR–right now. No one quite knows what is coming next. Pinterest is betting on visual search. Facebook has gone all-in with VR. Google, Apple, and Microsoft are bullish on AR.  And then, of course, we have a slew of voice assistants lurking in an increasing number of devices, mostly thanks to Amazon. Of course, while all of this UI experimentation is taking place, the future of physical retail is murkier than ever. In this sense, Ikea's strategy is to spread its chips across the table with a range of AR, VR, and visual search experiments.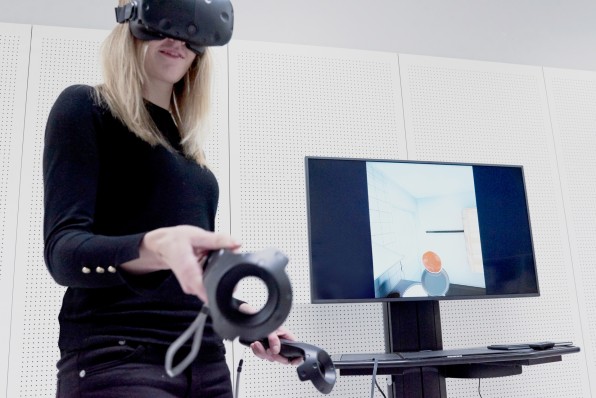 One of the challenges with working with early-stage technology is that even if Ikea could divine the retail experience of the future today, the average consumer might not be ready for it. Nobody owns a VR headset. Augmented reality is still a novelty to many people, and it's still developing. Valdsgaard says that's reflected in the user ratings for Ikea Place's AR experiences. "Consumers who've used AR before give it five stars and are like, 'good job Ikea,'" he says. "Others who haven't wonder, 'why do you only have [limited] models?' They expect technology to just work at this crazy high level."
"It's still early days for AR," he adds a beat later. "I thought it would have gone a little bit faster with [Apple's] ARkit and [Google's] ARcore, because all of a sudden, hundreds of millions can use it. But it's probably going to take a few years before it becomes something for everyday use."
In the meantime, the company is decidedly humble about its current offerings despite the fact that Ikea Place, its most successful app, has been downloaded 2 million times and boasts an estimated 1 million "repeated" users. For now, Ikea wants to keep the rate of its own experimentation high, while not worrying about failure. And as long as the technology works, the company is okay if the market doesn't respond.
"I think what we do push out is of a good quality," says Valdsgaard. "And then we can ask, 'is it a big hit, or not a big hit?' We just want to explore . . . [Then] I think you will find, in the next three to five years, we're going to have a range of ways to interact with Ikea, from big blue buildings on the freeway to a completely digital interface, to anything in between."