In 1951, the American sculptor Isamu Noguchi was passing through the Japanese town of Gifu City when the mayor asked him to revitalize a centuries-old art form: hand-crafted paper lanterns. The industry in the small town, where artisans used mulberry paper and bamboo ribs to create candlelit lamps, was struggling to survive.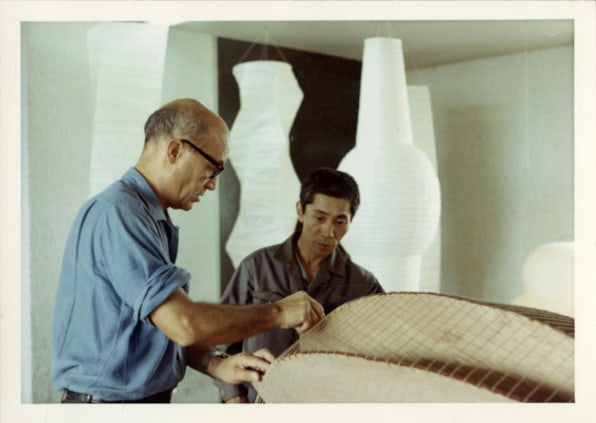 The rest is history. Noguchi accepted the challenge, and infused the old art form with a distinctly 20th-century touch–he turned the ephemeral lanterns into electrically lit lamps. Though heretical at the time, his creations, which he called Akari Light Sculptures, have become an iconic part of mid-century modern design. His more than 200 styles kickstarted the industry in Japan, which is still going strong to this day, and launched a legion of knock-offs—including those mass-produced paper floor lamps you can buy at Ikea. The museum, along with a few other vendors, sells real Akari, which cost between $100 and $500 for a table lamp, and upwards of $800 for a standing lamp.
A new exhibition at the Noguchi Museum in Queens, New York, pays homage to the incredible lights, for which Noguchi earned five American patents and 31 Japanese patents. Meant to act as a modular system where bases and shades could be swapped, the lamps remain enduringly modern.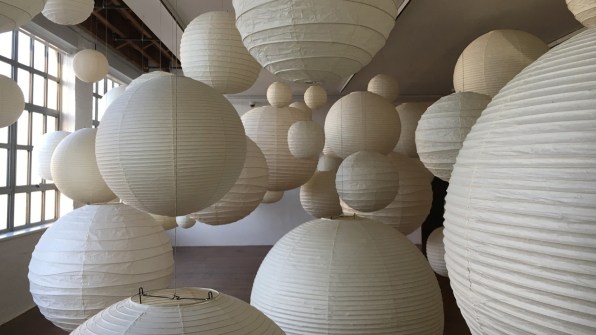 A Counterpoint To An Increasingly Automated World
Each lamp is handmade by craftsmen in Gifu City, Japan, which means that each is utterly unique. "They are testaments to imperfection. They're about humanizing the world," says Dakin Hart, the exhibition's curator. "[Noguchi] saw them as a counterweight to an increasingly mechanized and industrialized society. That's why it feels like home."
Hart thinks of the Akari as almost biological entities–in stark contrast to mass-produced copies. In one part of the installation, he created a floating cloud of round Akari lanterns you can walk through, almost like a school of jellyfish. Noguchi himself often made clouds of Akari for both retail stores and museum installations.
What Is Sculpture?
The hanging formation, while beautiful and perfect for Instagram, also highlights Noguchi's idea that sculpture is a dynamic way of creating space. "If you're still, they never stop moving," Hart says. "That's the heart and soul of Noguchi's idea of sculpture."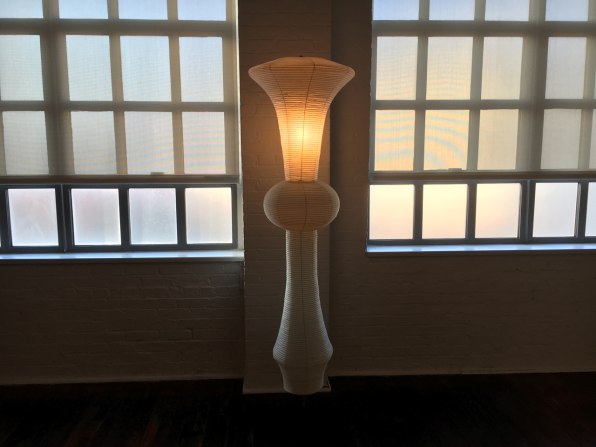 Noguchi used Akari to push the concept of what sculpture could be. In 1986, he created a giant lantern for the Venice Biennale, much to the chagrin of the art world, where the general consensus was that Akari weren't pure art because they were sold for profit. Noguchi also made a new line of Akari particularly for the Biennale, and then called his exhibition What Is Sculpture?
Radical Modularity
He pushed the discipline using Akari in other ways as well. Noguchi also created a folding paper system of 2-foot-by-2-foot pyramids that combine together to create larger structural forms. The concept of building up a bigger system from small pieces was a radical one for sculpture because it solves every difficulty related to sculpture: it's lightweight, folds down into a small shape, and is easy and cheap to ship, store, and install. For the museum exhibition, Hart made an 8-foot cube of these pyramids that takes the form of a shrine. One of the very first Akari Noguchi ever designed sits inside, inviting you to pay homage.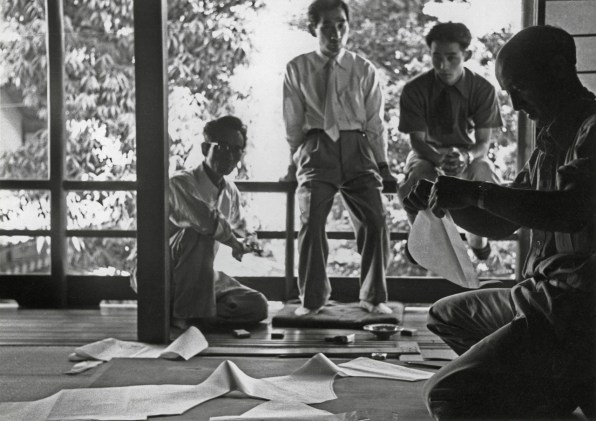 A Lamp That Feels Like Home
Beyond their artistic impact, Akari have an ineffable warmth to them that makes them perfect for the home. Noguchi famously said, "All that you require to start a home are a room, a tatami (a mat), and Akari." Perhaps it's that intangible quality that led the famous furniture designers Charles and Ray Eames to outfit their Case Study House in the Pacific Palisades, California—now a landmark of mid-century modern design—with real Akari lamps. But when the original paper shades wore out, as paper is wont to do, Hart says, even the Eameses replaced their lampshades with knock-offs on top of the original bases.
The Copycats
Japanese paper lanterns had been copied for decades, before Akari came along. That's part of the reason the industry was struggling so much in the first place. And Noguchi's influence hasn't been able to stop the mass-produced mimicry. Akari have been copied again and again—most famously by Ikea. Hart says that Noguchi tried to patent the round versions of his lamps, but because they weren't distinct enough from traditional Japanese lanterns, he was unable to do so. "That's why there's a lot of innovation in the base design and why he went to floor lamps and table lamps, because he could patent those components," Hart says. "This engine of innovation was about trying to stay ahead of and make it impossible for the fakers to follow him." Today, when many designers deal with fakes proliferating online, Noguchi would likely have looked for new ways to make his Akari distinct from the masses.
An Ongoing Source of Inspiration
Even though paper lantern lamps are ubiquitous today, the original Akari inspire countless creative people, including fashion designer Issey Miyake. To go along with the exhibition, the Noguchi Museum invited the French design studio YMER&MALTA to create new lamps that use the Akari as their starting point. For a supplemental exhibition at the museum, the studio worked with six independent designers to create 26 lamps, all of which are creative takes on Akari's curved shapes and tripod base, featuring everything from resin-covered linen forms to floor lamps that almost look like gravestones.  Some of the most striking lamps are square blocks of glass lit from within by LEDs, by the Japanese design studio Nendo, and a lamp that almost looks like a biological circuit board, by the French designer Benjamin Graindorge.
Despite their long history and the beauty of these modern updates, Akari will live on as design icons–whether you can afford to own a real one or not.