If you're a curling fan go frantically rub your broom somewhere else, because there's nothing here for you. This is a story about two high adrenaline sports: halfpipe and bobsled. These dramatic Olympic events require venues that are so extremely hard to design and build that only a handful of companies in the world can do the job at the Olympic level.
Just ask one of the very best snow park builders in the world: Albert "Alli" Zehetner, the chief of Parkshaper, a company that builds halfpipes, slopestyle, and Big Air tracks–an extreme version of slopestyle. He describes himself as a "real freestyler" who loves "powder [snow], riding kickers (steep jumps), halfpipes, and jibbing (riding boxes and rails down a slope)." He loves the sport so much that he decided to start designing and building venues for it 20 years ago, and has spent 15 of those at the top professional level.
"I taught everything [to] myself," Zehetner told me over email, "learning by just doing it and talking to other riders."
Keeping the halfpipe intact without it collapsing is an art that not many people are capable of managing. Knowing how the snow may react to the machine blades, or the correct angle of attack on the walls as you carve them to the proper measurements, are key for the halfpipe construction to reach its final shape successfully. Zehetner practices his skills almost every day at his home base, the Austrian ski resort of Kitzsteinhorn, because making these venues requires immense amounts of practice.
Here's a video of Alli in action, creating the halfpipe used for the final for the Pyeongchang International Ski Federation's World Cup 2017–which was the test event for the 2018 Winter Olympics:
Halfpipe construction requires strange tools. Zehetner uses a Zaugg Pipe Monster, a specialized attachment that connects to the snowcat specially designed for the creation of these structures. The Zaugg is shaped like one edge of a halfpipe, and it uses five haspels–or cutting edges–to cut through the snow and obtain these shapes.
Using the Zaugg is not as easy as jumping into the snowcat, putting the pedal to the metal, and racing through the projected halfpipe length until the halfpipe is complete.
No, according to Alli, it requires feeling. "I take a look and I know how much I can push the snow based on its consistency," he says, "I trust my feeling for the right radius and smoothness."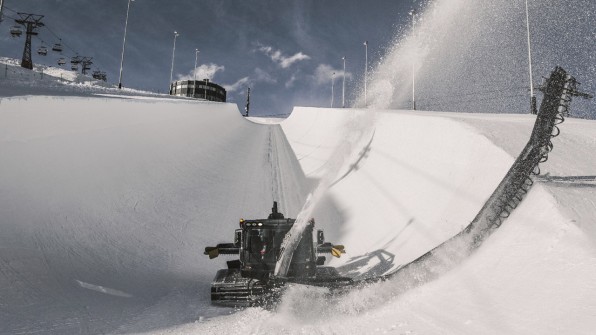 But crafting a halfpipe isn't just knowing the snow. Alli told me that you need to have a very "good touch" to operate the Zaugg itself, which apparently is quite a temperamental machine in combination with the material it has to cut. "The Zaugg is very sensitive and you can destroy your hard work quite easily if you don't know exactly how to lean it against the walls," he told me, "precision and consistency are key [to make it all work.]" To finish the job, he uses often uses manual tools, like rakes, shovels, and giant saws if needed.
Have you ever screwed up and everything collapsed, I asked him? "[I've] never failed in 15 years," he says, "that's the reason I'm here."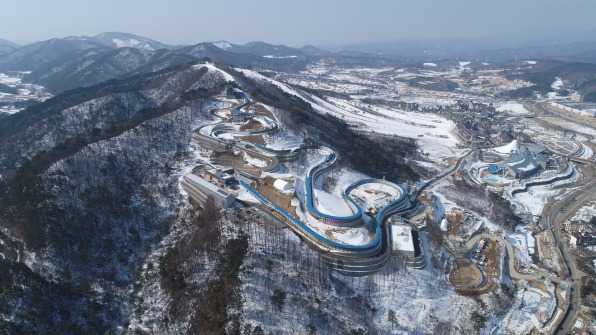 Halfpipe and freestyle events have serious inherent dangers for skiers and snowboarders. If athletes push too hard and fall in the wrong way, the consequences can be series and even fatal. But there are two Olympic sports in which bad design could actually kill: luge and bobsled, which combine crazy speeds and violent G-forces with very hard surfaces.
You don't need snow Jedi powers to build a luge track, You only need concrete, metal, and the same techniques as any other architectural structure, as seen in this video for the construction of the bobsled and luge track for Vancouver's 2010 Winter Olympic Games (more on this particular track later):
What this type of venue requires is, however, very careful planning so people don't get killed. Keep in mind that those carbon fiber coffins known as bobsleds and luges can top at 125 mph and athletes may sustain five times their weight at every twist and turn. Any mistake in the calculations of the physics of the track or its safety measures and it can all end very badly, without it being the athlete's fault at all.
That's why their design has to be perfect. Any fault that leaves athletes unprotected can be fatal, as it was for Georgian luger Nodar Kumaritashvili who was killed during a training session at the 2010 Vancouver Games. Nodar died because at one point of the track, the wall was too low and the ice profile was incorrect. His luge flew off the track and he crashed into a steel pillar that had no protection.
Following that, the sports' authorities dictated stricter rules in the design of these courses, which is exactly why Pyeongchang's Olympic Sliding Centre has taller sidewalls than those in the Vancouver track–which had to be patched after Nodar's accident–and padded pillars everywhere.
So as you're watching these events in Pyeongchang, take a moment to appreciate the engineering and design that went into their creation–it's an invisible job that shapes the games.