Jacinda Walker often hears "you're the only black graphic designer I've ever met." She sees why. "I was the only one in college. I was the only one in grad school. I've been the only one at work."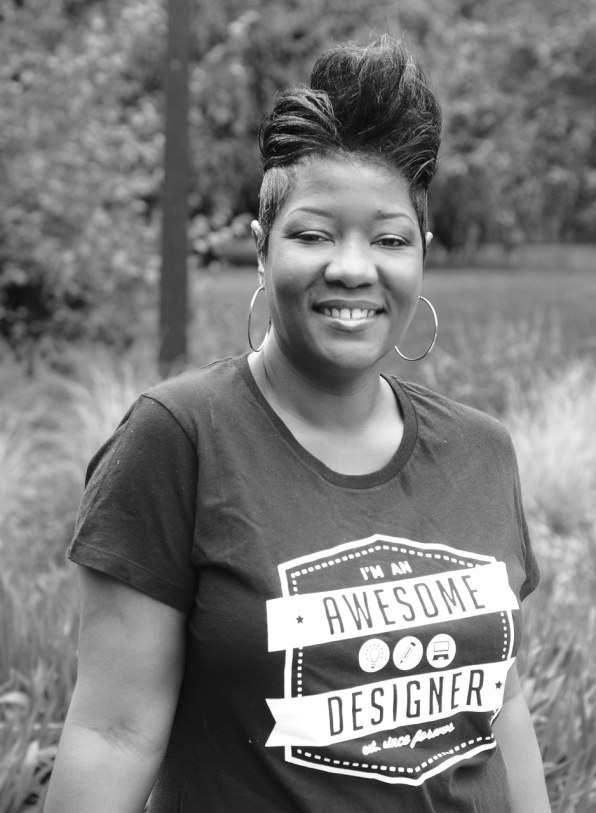 Back in 1991, AIGA, the professional association for design, published the article "Why Is Graphic Design 93% White?" after that year's design conference. Is the field more diverse now? According to the 2016 AIGA/Google Design Census, 73% of graphic designers are white, 8% are Asian, 7% are Hispanic, and 3% are African-American. That's an improvement, but still doesn't mirror the U.S. population, which, according to the 2016 U.S. Census, is 17% Hispanic, 13% African-American, and 5% Asian.
How can the industry increase diversity?
Walker is chair of AIGA's Diversity & Inclusion Task Force, set up to encourage diversity in design education, discourse, and practice. She founded designExplorr, an organization that creates opportunities that expose youth to design, after earning her MFA in Design Research and Development from The Ohio State University. Her thesis, "Design Journeys: Strategies for Increasing Diversity in Design Disciplines" presents strategic ideas to expose African-American and Latino youth, the two groups she feels are particularly underrepresented, to design-related careers. Here are some actionable steps she identifies that can be applied not only to graphic design, but to all design disciplines.
Develop a diversity plan
If you're a manager, simply saying you want to increase diversity won't work. You need to plan. Assess where you are and what needs to change. Set specific goals (for example, increase diversity in the design staff by 20% in 3 years). Develop a strategy to make that change. Evaluate regularly to see if you're meeting your goals. Walker recommends Kathryn H. Anthony's book Designing for Diversity: Gender, Race, and Ethnicity in the Architectural Profession
, as a good resource.
Recruit talent from different places
If you're committed to hiring non-white designers, go to them. "This talent is out there. Be aware of where communities of color are. There are quite a few online recruiting companies that specifically market to communities of color," says Walker. Try Jopwell, a platform dedicated to connecting companies with candidates from underrepresented groups. You can also list jobs on Organization of Black Designers, Blavity, Hispanic-Jobs.com, or Remezcla.
Hire diverse interns
Your interns may be the future of your company. Again, go where they are. Several historically black colleges and universities have design programs, including Florida A&M University, Howard University, and Jackson State University. The Hispanic Association of Colleges and Universities represents more than 470 Hispanic-serving institutions and runs an internship program that helps match students with corporations and federal agencies.
Use diverse imagery
Representation matters. Planning a photo shoot? Include models of color. Using illustrations? Draw different kinds of people. Need some stock photos? Look at stock houses that specialize in diverse imagery, such as Tonl, Blend Images, or Colorstock. This also applies to your company's website and marketing materials. If a candidate looks at your About Us section, will she see only white people? "Designers pick the pictures! We have the opportunity to change that," says Walker.
Visit a school to talk about design
The more design educators Walker meets, the more she hears how "great it is to have an actual professional come to the classroom. It has such an impact on the students." Finding time can be hard. So last year Walker made a goal to reach 500 students through school visits, which she exceeded (558!).
Mentor
More than 20 AIGA chapters nationwide have programs pairing high school or college students with experienced designers. It's an ongoing commitment to meet regularly for advice, guidance, and portfolio reviews. Walker said "I mentor a lot. A lot!" And it's not just for young people. "We are never too old to grow. People of all ages and career levels can learn from each other."
Job shadow
Allow a student to follow you around for a few hours while you work. He'll learn firsthand what you do and how you do it. Some companies have regularly scheduled shadow times, while others may have a less formal approach. "Job shadowing is not new," says Walker. "But how can we change things if we don't open our doors?"
Support minority business enterprises
According to the Minority Business Development Agency, there are approximately eight million minority-owned businesses in the U.S. Put your money where your mouth is and support them. The Minority and Women Business Enterprises Directory can be searched by keyword or state. Many local chambers of commerce, and state and city governments also have directories of certified businesses.
Expand your social networks
Open your Twitter and LinkedIn feeds to diverse voices. Check out podcasts like Revision Path, which celebrates black designers, or Diseno Cha Cha Cha, a Spanish-speaking podcast about design. A quick search of meetups includes a Bay Area Black Designers portfolio review and regular gatherings of the Latino Developers of Atlanta. Remember: Many jobs are filled through word of mouth.
Travel
Travel exposes you to other cultures, expands your thinking, and allows you to see the world from other perspectives. "You see things you normally don't," Walker says. " You talk to people you normally wouldn't. It takes you out of your comfort zone, and sometimes that's where the good work is. Traveling builds our empathy, which increases our creativity. Get out and look around."
A path forward
These are simple steps, but taken in aggregate, they can have a significant impact. "These steps are all connected," Walker says. "One can lead to the other, which leads to the other, which leads to the other. As we implement these solutions, it can't just be in one place. We need to implement throughout the journey: K-12, higher education, and in the workplace."