It's surprisingly difficult to make a good cup of coffee. Either you do it at home, with a grinder and fancy press or pour-over equipment, or you splurge on the good stuff at a coffee shop.
A new startup hopes to take the challenge out of making a coffee-shop level cup of joe. Called Dripkit, the company sells small, disposable filters filled with freshly ground coffee within a stiff paper frame that allows you to balance the entire contraption over your mug. Then, all you need to do is pour hot water into the filter three times, and you (theoretically) end up with the perfect cup of coffee–no grinder or trip to the coffee shop necessary. It's the ultimate on-the-go luxury for the sincerest coffee snob.
Dripkit's cofounders, Ilana Kruger and Kara Cohen–who have business development and brand marketing backgrounds respectively–started the company because both of them were freelancing and traveling to different offices and had trouble finding a good cup of coffee. Sometimes nearby coffee shops would be closed, and all they would have access to was a Keurig–unacceptable for any true coffee lover.
So the two set out to create a portable pour-over kit that would attract both aficionados too busy to make coffee themselves and people who wanted good coffee but were tired of trying to figure out the perfect combination of bean, grind, filter, and water. "By eliminating all of these extra variables when you create your own coffee, we can give you a coffee-shop quality [cup]," Cohen says. "But you can make it yourself."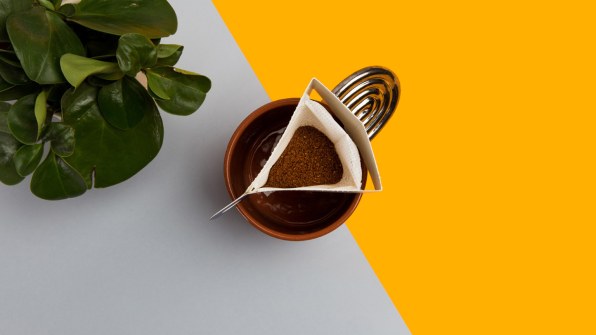 After starting in Kruger's kitchen, the pair brought in coffee roasters, packaging engineers, and designers to create the Dripkit, which went through 500 prototypes before they arrived at the final tent-like design. Dripkit worked with the design studio Prime, which has designed products for other direct-to-consumer retail brands like Harry's Razor and toothbrush startup Goby. The cardboard tent folds flat and seals the coffee inside to keep it fresh. When unfurled, it is designed to fit directly over any sized mug, with little indents that sit snugly on the lip. The filter has micro holes so the water doesn't flow too fast or too slow, and it was designed to hang in just the right way to create an even flow.
The company's head of coffee, Gabe Boscana, previously worked at San Francisco's Sightglass and Ritual, as well as nationwide chain Intelligentsia. He helped develop the inside contents each Dripkit packet, which contains a small amount of direct trade, single origin coffee ground on a $3,500 grinder that ensures an "even extraction," Cohen says–not something you're likely to do at home, even if you are a coffee buff. Right now, the coffee is sourced from a family-owned farm in Guatemala and then roasted in Brooklyn, and is the brand's own recipe; but Kruger and Cohen plan to partner with coffee shops around the country, giving small shops the opportunity to scale rapidly while providing their customers with more choices.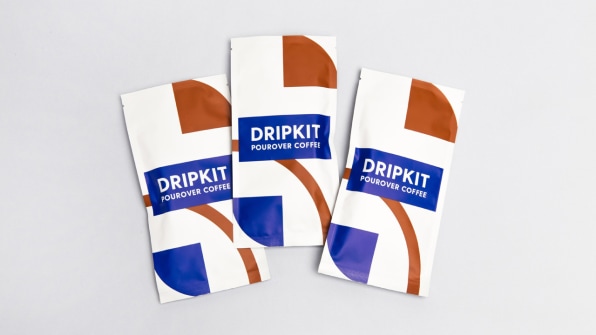 Dripkit has a subscription model for $25 per 10 Dripkit boxes, and you can also buy boxes for $30 on the company's website. The company doesn't plan to offer it in traditional retail settings anytime soon–only in coffee shops that the company partners with.
It might seem like a strange business model for a coffee company, but Kruger says that during beta testing among friends they found that people were using Dripkits everyday–not saving them for when they needed them, like she expected. The startup hopes that people love the Dripkits so much (or they're so lazy about leaving their offices to buy a cup) that they'll always want them on hand, and so having a subscription on offer seemed like a natural fit. It remains to be seen whether customers will feel the same way.
I tried out Dripkit out in the afternoon, making the trek to the office kitchen with my packet in hand. There are instructions–luckily–on the back side of the kit, otherwise I would have been confused about how to use it. But armed with some simple diagrams, I successfully opened the little coffee filter tent and placed it over a mug. Adding water was a bit more difficult, as the filter wouldn't really stay unfolded and I had to hold it while pouring scorching hot water right next to my fingers. After the trouble with the first pour, I readjusted the filter and added more water until my cup was full enough for my liking. I can attest: The coffee is certainly better than your average office's burned, black tar, but it's quite a bit weaker than the cup I typically make for myself at home. Still, the experience is easy enough and the coffee is good enough that Dripkit might find some real fans.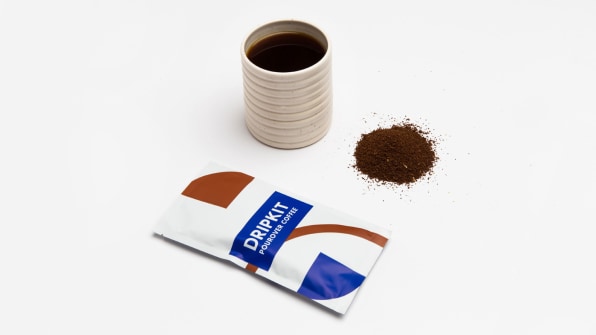 That's the biggest challenge the company will face–convincing people to change their deeply ingrained coffee habits. It's comparable price-wise to getting a cup at the corner coffee shop–$2.50 per cup for the subscription, and $3.00 per cup when you order a box–but you don't have to wait in line. For people who roll out of bed and head to work without making time to brew their coffee or those who are always traveling, Dripkit might be a great option for getting your caffeine fix.
The company prides itself on its coffee being ethically sourced, but it still relies on a single-serving model like Keurig–which is wasteful and bad for the environment. Cohen acknowledges this and says the company is working toward its products being entirely biodegradable within three years–the biggest problem is that each packet needs to be airtight so that the ground coffee stays fresh, and the company hasn't yet found a material that is biodegradable and will keep the oxygen out, something San Francisco-based coffee shop Blue Bottle also struggled with when it started to sell pre-ground coffee. However, each Dripkit filter contraption is about one-third the size of a traditional to-go coffee cup, so that part is less wasteful than buying a cup from the local shop every day.
But Dripkit doesn't just want to be a coffee company–Kruger and Cohen hope to turn Dripkit into a lifestyle brand centered around coffee, with events, partnerships, and social content to help people better understand the bean.
At the same time, they want to make craft coffee more accessible. "The coffee roasters we adore are so serious, and I think that can be intimidating for people," Cohen says. Instead, the duo hope Dripkit makes learning about coffee just as fun as consuming it. In the process, they hope to become one of the litany of direct-to-consumer lifestyle brands, like Harry's Razor, that are capturing a young, convenience-minded millennial audience.
"It's okay if you don't know what the difference in taste between Guatemalan and Kenyan coffee is," Cohen says. "We are going to tell you."