A lot has changed since the grocery-chain Pink Dot opened in Los Angeles in 1987. The pioneering delivery service, once known for its polka-dotted fleet of Volkswagen Beetles, was the first and only grocery to deliver booze and cigarettes, in addition to, um, food, right to your door–making it a popular (and let's be honest, sorta seedy) go-to for Angelenos in need of a late-night fix.
Over the years, the legacy company has managed to weather the Seamless and Minibar era–even after a rapid over-expansion and ill-fated partnership with the short-lived delivery startup kozmo.com nearly wiped it out during the dot-com bust of the 1990s. Now in its 30th year, Pink Dot has begun to roll out its next phase–and it has its sights set on a more affluent, culturally savvy millennial and gen-Z audience that wants Golden Grahams and small-batch coffee, too. So far, it's been working: As of this month, the company reports sales have increased by 33% and web traffic has increased by over 50% since launching the rollout nine months ago.
Here's how Pink Dot owner and CEO Sol Yamini and Raphael Farasat of the creative agency Truffl–who has since become an equity partner of the privately owned corporation–gave L.A.'s beloved institution a 360-rebrand that's less bodega, and more boutique.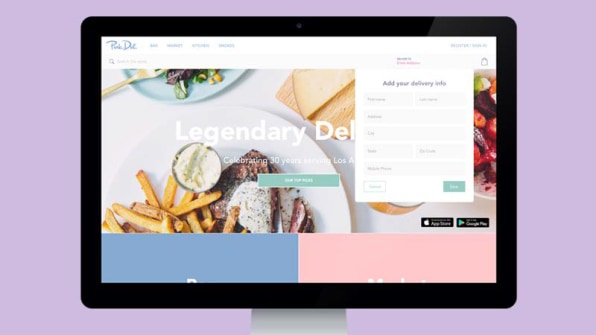 Catering to a millennial palate
The first thing to notice about the Pink Dot rebrand: a new scripted logo, and a palette of millennial pink and soft pastels to replace its previous cobalt-and-fuschia color scheme.
Never mind that Pink Dot was born in the '80s, this new look is evocative of the sort of rosey, retro-chic Atomic era associated with the Hollywood Hills–midcentury modern meets Angelyne, aesthetically filtered to an Instagram-friendly lens.
Farasat's team has applied the new look across the board, beginning with its website, to packaging, the store's exterior signage–now a cool neon pink–and of course, Pink Dot's Instagram account (@pinkdotla), which was scrubbed clean last June and is now exclusively a feed of Truffl's art-directed photography. "Instagram is where the new customer lives and makes a lot of discoveries," says Farasat. "From our research, we found that about 70% of our customers in Hollywood who are in the 18 to 35 age group make their purchasing decisions on Instagram–so we really invested in telling the new brand story through there."
At its peak in the late '90s, Pink Dot ran more than 36 locations throughout Southern California. By the time Yamini acquired the company in 2003, he closed down two of the remaining three to refocus his efforts on its flagship on Sunset Boulevard–a prime stretch of L.A. real estate–and with a partnership with Postmates making deliveries a more streamlined process, he and Farasat are set on making its singular brick-and-mortar presence a renewed IRL destination.
In addition to an ongoing remodel, last September, the duo commissioned a mural that pictures Pink Dot alongside popular destinations on the Strip, looking to attract foot traffic as many neighboring Insta-famous spots in the city do–like Paul Smith's heavily photographed pink wall. The graphics will soon be rolled out to all sorts of merch, from bottled water to baseball caps.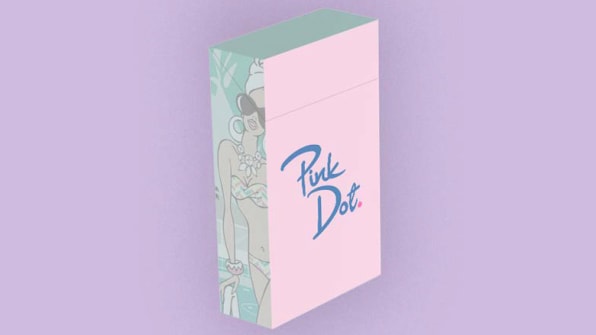 From bodega to boutique
Yamini and Farasat are looking to distance Pink Dot from its longstanding reputation as a "7-Eleven that delivers" by boosting a more boutique-like presence–beginning with better inventory and a revamped menu. In place of Starbucks coffee, for example, they now carry brands like Blue Bottle, La Colombe, and Verve. "The big insight we had," says Farasat, "is that you can't just change a logo and expect your relationship with your customers to change."
This April, they'll also begin to roll out cheeky packages with playfully irreverent themes, including the "White Girl Wasted," which includes three bottles of White Girl Rose, an assortment of macaroons, a pint of lo-cal Halo Top ice cream, and a guarantee that the driver exclaims "YAAAAASSSS" upon delivery–or the order is, hilariously, free. Other themes in development include a munchies package made for stoners.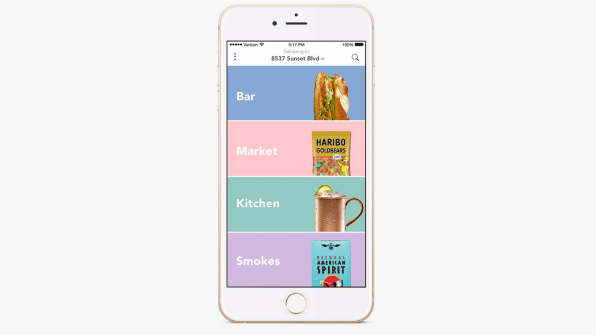 "The advantage we can offer, as opposed to any of the other delivery services out there, is that we can deliver a more curated experience," says Farasat. "We can't compete with Amazon or multibillion-dollar companies, but what we can do is make each order special, and make it so that you can order everything you need for one night. We're basically bringing the party experience to your house."
Taking a cue from the popularity of readymade meal kits like Blue Apron, Yamini and Farasat have also teamed up with a mixologist to add on-demand, made-to-order cocktail kits to the menu. Last November, Pink Dot also launched a pop-up kiosk of holiday gifts at the high-end clothing retailer Fred Segal, whose global flagship is located across the street. The one-month run was so popular, says Yamini, that it has since extended into a permanent fixture. Pink Dot has also since partnered with the recently opened Jeremy Hotel on its minibar menu.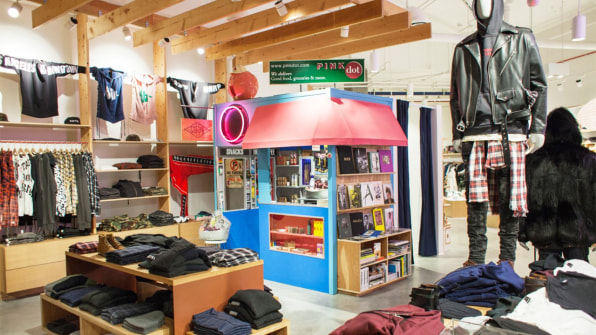 A local institution, shared abroad?
Since it began collaborating with Truffl on the rebrand last April, Yamini says he has received a surge of inquiries about potential franchise opportunities, both locally and abroad, which is a touch ironic, given that the rebrand has so heavily focused on emphasizing its Sunset Strip roots. "They've seen how we made Pink Dot relevant again, and a lot of other companies want to become a part of this whole movement," says Yamini.
Will the brand's future lie in exporting some of its Hollywood Hills cool-quotient to far-flung locales? Farasat demurs, and says they aren't ready to announce any expansion plans as of yet. "Right now, we're really focused on getting this one store perfect and completing the remodel. We want to create not only a great shopping experience, but a lifestyle experience, too–that's what people want. More than things, they want a memorable and unique experience."