I've been wearing down my battery all day, playing dune buggy videos on YouTube until my phone is near death. Because only when I get to 5% battery will the chat app Die with Me let me talk to people in the same desperate situation during our final collective moments before our phones go dark. It's Flatliners for the connected age.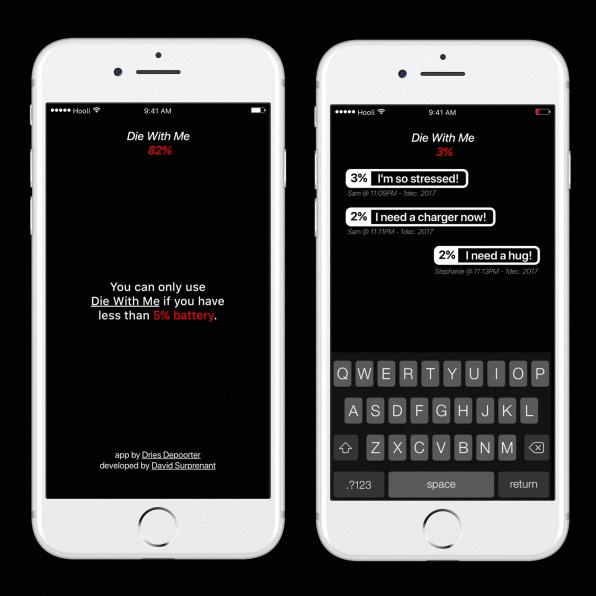 Created by digital artist Dries Depoorter and developer David Surprenant, it's less some hot new messaging app than a provocative art project, intended to poke fun at the battery insecurity we've all felt at some time or another. "I have to travel a lot to speak about my work at all sort of conferences. I was in a city that I don't know on my way back to the hotel and my phone was low. It was already night. So I was really stressed about this," says Depoorter. "So I really wanted to do a project capturing this feeling."
"Hi," I say.
My chat bubble reads 4% in big letters. My name is a tiny "mark." On Die with Me, your identity is really your percentage. I feel like I have no street cred at 4%, with perhaps 20 full minutes of chatting ahead.
Another person's battery is at -100% somehow. They call themselves our king, and no one can figure out the hack that got them there, so maybe they do have a claim to the throne.
Mia (0%) has a lot of confidence, too, calling out people by name like a regular at a bar. But how does an ephemeral chat room have a regular, I wonder? Then I see she's hanging in chat limbo perpetually by charging her phone only up to 5%, then unplugging. It's a cheat, you can tell due to the lightning bolt icon that the app places under her texts. Brilliant, but I lose a little respect for Mia, too.
I don't know what I came to this room looking for, and from the looks of it, no one else does either. People ask aloud why they're here. Their remaining battery life is a constant thread of discussion, of course, but that discussion never really evolves into anything beyond "my battery is dying" (which . . . no shit).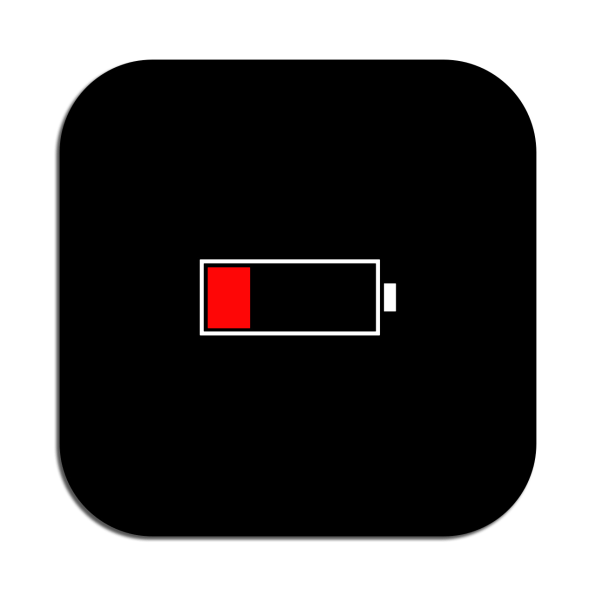 At one point, everyone mentions where they're from (the Ukraine, France, and Serbia!), reminding me that once upon a time–the 1990s–people did this! They went into chat rooms from all around the world, without any real aim, without the corporate organization and mandate of Slack, without social networks like Facebook or Twitter to fill out their identity, and just started talking under the pseudonym of a nickname typed into a box . . . mostly about nothing.
"It's sometimes really stressful, and the way you type is really different, because you don't have time to think, and you all share that same stress," says Depoorter of his own experience inside the app. "Sometimes the conversations are really poetic. People share weird experiences they had when their battery is low. I really like that."
Someone professes their love to a "Nina," who doesn't seem to be in the room. Someone else asks to be told a poem, but no poem is told. A few frantic people exchange Snapchat and Whatsapp accounts, though I missed when they possibly could have become friends, or even acquaintances.
"My charger is one foot away from me," someone says. The struggle is real.
"Life is death," another offers. Indeed. The metaphor is a little too on the nose. We've all come here to poke around with no real purpose–other than killing a little time until, finally, time kills us back.