2017 was the year that natural disasters became more than natural disasters: Hurricanes Harvey, Irma, and Maria. The Mexico earthquake. The California wildfires. Devastating heat waves, floods, and droughts. All became emblems of a changing climate, and behind a science community racing to understand climate change were the journalists and designers responsible for communicating their findings to the public–often visually.
For instance, the University of California partnered with the digital news site Vox to produce a series of six videos focused on climate change that prominently feature the university's researchers and their work. Universities like Georgia Tech and Yale are investing in training people how to visualize this kind of data. Even NASA–the source of a lot of data about the planet–has recognized the vital role visualization plays in helping people understand climate change through programs like its Scientific Visualization Studio, an initiative that releases data viz on climate change and other earth science topics.
And then there's the New York Times. The paper's climate desk is led by Hannah Fairfield, who formerly worked as the newspaper's deputy graphics editor. For her, data viz and mapping are key tools for communicating science to the public.
"Climate science is fascinating and exceptionally complex, and it really is our role to make sense of that for our readers and for the world and find the most interesting story we can tell in the most interesting ways," she says. "Maps are a really good way to begin to tell stories on a scale that is much larger than the human ground scale and gets to communicate information that is broader than what photography or video can often do."
Many of the climate desk's most compelling stories feature graphics, from animated maps that show how 95 degree heat waves could become the norm over the next century to annotated satellite imagery that shows the gravity of a lengthening crack in an Antarctic ice shelf. Most use a mix of photography, maps, and other visuals to illustrate dense but important scientific findings that might otherwise stay buried inside academic journals. As Kenneth Field, the senior cartographic product engineer at Esri, pointed out in a post earlier this year, the New York Times' map of Hurricane Harvey rainfall did a better job of communicating the data than the National Weather Service's own map. Field called it "one of the best maps I have seen in a long while."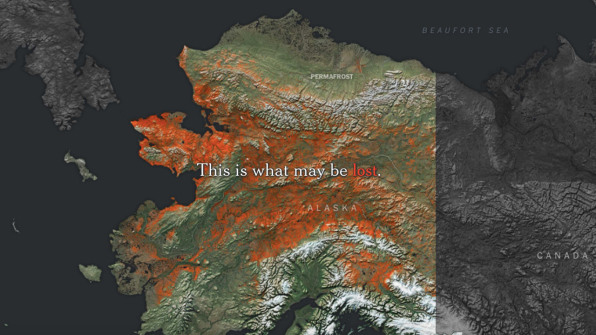 The First Question: "What is the climate impact?"
Part of the climate desk's approach is to bring climate change home by helping people understand how it affects their lives today. It's something that's been particularly important to the newspaper's coverage of natural disasters this year. Now, Fairfield says, when there's a news meeting about a hurricane or a fire or a flood, one of the first questions is, "what is the climate impact?"
When she's deciding what stories the team will work on, the way they could be illustrated often plays a role: "Is there a visual nut graf?" Fairfield says about finding a key piece of visual evidence that visualizes the story in a nutshell. "That's something I think about quite a bit." Some of the most compelling visual nut grafs take the form of multimedia graphics that change as you scroll, tying the passage of time to your mouse's movement to illustrate how Alaska's permafrost has melted over time, or what areas of the Antarctic have lost ice.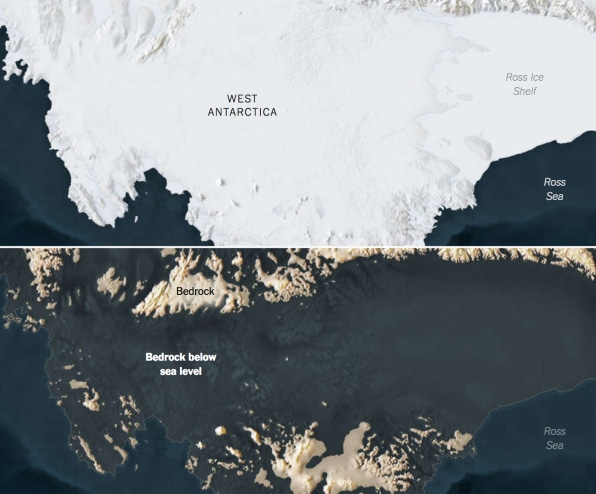 One story from this year was in the form of a quiz. It posed the question: "There's no single solution for climate change, but there is one that would be more effective than others. What do you think it is?" The answer is unexpected–and by asking readers what they think, the story asks them to reflect on how their own beliefs match up to the science.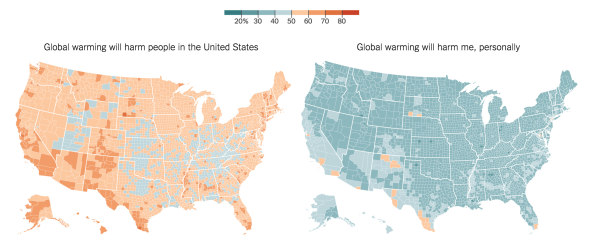 Not Just Climate Change, But How Americans Think About It
The climate desk's reporting also looks at the way people perceive the changing climate–especially pertinent this year, given the politically charged nature of the topic. One story from March, 2017, for instance, mapped out how Americans think about climate change. In one section, two maps are juxtaposed side by side. One shows that in most of the country, more than 50% of adults think that climate change will harm people in the U.S. The second shows that in general, only 30 to 40% think that climate change will harm them. Putting the two maps side by side and using the same gradient scale to represent people's views makes this discrepancy particularly stark, revealing people's tendency to ignore how a global trend will impact them personally.
The disparity between how people think about the threat of climate change in general versus how it will affect them directly is exactly what Fairfield's team is working to combat. That's led them to stories that focus on simply explaining the basics. For instance, one of the team's most-read stories of the year simply lays out smart, pithy answers to basic questions about climate change: How much is the Earth heating up? Why are humans responsible for it? How much trouble are we in?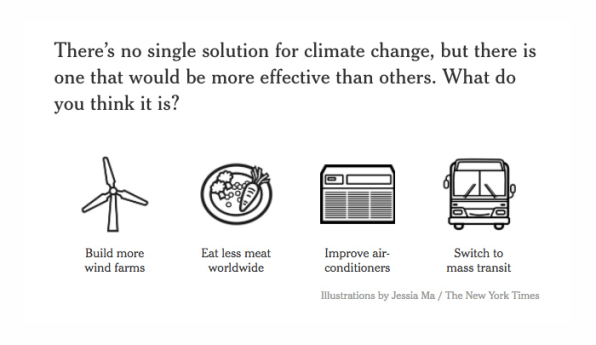 The feature, which was redesigned this year, has a different design from a typical Q&A on the newspaper's website. The text is set against a beautiful impressionist painting of nature. But as you scroll, the once green tree slowly droops and loses its color, the sky turns gray and bleak, the ground becomes dead and brown. While not a data visualization, the shifting of the scene has a visceral impact, giving the reader a soft nudge that this dark, gray, deadness is a very real possible future for the planet.
Increasingly, Every Story Is About The Climate
Next year, Fairfield plans to double down on answering questions about the role climate change is playing during disasters and abnormal weather (like 2017's unusually hot and long summer).
While in 2017, the team's biggest projects were about Antarctica, Fairfield wants to shift focus slightly to look deeper into attribution science–an emerging field dedicated to understanding what elements of climate change, particularly when it comes to natural disasters, can be attributed to humans.
How people understand climate change and their own culpability in it are crucial drivers in electing the officials who will shape climate policy for years to come. After all, 2017 was also the year that President Trump walked away from the Paris agreement, in which 195 countries pledged to reduce emissions enough that the world wouldn't warm by more than two degrees Celsius. Increasingly, the onus is on designers in the media to communicate how devastating our political choices can be for the rest of the planet.