When you look at Chermayeff Geismar & Haviv's body of work, you won't recognize a specific style–but you will definitely recognize its graphics. The iconic New York design firm's logos–the NBC peacock, Chase bank's octagon, PBS's silhouetted faces–are seared into our collective memory. Over the past 60 years, Ivan Chermayeff (who died December 2), Tom Geismar, and Sagi Haviv have branded everything from airlines and museums to magazines and universities. A forthcoming book from Standards Manual–an independent design-history publisher–celebrates the artistry in their logos, symbols, and wordmarks.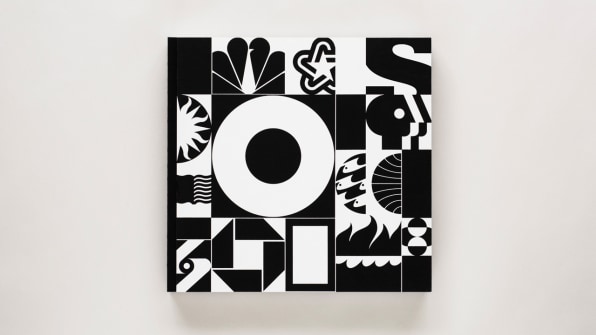 Identity: Chermayeff Geismar & Haviv will be a true art monograph, complete with a silk-screened canvas cover, three paper stocks inside, dozens of color photographs and illustrations, and essays from design luminaries like Milton Glaser and John Maeda.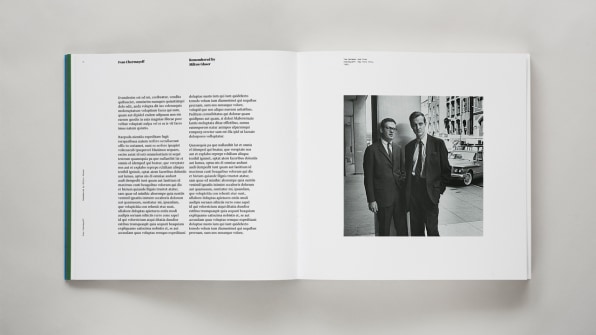 "For this book, we are allowing the visuals to speak for themselves, with very spare text," Sagi Haviv tells Co.Design by email. "Our practice straddles the border of art and business, so we are excited to present the logos simply as artforms."
CGH has created dozens of logos and identities, defining the discipline of corporate graphics in the 1950s, 1960s, and 1970s. While some are more than 50 years old, each of the designs was a strategic solution to a client's problem and together, they serve as lessons for today's designers in how to approach brand identities, as well as works of art to be appreciated for their forms.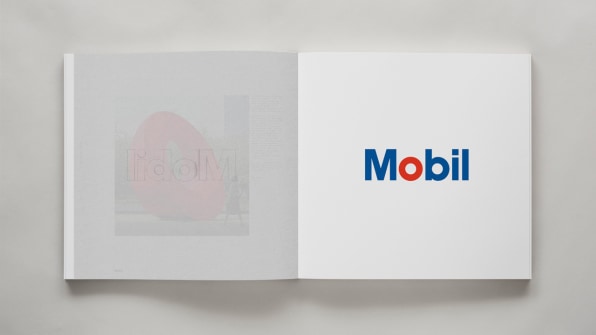 "Certainly the world has changed greatly since we first started," Geismar tells Co.Design. "Yet, our desire from the inception for design that is clear, bold, and memorable actually is very appropriate in this age of apps and social media."
The symbols and wordmarks were often simple to ensure that they could be reproduced anywhere and at any scale. This strategy has remained relevant today, as digital mediums usurp print as the primary mode of communication for companies.
"The approach that Ivan and Tom pioneered in the '50s and '60s—doing something bold and simple so that it can reproduce well in black-and-white ads in newspapers and over blurry fax machines–works incredibly well in the digital and mobile era where you're seeing images in very small sizes and often pixellated," Haviv tells Co.Design.
In addition to corporate logos, CGH has designed numerous posters, exhibitions, and architectural supergraphics, which will also appear in the book. Through projects like the EPA Graphic Standards System, it helped usher in the golden age of federal graphic design. Through a reissue of the EPA graphics, CGH came to work with designers Jesse Reed and Hamish Smyth–who turned corporate graphics into a million-dollar Kickstarter through their Standards Manual project–and invited them to collaborate on the new tome.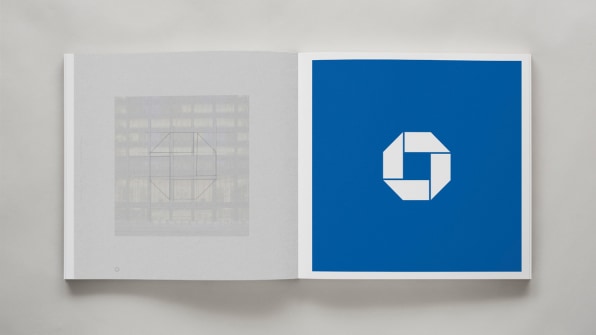 "It's hard to argue that any other American designers are more influential that Tom and Ivan in [corporate graphics]," Reed tells Co.Design. "We really hope that younger designers will see and learn from this [book]. They need to know the history of our profession and the work that CGH has contributed–even if they don't like it, or think it's good. It's a critical body of work for our profession, for society, and honestly for the progress of communication excellence. They've been able navigate such a wide variety of industries, from federal, to commercial, to nonprofit, all with sophistication and creativity–no easy task over 60 years. The book should educate, inspire, and preserve–that's what we hope."
The book comes at a bittersweet moment for CGH. This year, it celebrates its 60th anniversary and mourns the death of founding partner Ivan Chermayeff. Before his passing, Chermayeff was involved with the book's design and development. The tome stands as a celebration of his work and life.
"[His death] doesn't change the book–it just changes how we feel about it," Haviv says. "Ivan loved books–he loved designing them, he loved to read them, he loved to give them as gifts. He would have so enjoyed holding this one in his hands."
Preorder the book for $88 (the price jumps to $98 January 1) at standardsmanual.com.