But that might not always be the case. Cities are growing and living spaces are shrinking. Perhaps in the future, people won't buy their very own Hemnes bed and Billy bookshelf. Instead, they'll move into communal homes where furniture is passed down from former residents to new ones–something that's already happening. With the number of people buying homes on the decline, coliving houses are springing up in metropolitan areas all over the world, from New York and San Francisco to Amsterdam and Tokyo.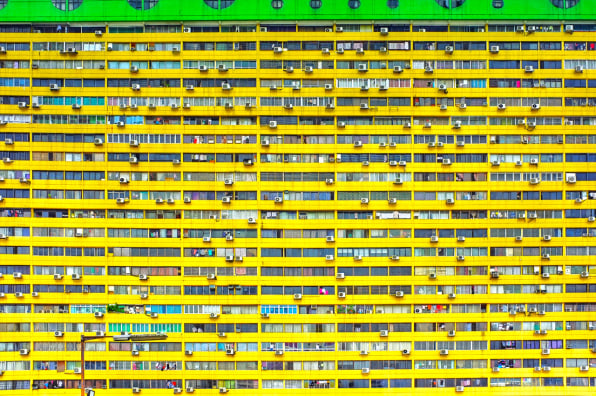 And Ikea is trying to find out what this trend toward coliving–where strangers live together and share common spaces (even bathrooms)–might mean for its business.
To do so, Space10, the company's future living research lab, has created a survey to gather information about how people today think about coliving. Designed by the New York-based firm Anton & Irene, the survey–called Shared House 2030–presents itself as an "application" for a coliving house in 2030. You input your preferences–what size of house you'd want, whether the house should be furnished, what kinds of people should live there–like you might if searching for an actual shared house to live in. Then the survey shows you how other people responded.
But it's a rather untraditional survey–and has a backstory of its own, separate from Ikea. In 2016, the interaction designer Irene Pereyra of Anton & Irene created an interactive online documentary about her experience growing up in a coliving house called Kollontai in Amsterdam. At the end of the documentary, in which she interviews her mother and other members of the house and reflects on her own experience, the website poses a question that doesn't feel like a survey at all, asking what you would be willing to share in a coliving situation: Work space? Washing machine? Garden? Internet?Shower? Toilet?
Pereyra says that Space10 reached out to her after the project went viral and commissioned the Shared House 2030 project, making the Ikea survey something of a sequel to the original documentary. The two share the same aesthetic, which Pereyra says is inspired by classic 1980s Dutch graphic design and a board game she used to play as a child.

The survey itself looks almost like a game board, with each topic given its own graphic symbol that is colored in once you answer the question. And the playful, sticky interaction design has paid off–Pereyra says that of all the site's visitors, about 64% of them have completed the survey. That's high, considering that the average response rate for email surveys is only 25%, and that's coming directly to your inbox.
While the data is far from scientific–it's somewhat self-selecting in that people who are interested in coliving are more likely to participate and there were no controls over demographics–it does gesture toward what people are looking for from coliving spaces. The results show that of the 6,300 survey respondents who've filled it out since it launched in mid-November, people tend to prefer to live in the city, want to live with single men, women, and couples in their house (no small children, seniors, teenagers, or single parents, please), would want common space to be furnished while private spaces remain unfurnished, and want clear delineations between private and shared spaces, like keeping all bedrooms private and off-limits, while work spaces and a communal kitchen are for everyone.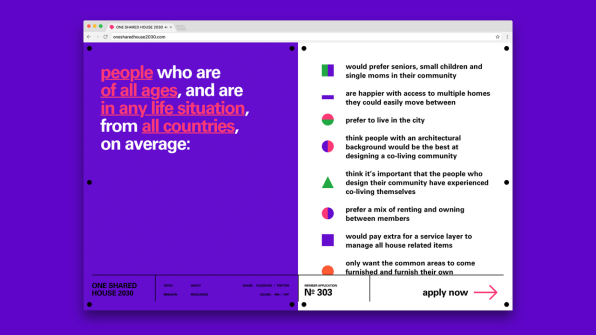 Pereyra says some of the most surprising findings so far are that people want to furnish their own private spaces while common spaces are furnished for them–this combo of private unfurnished and common furnished areas of a coliving house is something that's rarely offered in coliving houses in New York and London. But these houses are also for a very small subset of the population: mostly, millennials with money. The survey's much more varied options represent an optimistic view of the future where coliving houses accommodate a broader swath of society.

For Göran Nilsson, the manager of Ikea Concept Innovation, the biggest surprise was that men who responded were more open to sharing their space than women–he thought the opposite would be true. But he was hesitant to say what Ikea is going to do with this data.
"Right now we are collecting information and mapping what is happening, and see what could be relevant in this aspect for us," he says. "Then after a while we can [draw] some conclusions."
Nilsson says the survey is part of a larger exploration into people's living situations, one that will look into the struggles that people have when they move from one country to another, the pressures students have to find affordable housing, and the challenges the elderly face in the current care system. This will include research as well as more formal surveys, workshops, and talks.
The survey points to Ikea's bigger goal: to not assume that the home will continue to stay the same in a changing world.
"Our vision is to sell furniture, and sell more than we're selling today. But that would be easy," says Nilsson. "We have a bigger ambition than that."