Brenda Atchison's home in the Boston suburb of Roxbury has been in her family since 1946, and she's lived there for nearly her entire life. At 66 years old, she's an empty nester–she describes her house as rooms that are collecting dust. But expenses are rising and her ability to earn is dwindling. She knew she wanted to stay in her home, but she wasn't sure how to host someone to bring in some extra cash.
Then she heard of Nesterly. The brainchild of Noelle Marcus and Rachel Goor, two recent graduates of MIT's masters program in urban planning, it's a simple enough idea: You match younger people who need affordable housing with older adults who charge affordable prices–including help around the house–for the extra rooms of their homes.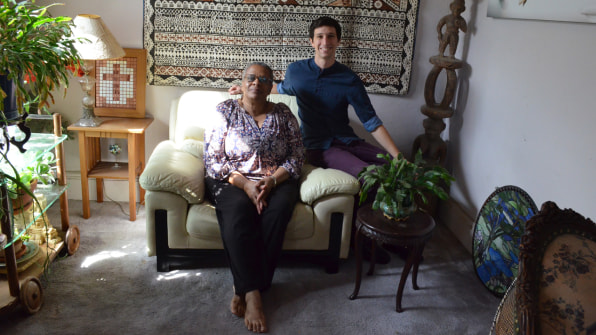 Atchison immediately volunteered to be part of Nesterly's pilot program. She was matched with a young student from Greece named Phoebus who was doing research for a PhD in architecture. "From the moment he walked in the door, he just fell right in," Atchison says. "He seemed to be totally comfortable. I liked that. He's been that way ever since. I couldn't have asked for a better match."
Since moving into the house in September, Phoebus helps out with whatever Atchison needs. He ripped up her old carpet and laid down a new one–and he rakes up leaves so they don't clog the storm drains. For every hour he works, a previously agreed-upon amount is taken off his rent; Atchison says he's happy to help with whatever she asks. But there have been other benefits–social ones. She has taken Phoebus on architecture tours of the neighborhood and he's cooked Greek food for her.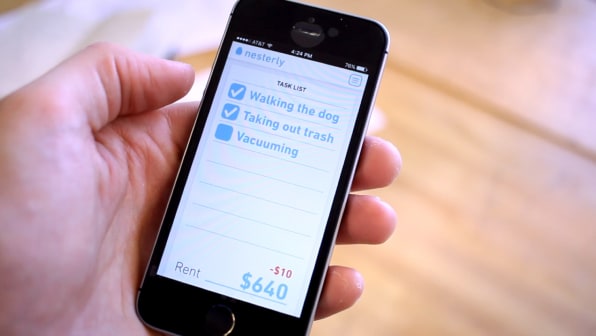 Nesterly's genius is that it tackles two problems with one elegant solution. The affordable housing crisis is making it difficult for lower-wage workers and young people to find places to live. A 2014 report from the National Low Income Housing Coalition found that there was not a single state in which a full-time employee earning minimum wage would be able to afford a two-bedroom rental apartment at fair market rent. The problem is particularly bad in big cities.
And there's a second housing crisis afoot, as well–this one among aging Americans. A report from the Joint Center for Housing Studies of Harvard University says that by 2035, one-third of all American households will be headed by someone over the age of 65. But as people grow older, the number of elderly living alone is rising. The Joint Center for Housing Studies' report also shows that 57% of households where the members are over 80 years old will be one-person homes by 2035. And with many seniors living in places that are only accessible by car, that's going to mean hours spent alone. Research shows that loneliness can have a serious health impact on elderly people, even causing earlier death.
Despite how debilitating loneliness can be, seniors don't want to leave their homes. According to research by the National Conference of State Legislatures and the AARP Public Policy Institute, almost 90% of people over the age of 65 want to live in their homes for as long as they possibly can. That's the idea of "aging in place," or remaining in your original community, and ideally your home, as you continue to age. But with rising housing prices and inflation, it can be difficult to stay even if you're physically able.
All of this means that there are, and will continue to be, a lot of older people with extra room in their homes–and a desire for a little extra cash. During Hurricane Sandy, Marcus hosted her grandmother in her New York apartment when she was evacuated–and was inspired by Airbnb's program to house displaced people for free. She began to wonder: "What if we're not just housing tourists, but people who need housing?"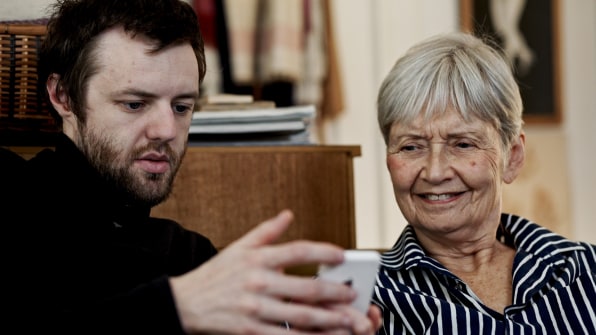 Marcus and Goor created Nesterly and joined an MIT startup accelerator in December of 2016, with the mission of using an intergenerational model to help young people find affordable housing while giving older citizens the chance to stay in their homes longer. They went on to win New York City's 2017 BigApps competition earlier this year.
Their solution isn't entirely new. In Germany, multigenerational houses pair a kindergarten and a community center for older people. Across the U.S., some elderly adults are deciding to join coliving houses with people of all ages rather than retirement communities. New York University also recently launched a similar program to Nesterly to find housing for its students. It's also widespread in university towns. "This is pretty common for older households to take in students, but it mostly happens on Craigslist and word of mouth," says Goor. "We think a lot more people would be open and interested in this idea than would go to Craigslist."
Nesterly's platform is riding this wave of interest in multigenerational living. And unlike Craigslist, Nesterly offers some level of verification. Once a person looking for a place to stay creates their profile, the information they've submitted is run through a third-party background checker. They're asked to provide the email addresses of former landlords, and Nesterly reaches out to their references via a survey. If there are any red flags, the company follows up with a phone call. Hosts are also verified through the background checker when they sign up and post the room they have available through the platform.
In September, the duo partnered with the city of Boston and launched the pilot program in which Atchison participated, with eight total matches in the Boston area. Now, they've opened up the platform to people who live in Boston, where anyone looking for housing can create a profile and find a host for whatever range of time they need a place to stay. It's free to make an account and browse the platform, but once a match has been made, Nesterly requires a fee between $95 and $195, depending on the length of the stay–a fraction of a typical broker's fee. The company also charges a small monthly service fee because they offer 24-hour service and an automated payment system through which young people can pay their elderly hosts rent.
It's like Airbnb for affordable housing–but with some notable differences. Marcus and Goor have chosen to partner with the city, which also sponsored the pilot program–unlike Airbnb, which has fought cities over regulations and possibly increased rents in already expensive places, making affordable housing more difficult to find. "A lot of other sharing economy companies are struggling with regulation, so ensuring we're working with city officials from day one to make sure that we're doing this the right way and we're not putting homeowners in a position to have problems down the line–especially because we're working with older households," Goor says.
Plus, their motives are different. Before graduating with their masters degrees in urban planning earlier this year, Marcus worked in New York City on Mayor Bill De Blasio's affordable housing initiatives. Goor worked in San Francisco doing Americorp and then in the startup sphere before realizing that she wanted to work on affordable housing. "I thought, what am I doing working on tech stuff when people don't have roofs over their heads?" she says.
"Even though we're tech entrepreneurs, we're also public servants and care about public good," Marcus says. "We just felt from day one that our value and our mission behind our work aligned with the city's goals in enabling greater access to affordable housing and helping communities age in place."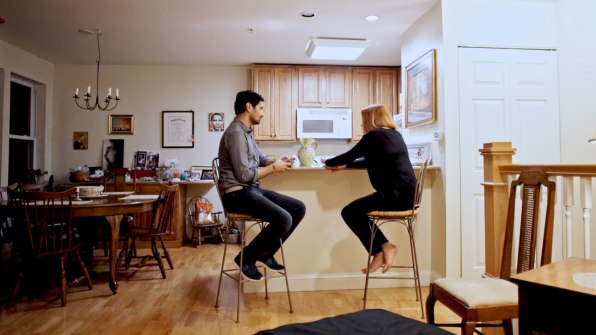 Marcus and Goor are focused on building Nesterly's presence in Boston, particularly as the city's thousands of students begin looking for housing before the spring semester starts. But their sights are set higher. Marcus says they've received thousands of emails in the last few months from people in other cities expressing their support for Nesterly and asking when the company will be operating in their town. Over the next year, Marcus and Goor hope to expand into more cities, especially as the affordable housing crisis deepens.
"This is the type of entrepreneurship that's really needed," Marcus says. "We care about underserved people and we're tackling real problems."