To anyone who doesn't know what its name stands for, the ICC's new 40-acre campus might look like a university or new tech office. It features a striking matte copper–clad building with floor-to-ceiling glass walls. Inside, there are multiple communal lounges where employees can work, a cafeteria where they can get lunch, and a fitness center where they can stretch their legs. A 500-person auditorium accommodates large gatherings and there's a courtyard for getting a bit of fresh air.
But this isn't a startup's office or school. "ICC" stands for Intelligence Community Campus. The new face of intelligence architecture is here–and it's as familiar as it is novel.
When you think of the architecture of intelligence agencies, the operative word that comes to mind is "defense." Structures like the Pentagon, the J. Edgar Hoover Building, where the FBI is headquartered, and the George Bush Center for Intelligence, where the CIA is based, are all hulking, monolithic, and imposing structures. Their architecture intentionally evokes mystery and insularity–there's sensitive, covert work going on inside these buildings that no one else is privy to.
When James Clapper, the former director of national intelligence, commissioned the Leo A Daly–designed facility in Bethesda, Maryland, in 2012, one of his desires was to move away from the 20th-century notion of what an intelligence agency looks like architecturally. That shift stems from a new organizational structure, a new philosophy of intelligence operations, and the changing nature of security threats facing the United States in the 21st century–away from physical intelligence threats and towards cybersecurity. Those changes are articulated through the architecture of the ICC; at the same time, just because the intelligence agencies of today are building more thoughtful, open, and transparent buildings doesn't mean they're transparent in the ways that will matter to all of us.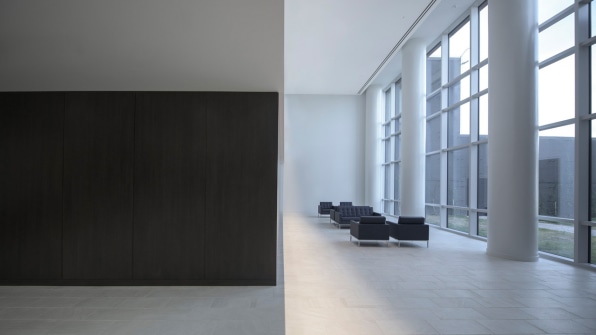 The United States currently has over a dozen intelligence agencies, each of which typically works in its own silo. The lack of inter-agency cooperation leads some to believe that there are blind spots in national security, and both Clapper and Congress wanted the agencies to collaborate more effectively. In order to achieve this, they needed a new facility that could support this new way of working–and the architects at Leo A Daly borrowed techniques from other building types to support the mission.
"It really is more like a university campus environment," Andrew Graham, the project's senior architect, says. "You have public areas for informal gathering and exchange of ideas . . . The building and the lobbies have transparency and that's somewhat of a metaphor for the agencies as well."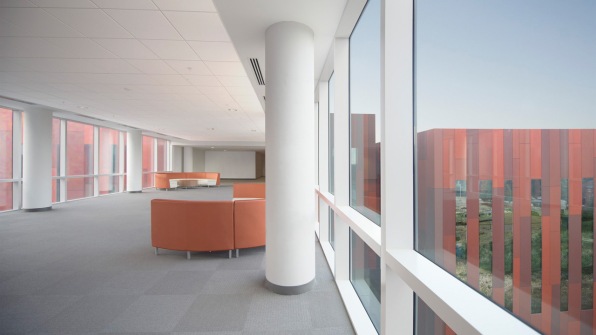 The buildings are still highly secure and still contain safeguards to protect sensitive information and operations physically and digitally, the specifics of which the architects could not disclose. But in addition to those requirements–which have been around for years–there were two new priorities: quality of life for workers and sustainability. "The client competes with a lot of other [agencies] for workers, and it was important to attract and retain the best talent," Tim Duffy, director of technical services at Leo A Daly, says. "That was a driver in them wanting to create an excellent workspace."
The ICC is located on the former National Geospatial-Intelligence Agency site, which was built up in the 1940s and featured mostly concrete and brick buildings. The architects renovated three existing structures on the campus and built a new one, which is designed to meet a LEED Silver rating, to physically link the preexisting structures. Together, they offer more workspace to accommodate 3,000 employees from 16 different agencies. "This facility is–in so many ways–the physical manifestation of 'intelligence integration,'" Clapper said in a news release.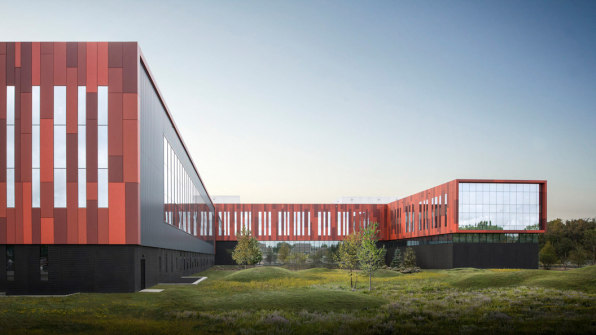 The original buildings had a hermetic sensibility and most had small windows and little natural light inside. Some had no windows at all, a likely deterrent to security breeches. Now, most of the offices have access to natural light and sweeping views. "It was important to have a good work environment and good vibes," Duffy says. "A lot of the work can be stressful, and so it was important to not create a bunker but create something that had openness and natural light and views of forest."
In addition to responding to the needs of its workers, the campus responds to its context. On one side it abuts a neighborhood, and it's adjacent to forest and the Potomac River on the others. The Defense Intelligence Agency wanted to respect the neighborhood–previous attempts to modernize the campus hit a dead end when advocacy groups opposed the construction of more monolithic structures–and responded to some of their concerns through the design. For example, all of the structures are now wrapped in glass and copper and look slick and contemporary, not dated and worn. Neighbors also complained about storm water runoff from the parking lots, so a new parking structure was placed at the back of the site. The firm also ripped out the pavement and restored it to a natural landscape using local grasses.
The green features go further still. The architects specified a green roof for the new building, solar hot water infrastructure, and hook-ups for photovoltaics. There's also a 30,000-gallon cistern on site that collects rainwater to use for irrigation. Thanks to energy efficient strategies inside the building–like LED lighting and and daylight sensors–the building consumes 31% less energy than a conventional structure of a similar size.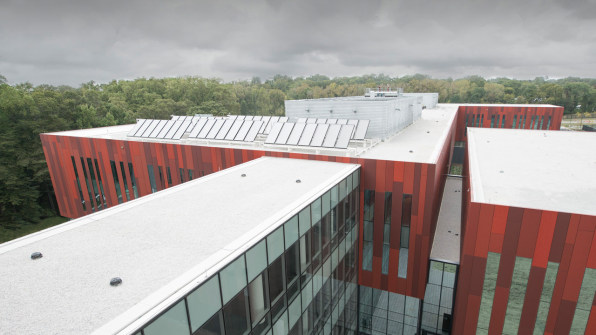 "The [defense agencies] see environmental problems as a global security threat," Duffy says. In 2015, the Department of Defense released a report, which concluded that climate change will aggravate poverty and social tensions, threatening stability in some countries. "Sustainability is important to them. We've worked on a number of facilities for them and they're consistent about this. They're the best clients with regard to keeping sustainable features through design to construction. It's part of their world view based on a significant amount of science and their conclusions about climate change presenting security problems. They want to lead by example. They want people to know they take the problems seriously."
With the new campus, the Defense Intelligence Agency and Leo A Daly have created a new paradigm for intelligence architecture, a shift supported by the changing nature of intelligence today. In the 1940s, when the campus was originally built, threats were physical and architects responded with bunkers and monoliths. Today cyberattacks are counted as one of the greatest national security threats, and cybersecurity features–which the architects could not discuss–were a major challenge in the design. It's a change that allowed this governmental architecture to shed its militaristic shell and take on the guise of a nice office building.
The campus's "niceness" is certainly a boon for employees' quality of life and for neighbors who are sick of looking at eyesores. Its sustainable features are laudable. However, the project is also a wolf in sheep's clothing. Symbolically, intelligence looks benign and everyday. We still don't know what the agencies are doing and what their day-to-day activities are. The government has come under scrutiny for using digital surveillance tools to monitor the country's residents–like trawling social media accounts using AI–potentially posing civil rights violations. The architecture of intelligence is evolving, but just because it doesn't look like a bunker doesn't mean we should let our guard down.