Air pollution causes millions of deaths per year, and 92% of cities around the world fail to meet the World Health Organization's air quality safety guidelines. With a health crisis seeping into the world's lungs, a group of companies is trying to address it by providing high-quality pollution masks that are stylish enough to match your scarf and hat. A far cry from your average paper surgeon's mask, these masks use premium materials like merino wool and even silver to filter out even the smallest, most dangerous airborne particulates–while acting like a brand new type of accessory for your face.
There's a proven market for these types of masks in Asia. In the last few days alone, the air quality in New Delhi, India, has been so horrendous it caused 6,000 schools to close, with air quality levels at 40 times the WHO's recommended levels. When the air is that bad, wearing masks is a health necessity if you want to go outside at all. That's resulted in it being normal–and even trendy— to wear surgical masks out and about in some Asian countries. In the last few years, designers have begun to create higher-quality, more fashionable masks, too.
Meanwhile, air pollution in the U.S. kills thousands of people annually, and caused about 500,00 early deaths in Europe in 2014 alone. As mask startups begin to expand, they're turning their eyes toward the American and European market, where you rarely see people wearing masks outside, even if pollution levels aren't safe. How do you convince this new market to wear pollution masks when they don't necessarily perceive there's a pollution problem in the first place?
"We feel that it's an important education process," says Bruce Lorange, the cofounder and CEO of the San Francisco and Salt Lake City-based company 02Today. "It's a global issue that a lot of people assumed was an Asian city problem."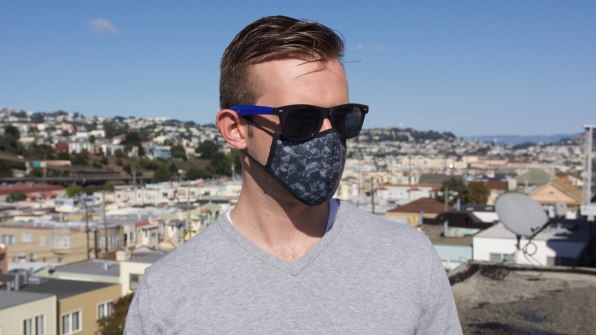 More Pollution, More Disasters
Lorange started 02Today in early 2016 after spending several years living in Asia. He realized that there was a gap in the mask market for something that didn't sacrifice style over function. "Until recently, wearing a mask means you stepped out of a hospital or a horror movie," he says. "They were either industrial and not made for the purpose of outdoor air pollution, or they were scary looking."
He teamed up with the Dutch product designer Marcel Wanders and together they concocted a soft mask made almost entirely of merino wool sourced from New Zealand. Why wool? It's breathable and anti-microbial, plus it regulates temperature well enough that your chin doesn't sweat when you wear it. The mask itself is composed of two thin layers of merino wool, which create an electrostatically charged filter that attracts and captures pollutants–no chemicals or fancy technology needed.
The 02Today masks are available online for $30 each (though they're currently sold out). That's certainly pricey, especially given that you can only wear them for 15 to 45 days, depending on how bad the pollution is. Lorange defends the price by pointing to the quality of materials that go into each mask–it passed an international standard test confirming that it blocks 97% of airborne particulates and a test by Nelson Laboratories for Bacteria Filtration Efficiency ensuring it blocks 99.99% of bacteria.
Lorange believes that masks will become more and more important in the U.S. and Europe in the coming years–and not purely because of air pollution. Natural disasters are another reason to have a mask on hand. During the recent fires in Sonoma County, California, he donated his remaining stock of masks to first responders and evacuees. The air quality also plummeted in the Bay Area and San Francisco.
Wanders, who sees the company's primary market as Asia, doesn't currently consider wearing a mask when he's in the U.S. or Europe. But that could easily change. "In the coming five years, something's going to happen and for three to four weeks people are going to madly wear masks," he predicts. "Then we're going to realize, this is maybe part of our new world, part of our new lifestyle. You buy a coat, a scarf, mittens, and a face mask. If it's as comfortable as your scarf and mittens, and you don't think you're a zombie or a weirdo, then the barrier is lower."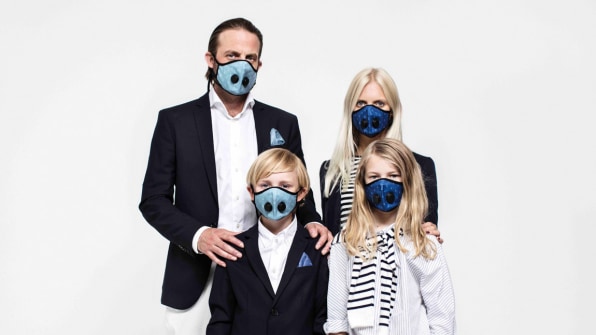 A Swedish Startup's Success At Home
Another startup called Airinum, which is based in Sweden, has been working on bringing pollution masks to the U.S. and Europe since late 2015, when it launched a deliberately stylish mask on Kickstarter to gauge how much demand there would be. Cofounder and CEO Fredrick Kempe says that he was shocked by how much demand there was–the project raised more than $65,000 over its initial funding goal of $10,000, and the startup's first round of masks sold out within months.
Unlike 02Today's merino wool masks which have to be replaced, Airinum's masks simply require you to change the microfiber filter approximately every 100 hours. And the price reflects that–a classic mask, which comes in five adult styles and two kid styles, costs $85, with each three-pack of filters setting you back another $20.
According to Kempe, the company has had more demand than they expected in Sweden. While about 50% of the company's revenue comes from Asia, 30% comes from the U.S. and 20% comes from Europe, mostly from the U.K. and Sweden. "We have better air than London," he says. "We didn't think people would care." In Stockholm, he primarily sees bike commuters wearing masks, which was a surprise to him–but research shows cyclists are exposed to high levels of black carbon.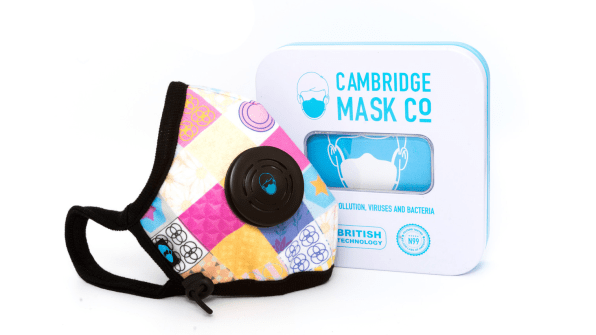 Tackling London's Pollution Problem
Unlike Stockholm, London has become infamous in Europe for its poor air quality. Residents tend to live 16 months less because of it, and it kills more than 9,000 people per year. The problem is so severe that the city's mayor, Sadiq Khan, made it a major part of his campaign.
According to the homegrown pollution mask startup Cambridge Mask Company, wearing masks is starting to take off in the British capital. Cofounder and CEO Christopher Dobbing, who splits his time between China, Hong Kong, and London, says that the company's revenue is divided evenly between Asia and western countries.
Dobbing says his primary American customers are people with illnesses, international travelers, and cyclists. He says he sees people wearing masks in the U.K. capital all the time. "For cyclists, sitting behind diesel vans, the exposure can be significant," Dobbing says. "It's important to be aware of that extra potential health risk that you can easily mitigate by popping on a good mask."
The Cambridge Mask Co's products use a filter technology that was developed by the U.K.'s ministry of defense–it's a carbon layer treated with silver, which kills disease and filters out 99% of pollutants. And its newest masks, which cost about $31, have a sensor that connects to a smartphone to let you know when it's time to change the filter. They come in a variety of patterns, from patchwork to camo to floral. There's even a mask emblazoned with the Union Jack.
If pollution continues to darken the skies over cities around the world, grabbing a mask won't be a choice–it will be a necessity. "We want this company to go bankrupt because the air is great," 02Today cofounder Marcel Wanders says. "But that's not going to happen."